Empowering the Young into Future Thought Leaders
11
-min read
"What changes would you like to see in the Malaysian education system and why?"

"What do you envisage as the next big innovation in education?"
Such were the illuminating questions posed to each category of participants of the Sunway-Oxbridge Essay Competition 2019, with the former addressed to Category A (students in Form 1 to Form 3) participants whereas the latter, participants in Category B (students in Form 4 and Form 5).
Sharing their rawest thoughts and opinions revolving around the theme of education transformation, these winners of the 2019 class were prudently selected among the nation's best young essayists, undergoing a meticulous process involving the expert team of Oxford & Cambridge Society Malaysia headed by Margaret Hall.
Three years later today, our Category A champions have blossomed into fine young ladies fresh out of secondary school, with Abel who is now 19 years of age while both Asfa and Luqman are embarking on their 20's, respectively.
The Power of Three
"I have always strived to show dedication, conscientiousness and persistence in attaining maximum proficiency in the three main areas of passion in my life: public speaking, debate and writing."
As someone who has always enjoyed writing, Arianna has always been persistent in improving her writing skills by garnering constructive criticisms from her English teachers as well as peers. Her efforts bore fruition when she won top placement among Form 1 to Form 3 participants nationwide in the 2019 Sunway-Oxbridge Essay Competition.
"Alhamdulillah I managed to bring bright, warm smiles to faces of loved ones when I emerged victorious. Truly, it is teachers who sow seeds in our youth, bringing a tremendous impact to our future."
Besides parents and family, Arianna would like to dedicate special thanks to teachers Mr. Kevin Chua and Madam Natrah Husman who encouraged her participation in the Sunway-Oxbridge Essay Competition in the first place.
"Writing isn't just about stringing random sentences together and creating pretty prose to marvel over. To me, writing is all about communication, capturing the attention of curious readers and conveying a message that will impart them with either knowledge, satisfaction or inspiration – all three forming principles that will leave a great impact on an individual whether they know it or not. To write is to strive for change; present your ideas, opinions, facts and emotions in such a manner that is easily digestible by others and you may see yourself convincing people of things they never thought possible."
Writing, Breathing, Being a Paradoxical Wonder
Fueled by her aspiration to enrol in Sunway University following the footsteps of her secondary school seniors at SMK Methodist, Ariana has always been fond of the Sunway-Oxbridge essay competitions, admiring its prestige and what it symbolises.
In fact, she was pleasantly surprised by the essay question posed the-year-of, seeking students to analyse and opine on the state of the then Malaysian education system and suggest potential improvements. Despite confessing that she would have attempted the piece differently today, she is genuinely proud of her fifteen-year-old self for penning a piece which won top merits.
"Writing keeps me alive. It means the world to me, and I view it as something I do mindlessly, like breathing. I write, therefore, I am."
To date, Ariana still channels courage from her competition keepsakes – the trophy on top of her mantelpiece and the mock cheque propped up against her bedroom wall – a daily reminder of her mantra Carpe diem or "Seize the day!", ensuring she is making every moment count.
Being a creator of all artistic things herself, Ariana implores young writers out there to "draw inspiration from the things that make your heart beat faster, and your soul vibrate".
Extremely Loud and Incredibly Real
Though tender-hearted, Harvynna confesses that her 15-year-old self was thoroughly drawn by the essay question, which took over her fear of rejection and secured her participation alongside students from 382 schools nationwide, amounting to a total of 2,772 essay submissions that year.
"It was my first time coming across an essay topic that was so raw, so real, so open. For the first time, I felt as if I could let my guard down and voice out freely on such a disputable matter. The Sunway-Oxbridge Essay Competition encouraged me to believe that what I have to say is of value. Ever since, I've become more confident in speaking up about issues that mean something to me. I'm eternally thankful for this competition as it has opened my eyes and helped me see things in a different light."
Harvynna recounts delivering her report during the formal assembly at Kolej Yayasan Saad, Malacca, alongside fellow victor Ariana Saiful. Despite the nerves, the girls were both greeted by shining faces of the audience displaying pure, positive encouragement which helped them deliver their report with "beaming faces and utmost confidence".
"I've come to understand that writing is so much more than (a form of expression). Writing is a form of learning. Writing is a way of maturing. Writing garners change. So yes, the Sunway-Oxbridge Essay Competition has helped me realise that the pen truly is mightier than the sword."
Boisterously Honest, Sabahan Patriot Represents
Abel (previously known as Avril) is a State-level debater with quite the reputation amongst the Malaysian debating community who is currently enjoying a break from academia to "sow their wild oats", working towards establishing a career in the entertainment field on top of tying loose ends to their debut novel – a piece penned to hopefully do their beloved state of Sabah and fellow brethren justice.
Hailing from the small town of Keningau, Sabah, Abel of SMK Ken Hwa (CF) was beyond proud to be the sole victor from East Malaysia that year, as entailed by their two-week celebration in Kota Kinabalu amidst the thick of Kaamatan Festival after.
Abel's local community was equally over the moon with this triumph, as seen by people flocking over to comment on a teacher's congratulatory post on Facebook in resounding acknowledgement.
"Someone commented that I was akin to a Thai bird's eye chili — small but packs a mean punch. Another impactful remark came from a debate competitor: 'You were a bit dramatic but you deserved it.'"
Fast forward three years to present day, 19-year-old Abel still perceives the Sunway-Oxbridge Essay Competition as "an outlet to let out that inner essayist cum critic, writing without any sort of remorse or feeling as if there's a devil whispering into one's ears", believing that their newfound maturity will help ground their thoughts better in producing a more sophisticated write-up.
Besides amplifying their vigor, winning the competition has also allowed Abel to broaden their options when it comes to tertiary education.
Storyteller Extraordinaire
Tapping into the fictitious yet magical splendour that is the world of fantasy video games and Japanese anime, Asfa attests that she has always favoured writing as her preferred medium of expression.
What started off as a fervent attempt to beef up her college applications transformed into hard-earned validation, even paving Asfa's entryway from SMK Seksyen 4 Bandar Kinrara in Selangor to Foundation studies with Sunway College and kept her mind off financial woes during her developing years as a college freshman.
Unlike movies and manga where one is able to analyse a character's expression or the current setting to comprehend the context, Asfa is mostly marveled by how written works lack fundamental tenets that make up for context, objectively placing readers at the mercy of the author.
"This is arguably one of the reasons why I think (writing) is so powerful. The lack of complete context allows readers to take any particular message and apply it to their own understanding. Written works such as poems and haikus are influential precisely because of the writer's unwillingness to flesh out the context of their writing."
Asfa sincerely wishes her successors the courage to leave their comfort zones, and boldly put themselves out there.
Bonus: Introducing… The One That Got Away
Being the only winner who missed out on the awards-giving ceremony in July 2019 due to a prior commitment, Muhammad Luqman – fondly known as Luke by peers and schoolmates, roped in his grandfather to attend in his stead.
Luqman was fondly amused that his grandfather was the only one not attired in school uniform and clearly out of the age range to go up on stage and receive the prize on his behalf.
Born in Kedah and raised in Kuala Lumpur, Luqman spent his transformative years in Perak at The Malay College Kuala Kangsar (MCKK). He is currently completing his A-levels at Kolej Yayasan UEM (KYUEM) in preparation to pursue a degree in Economics and Politics.
Armed with multiple wins in local essay competitions under his belt, Luqman participated in the Sunway-Oxbridge Essay Competition 2019 to pitch himself against the nation's best and objectively assess his writing prowess.
"I decided to join the competition to gauge my ability to write. My exams were also nearing so I used the competition as exercise for my essay-writing. My family and teachers jumped on the crazy train of excitement (upon receiving news that I made top six)."
Despite forgoing the Sunway bursary to attend his current alma mater, Luqman affirms that his feat in the competition has undeniably validated his writing skills, cementing his belief that writing is an optimal avenue to express his ideas outside debate.
Ultimately, it sealed his decision to pursue Humanities field, specifically in Economics and History, as his academic pathway.
Sunway-Oxbridge Essay Competition 2022
Organised in collaboration with the Ministry of Education and the Oxford and Cambridge Society of Malaysia, the Sunway-Oxbridge Essay Competition is the longest-running and most popular of its kind in the country, aiming to equip secondary-level students with skills such as English proficiency, critical reasoning, creativity, as well as emotional intelligence that will prepare them for their future.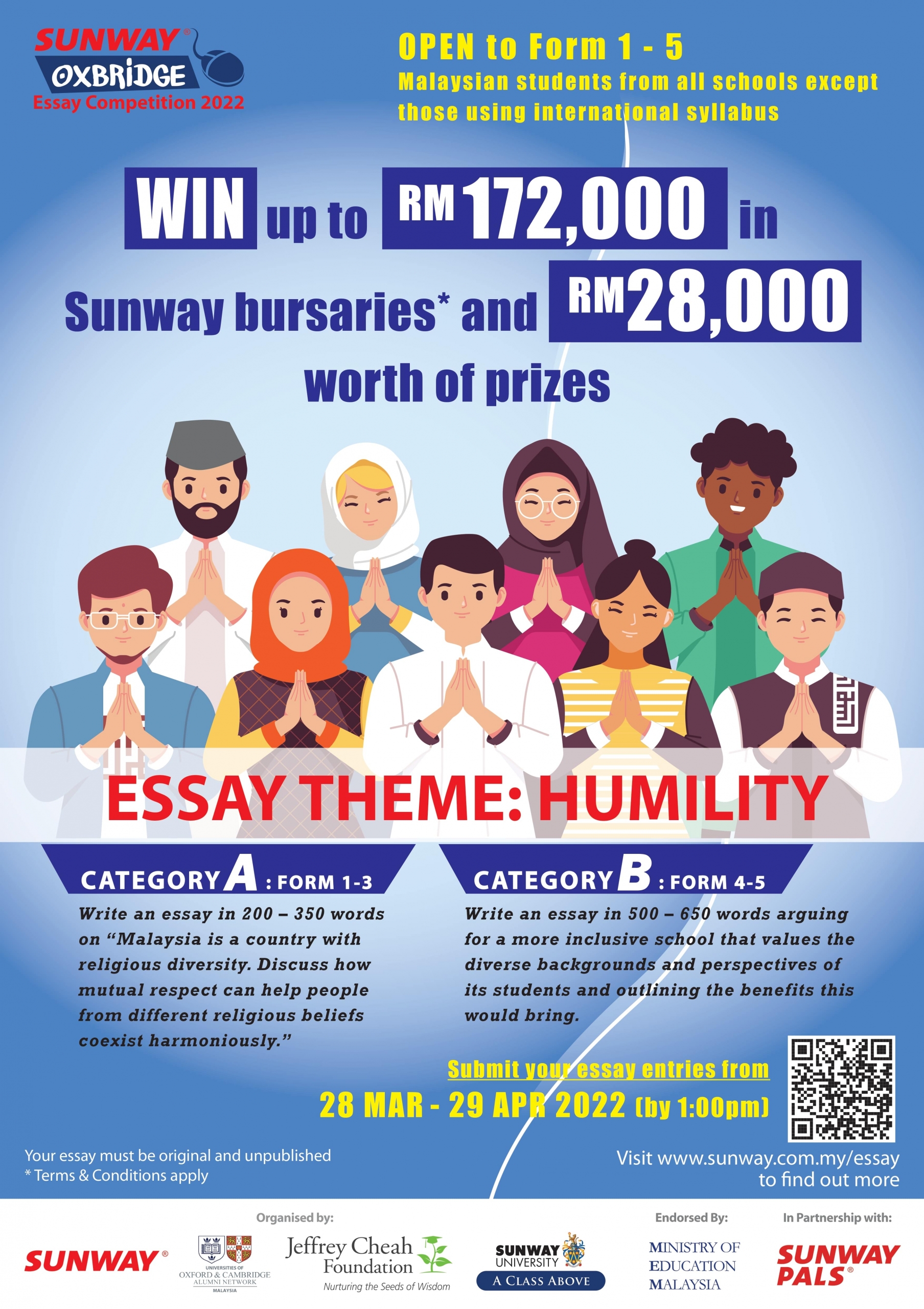 The competition is open to all Malaysian secondary school students studying the national syllabus and this year's essays will center around the theme of 'Humility'.
"This competition is part of the Group's efforts to improve the quality of education in Malaysia, providing a fun and creative platform that allows them to develop a critical and innovative mindset, complete with the soft skills necessary for their future. We believe that we have a social responsibility to help advance the nation's young minds for the betterment of our community," said Sunway Group deputy executive chairman Tan Sri Datuk Seri Razman M. Hashim.
This vision has been encapsulated in our #SunwayforGood initiative that comprises three key pillars – education, healthcare and community enrichment. The Sunway-Oxbridge Essay Competition is an extension of that initiative and reflects the commitment we made to uphold the United Nation's Sustainable Development Goal 4: Quality Education.
As per previous years, students will be required to submit their winning entries through the official portal beginning 28 March till 29 April 2022 (by 1.00 pm).
Selected winners from the first round will be invited to the on-site finals – a sit-down written exam at Sunway Education Group institutions across Malaysia.
< Previous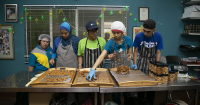 A Golden Opportunity for Independent Living
Next >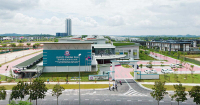 Sparking the Flame of Knowledge at Sunway City Iskandar Puteri