Innovative Energy Solutions Trump At Sunway's Make It Challenge Hackathon
8
-min read
Sunway iLabs at Sunway University's Make it Challenge ended up with three winners.

This week, we catch up with the winners to see what their ingenious solutions are that had captured the hearts and minds of the judges, what they have learnt during their journey and their advice on how to succeed in pitches.
BRILLIANT ENERGY SOLUTIONS TRUMP AT SUNWAY'S MAKE IT CHALLENGE HACKATHON
Sunway iLabs at Sunway University's sixth installation of its annual Make It Challenge which was launched on Sept 6 had seen more than 100 participants race to tackle the world's most pressing challenge, sustainable cities.
On Oct 6, eight selected teams battled it out on Demo Day to win the hearts of the judges to be crowned the winners of the Make It Challenge.
The Best Innovation Award went to Team Energy for their sustainable energy-utilising phase-changing materials, while Team Ippudo was crowned the Grand Prize Winner (Student Track) for their kinetic energy solution.
The first runner-up went to team Mechaseed for their IoT-enabled socket that aims to reduce energy usage.
Using Sustainable Phase Change Materials to Manage Thermal Comfort In Buildings
Kalidasan Balasubramanian, Muhammad Hazim bin Mohamed Khir and Muhammad Nazim who are first and second-year doctoral students pursuing their PhD in Sustainability Science and Technology (Research Centre for Nanomaterial & Energy Technology) of Team Energy invented a way to manage thermal comfort in buildings through the integration of sustainable phase change materials.
A phase change material (PCM) is a substance which releases or absorbs energy at phase (gas to solid etc) transition to provide useful heat or cooling properties.
Sharing how they came up with the idea, the team said that they had cycled through many ideas before arriving at the solution that they were going to build.
"Initially we had multiple lines of thoughts – to work on waste management, sustainable foods and traffic control systems et cetera."
"We found that in Malaysia commercial buildings consume 38,645 GWh of electric power and residential buildings consume 24,709 GWh. Of these, a major part of the total energy consumption is used for cooling systems for buildings. Based on the experimental research and analysis, phase change materials are highly significant in managing the thermal comfort of buildings via energy storage applications, which will be highly reliable in near future."
"Phase change materials are, unfortunately, not highly in popular as of yet and there is very little awareness of their ability to contribute to climate action. We would like for more people to be aware of the existence of these materials. By pitching their ability to manage the thermal comfort of a building, we were able to create visibility for the materials' ability to be utilised as energy storage to other participants and the judges."
"Global warming is one of the greatest threats to human health attributed to thermal power plants emissions. We wanted to find a way to reduce energy utilisation from air conditioning units."
"We looked into some of our research to see if there are any applicable ones for the solution. As it turns out, one of the research areas that we have been working on over the past four years has significant potential in resolving the huge energy use challenge. The integration of phase change materials into buildings is a viable solution towards zero emissions."
 According to the team, they found two segments of the Make It Challenge to be interesting: the production of the six-minute video submission and the opportunity to learn how to communicate in a public forum.
"It was very motivating, specifically when we get feedback from business executives such as directors and managers to share their feedback on our idea. We were able to interest those who are keen on sustainable solutions for green buildings using phase change materials."
With regards to their most interesting learnings, the team said, "We also learnt how to creatively communicate the technical aspects of our invention in terms that are understandable to laypeople, through our video creation and our prototype. We also learnt design thinking and techniques to commercialise our new product as well as learn many interesting ideas on how to pitch to investors."
The team said that one of the great benefits of participating in the Make It Challenge was that they had received support from their teammates and mentors as well guidance from their own PhD supervisors, Professor Ardash Kumar Pandey and Professor Saidur Rahman which lent them the confidence to stick with their ideas.
Moving forward, the team is planning to engage the market through social networks, seminars, workshops etc. to gain customers. Their short-term plan is to work with investors to manufacture more of their solution for real use in small-scale operations as a cooling solution. The team also looks forward to exploring expanding to utilising their solution for large-scale operations and applications such as laptop cooling bags, vehicles, and more.
"For future participants, we would like to suggest that they each be confident with the idea they have come up with and try to pitch it in a flow with good storytelling. MIC can also be a great platform to showcase your work in front of investors and customers. Choose a great team with strong supervision that can help you to solve the existing challenges. Moreover, if you have a prototype, that's even better. All in all, do your best, whether you succeed or not, it will be a fantastic learning experience for every individual."
Using Footsteps to Produce Clean Electricity
Sunway University Year 1 ICAEW student Joey Ngan Keh Tyan, Year 1 ACCA student Tan Dei Lonn, Computer Science Year 3 students Ko Jia Xin and Lam Hao Cheng of Team Ippudo created WalkIT, a unique technology that produces clean, off-grid electricity all through the power of feet.
"The idea came to us when our team was discussing our idea in the college foyer. We noticed that a generous amount of lights and fans were all being turned on. Recalling a Coldplay concert in the UK, we remembered that the organisers had installed kinetic floors to generate energy. It was interesting to see all the Coldplay fans jumping and dancing on the floor, to send an environmental message to all."
"Sunway University, being 'the most happening campus' always has a large number of students around the campus, and kinetic energy could be the key solution for Sunway University to add to its solution. Kinetic energy from all the student activity is an additional resource which would be wasted if we do not utilise it. The massive increase of Sunway students on campus will enable us to retrieve unlimited energy that can be converted into electricity. This not only preserves the reusable source of power but also encourages people to be physically active."
Elaborating on the benefits of their participation, the team said, "Participating in the Make it Challenge helped us gain more experience and allowed us the opportunity to network with like-minded people. We had the opportunity to make a sustainable change in Sunway City Kuala Lumpur and give back to society through our solution. By joining the challenge we improved our critical thinking process and analytical skills."
"If we have the chance, we would like to pitch our business idea to Sunway Group's Sustainability team to bring our idea into action, as we believe that our technology can be the future of renewable energy. We will continue to research on tiles and technology to expand our idea. We hope that one day the busiest pathways in Sunway College & University, Sunway Pyramid, canopy walks will be laid out with WalkIT tiles."
"We learnt so much from all of the insightful workshops provided by Sunway iLabs. Our team especially enjoyed the storytelling and business model workshops, which helped progress our thinking process. On the day of the pitch, we gained a lot of insights and were enlightened by the other team's ideas and pitching style. Furthermore, the judges' have provided us with valuable feedback about our idea."
"We learnt that teamwork makes the dream work. In a short time, we were able to build trust and develop good chemistry, split the tasks, and play our individual roles in completing each part of the pitch. We worked together to ensure the flow and content of the pitching were smooth. Throughout the sleepless nights, we were each other's support system in preventing burnout despite the super tense preparation period."
"As a team, time constraints and insufficient information during our ideation were the main challenges that haunted us throughout the entire competition. In addition, we were occupied with busy timetables, which added to our difficulty in meeting the due dates of submission."
"We constantly motivated each other and made time to complete our tasks. Furthermore, our mentor – Wen En, the co-founder of Kitar – was always there for us and gave us a lot of encouragement and support. Research and beforehand preparation are crucial to maximising your winning chance."
"Trust your teammates and work together to bring out the best of your ideas. Even in times of doubt, share your research with your teammates and progress slowly together."
A Switch That Can Track Electrical Usage and Encourage Users to Conserve Electricity
Team Mechaseed comprise Sunway University students Cheah Kar Sheng (BSc (Hons) Computer Science who is in Year 3, Chua Fang Yiak BSc (Hons) Information Technology (Computer Networking and Security who is in Year 2, Daniel Wong Yu Heng BSc (Hons) Information Technology (Computer Networking and Security who is in Year 3, and Vishwa A/L Moorthy (BSc (Hons) Information Technology (Computer Networking and Security) who are in Year 2.
The team came up with the idea of an IoT-enabled smart socket, which they called E-switch.
The E-switch aims to minimize unnecessary wastage of electricity and to enable more efficient management of electricity usage in households and buildings. According to the team, the product could help people conserve electricity.
"With the E-switch we would be able to have a more efficient way of managing and tracking people's daily electrical usage and incorporate a degree of convenience to encourage people to conserve electricity. This would ultimately help reduce the amount of greenhouse gas emissions from the excessive production of electricity. Reducing the carbon footprint will directly minimize the negative effects of climate change and global warming."
During the Make It Challenge, the students built a prototype for both the mobile application and the semi-functioning socket hardware in a span of three weeks.
The team members shared that they had participated in the Make It Challenge as they were intrigued by the challenge's theme, and could very much relate to it.
"We wanted to challenge ourselves to take up this opportunity and try to build a more sustainable environment for the cities of future generations. For us, we believe the most beneficial part of the Make It Challenge was the intense mentoring from Sunway alumni and industry professionals because of the various eye-opening feedback and opinions we received from their perspectives."
"The most insightful thing we learnt was the potential future enhancements we could do as an actual product in various industries from our mentors. The most challenging part, hands down, was building the prototype for both the mobile application and the semi-functioning socket hardware in a span of three weeks only."
For the future participants of the Make It Challenge, the team had some advice: "Fear not if you think you are not good enough to compete. Anyone and everyone willing to make a difference in the community, no matter the scale, is highly encouraged to participate in Make It Challenge. The experience that could be gained from this amazing challenge is something worth trying out!"
For how to partner up with Sunway iLabs please email: ilabsfoundry@sunway.edu.my
The article originally appeared in Disruptr
< Previous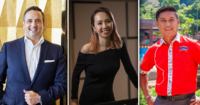 How Industries Are Roaring Back to Spur Tourism
Next >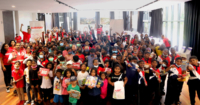 Sunway's De'light'ful Deepavali Cheer