Sunway iLabs Concludes its Third Cohort of the Super Accelerator Programme
5
-min read
The five start-ups were part of an intensive months-long programme that allowed them to venture out of their comfort zones and grow towards becoming the enterprise they want to be.

Sunway iLabs has provided start-ups with the opportunity to think outside the box and reach their fullest potential through this programme with the help of their strong ecosystem of partners in the last few years.
The year 2021 has been nothing short of extraordinary, and for five start-ups it has been a year of turning point and change. Loop Foods, RentGuard, Singular, Trabble and Wise Crafters were the cream of the crop and the top five start-ups left standing at the recently concluded Sunway iLabs Super Accelerator Programme which began earlier this year.
Now in its third iteration, the Sunway iLabs Super Accelerator Programme was launched in April as Sunway sought for start-ups that delivered innovative solutions focusing on the six key verticals in Sunway, namely Smart Cities, Agrifood Tech, Edutech, Digital Health, eCommerce and Fintech. This programme is in line with Sunway's vision to position Sunway City Kuala Lumpur (SCKL) as a living laboratory in order to generate real-world solutions for the betterment of humankind and the environment.
In the past four months, these five start-ups were provided with mentorship by industry experts, attended sharing sessions by prominent founders and investors, pitched to various investors and worked with key management within Sunway's thriving ecosystem to learn the ropes and prepare for what lies ahead.
"The progress that the start-ups have made throughout the 3-month accelerator has been very impressive. We will continue to work with them after the programme to foster more strategic corporate-start-up collaborations and innovations across Sunway iLabs' six focus verticals. We are also grateful to our partners, perk partners and our network of investors and entrepreneurs for assisting our start-ups along this accelerator, from offering in kind benefits to knowledge sharing sessions," stated head of Sunway iLabs Ventures, Dr. Melissa Foo
The journey to the top
Getting to the very end of the programme was no easy feat – the five start-ups were part of a pool of more than 120 applicants from various countries, of which 23 were selected to move on to the pre-accelerator phase for one month with a decider pitch at the end. From there, the five continued onto the three-month Super Accelerator Programme and gained greater insight and depth into how to innovate and improve as they went along.
Collectively, the five start-ups managed to raise a total of approximately RM5 million on the back of the investment from the Sunway iLabs Super Accelerator Programme, ran five projects with different Sunway business divisions with a further three in the planning phase – each start-up achieving various goals that they set out to complete.
Presenting our top five start-ups' achievements thus far:

Loop Foods
Raised a total of RM1 million in pre-seed funding
Collaborated with Sunway XFarms to distribute vegetables via Loop Food Points
Established a presence in Sunway FutureX

RentGuard
Obtained Cradle Ignite II Grant of RM500,000
In the process of building a property management system with one of Sunway's business divisions
Raising an additional amount of RM500,000 to close their seed round of RM1 million

Trabble
Closed their pre-series A round with strategic partners to gear up for upcoming series A
Selected for the K-Startup Grand Challenge 2021 to expand into Korea
Third place in China Smart City Data Open Innovation Application Competition
Looking to raise US$5 million Series A in Q2 2022

Singular
Winner of Wild Digital's Startup World Cup Southeast Asia Regional and will represent SEA to compete with the rest of the world
Ran a business case challenge with Sunway University students to promote financial literacy and obtain feedback from the younger generation on their app
Raised USD$200,000 and is raising the remaining USD$1 million as part of their seed round

Wise Crafters
Ran a total of three pilot projects across different Sunway business divisions which saw more than RM60,000 in sales
Obtained multiple sponsorship and grants from various banks and the government worth over RM170,000
Raising an additional RM550,000 to close their seed round
Moving forward
To conclude the programme, all five start-ups pitched to prominent investors across the region on the iconic Demo Day, where they put into practice all that they had learnt in the programme. On top of the RM250,000 of investments made at the start of the accelerator, Sunway iLabs will be making another RM150,000 to furnish these start-ups the continued boost that they need to keep the momentum going.
"Operating in the new normal comes with a new set of challenges. Despite that, the start-ups have pushed through, leveraging the Sunway ecosystem as a testbed to run pilot projects of real commercial value. Our unique investment approach of selecting start-ups and providing two tranches will allow for increased investor confidence and more room for the start-ups to focus on growth, rather than having to raise funds shortly after they graduate from the accelerator programme," said Matt van Leeuwen, chief innovation officer of Sunway Group and director of Sunway iLabs.
< Previous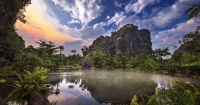 What Are You Doing to Make Our Planet Better?
Next >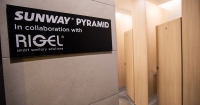 Sunway Launches First Internet of Toilet System in Malaysia