Sunway Sets Carbon Pricing Strategy in Lofty Net Zero Targets
4
-min read
Sunway Group introduces the first-of-its-kind carbon pricing framework in Malaysia in concerted push to achieving net zero carbon emissions by 2050
Setting the industry standard, Sunway Group has laid out its long-term plans in its concerted push to achieving net zero carbon emissions by 2050 by implementing pioneering methods in the country towards fulfilling its goal.
These goals are in line with the recommendations of the Task Force on Climate-Related Financial Disclosures (TCFD) that stands behind the Paris Agreement to reduce global warming to under 2°C, compared with pre-industrial levels.
Ong Pang Yen, Sunway's executive director at the chairman's office, says the Group has been on the journey to sustainability for a long time now, which stems from the vision of its founder and chairman Tan Sri Sir Jeffrey Cheah.
"We are always told that we can do well by doing good. We can do good business by fulfilling the needs of society," Ong says.
In realising the clear and present danger and in fulfilling Cheah's vision, Sunway Group has wasted no time in acting on this call to save the planet and its inhabitants.
The company has laid out long-term plans in its push to achieving net zero carbon emissions.
It is no coincidence that one of the worst floods to devastate the country in over half a century, which claimed many lives at the tail end of last year, served as a grim and chilling reminder that the effects of climate change are not in a land far away, but at our doorsteps.
According to the Plan A Academy website, carbon-neutral means that any CO2 released into the atmosphere from a company's activities is balanced by an equivalent amount being removed whereas net zero carbon emissions mean that an activity releases net zero carbon emissions into the atmosphere.
António Guterres, Secretary-General of the United Nations, espouses the importance of halving the world's emissions by 2030 and reaching net zero emissions no later than 2050 to reach the 1.5°C goal.
"Science is clear: If we fail to meet these goals, the disruption to economies, societies and people caused by COVID-19 will pale in comparison to what the climate crisis holds in store," he said at the Finance in Common Summit in 2020.
With this, the UK, Japan and South Korea, together with more than 110 other countries, have pledged carbon neutrality by 2050, and China has pledged to get there before 2060.
On the home front, the Prime Minister of Malaysia laid down the marker and outlined his goal of being carbon-neutral and achieving net zero carbon emissions by 2050.
It is widely known that the global trend for decarbonisation may lead to fresh opportunities for early movers. Thus, it is pertinent for businesses and individuals to monitor proposals and identify emerging needs to stay ahead of the curve. Which is what Sunway has done through its carbon pricing framework.
Carbon pricing framework: The first-of-its-kind in Malaysia
The recent 12th Malaysia Plan (2021-2025) tabled by the government plans to introduce carbon pricing, which is meant to incentivise clean energy adoption, encourage better energy efficiency and ultimately reduce greenhouse gas (GHG) emissions.
Leading the industry, Sunway Group has forged ahead with introducing its own carbon pricing framework for its business divisions, placing a monetary value on carbon emissions to guide its business decisions and investment strategies in efforts to hit its 2030 and 2050 targets.
It is doing this by setting an internal carbon pricing mechanism to meet the ambitious decarbonisation targets set for each of its business units. In 2022-2024, the price will be set at RM15/tonne of CO2 above a pre-defined threshold level — similar to the carbon price set by the Singapore government. This carbon price will be recalibrated progressively in subsequent years.
Business units that fail to meet their targets will need to pay a price by having an amount deducted from their bonus pool. This way, the Group hopes to send a clear message to operators and managers that they need to start innovating to find solutions to cut carbon emissions — or pay a carbon price.
Not one to sit still, the company has already forged ahead to use renewable energy by installing solar PV cells at its shopping malls and hospitals to substitute energy from the grid, which is more carbon-intensive.
Not only is Sunway changing its culture from within, the company is also shaping a cultural reset externally. The company also expects its external suppliers to comply with its net zero aspirations. The Group has been promoting its net zero aspirations to upstream suppliers — a source of its Scope 3 emissions.
The Group has also pieced together a reduction-and-substitution roadmap to phase down emissions of heat-trapping gasses meaningfully and substantially over the next decade.
By factoring in the price of carbon into their bottom line through a carbon pricing framework, companies can reflect climate-related risks and be better prepared for the enactment of a carbon tax down the road.
It also serves as a metaphorical crystal ball to see into Sunway's future, as the Group is actively looking into strategic investment in large-scale solar farms where it aspires to harness 40% of our energy requirement from the sun to power all operations by 2035.
According to Ong, achieving these goals and getting employees on board in this singular vision poses its set of challenges.
He says the topic of sustainability may come across as complex or difficult to many. However, when it is described in understandable terms, people will be on board.
"What has a positive reaction to our people is a simple message in layman terms that: 'Our planet can only absorb 18 billion tonnes of CO2 a year, but the industry is now emitting 40 billion tonnes, and this is what is causing global warming'," he says.
With the clock already past midnight in dealing with climate change, Sunway Group recognises that every second is valuable and inaction could be detrimental to the environment and people's lives.
It is not a myth anymore, climate change is real and it is at our door.
< Previous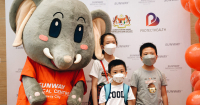 Stamping Out Fear of Needles for the Little Ones
Next >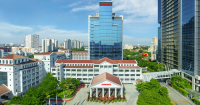 Hitting an Ace in ESG Rankings