The Green Fingers behind Sunway's Garden
9
-min read
Fondly known as "The Green Fingers of Sunway", Soorian walks us through his 33-year career as a landscape artist at Sunway.
The contemporary landscape of Sunway City Kuala Lumpur is one that evokes a certain sense of bliss, followed by flashes of burgeoning Sunway landmarks glistened by sunbeams and greenery.
Let us touch on the latter for a moment.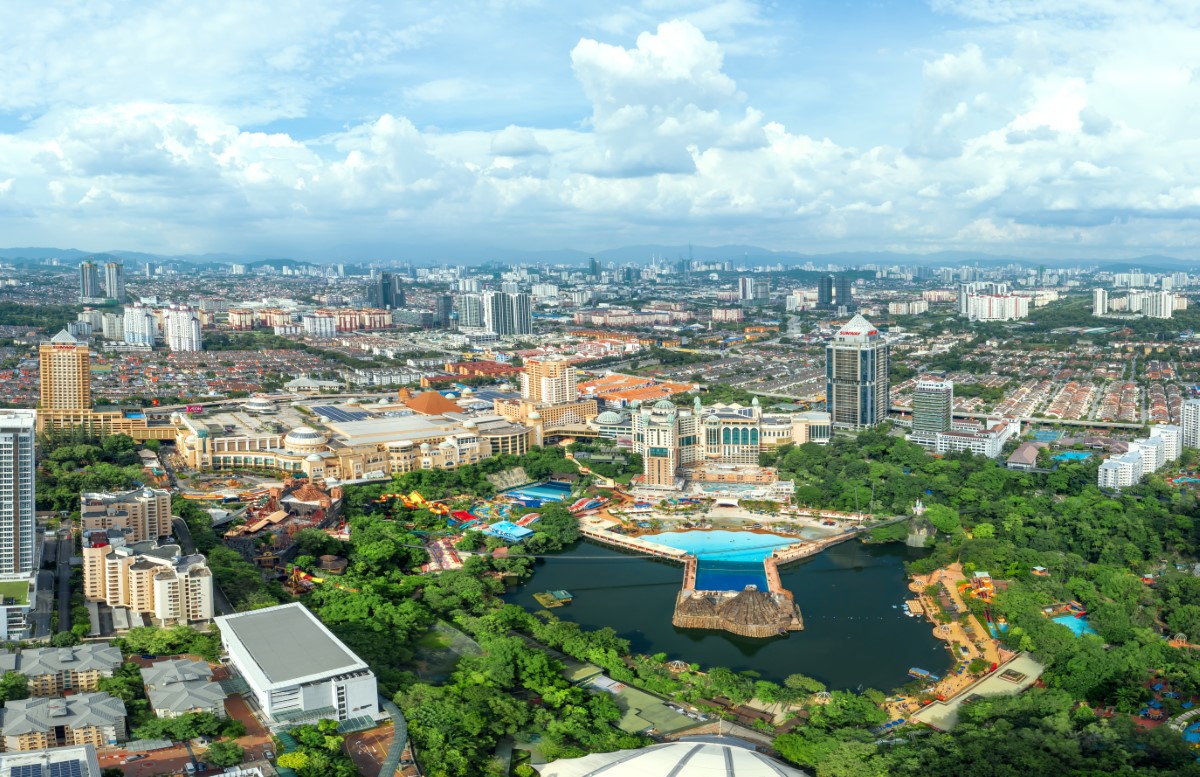 Sunway City Kuala Lumpur (SCKL) is often dubbed a "wasteland turned wonderland". One may imagine this wonderland to be a pioneering concrete jungle, brimming with high-rise smart buildings and futuristic technology. However, it is important not to overlook the foundation – the green "tapestry" that makes up the lungs of the city.
From Ideation…
Going down the memory lane to the early 90s, Sunway Group founder and chairman Tan Sri Sir Jeffrey Cheah together with Soorian and several key Sunway members were on around the township then. A site walk that planted the seeds to what SCKL would be known for today.
Equipped with only a bottle of water and sandwiches for the site walk, Soorian would soon discover the magnitude of our founder and chairman's visions and plans.
It was during this site walk that Tan Sri chairman expounded his vision, thoughts and dreams of transforming this piece of land into a magnificent wonderland.
"The site walk brought back memories. I remember the SCKL plan was a far cry from the city it has become today – lush, verdant, and teeming with life. The site walk was wrought with rocky, infertile ground, and dirt," said Soorian, assistant general manager of Tajul Green, a firm responsible for all landscape efforts at Sunway.
"To elaborate – this "wonderland" premise would not just make SCKL a lush sustainable land filled with greenery, but also an integrated township that aggregates all lifestyle necessities – with malls, educational institutions, hospital, as well as residential properties – all nestled in one beautiful place," said Soorian.
And Challenges…
"How are we going to grow anything? These are rocks!"
These words hurled by his team during a discussion still echo in Soorian's ears.
The team at Tajul Green, which included Soorian – a then upstart – himself, had to take it one step at a time in this monumental task; a land that erratic would require a more delicate touch.
"The land was in need of reparation – ecologically unstable, poor ground quality, eroded soil with a hostile environment. The goal was to restore the soil allowing for plants to grow," lamented Soorian.
Soorian and the team identified three stages that contributed to the breathtaking greenery that we see in the township today.
The first and second stages are somewhat intertwined. The first was to determine the species of trees or plants that would survive the current environment. These foundational plants act as the bridge between the first and second stages by enhancing and enriching the soil structure to sow other species of greeneries.
This directly leads to the second stage; allowing these plants to grow means shedding more leaves that will decompose in the ground. The decomposition will activate micro-organisms in the soil, naturally increasing the fertility of the ground.
"After thorough research, we increased soil nutrients by planting species like Acasia auriculiformis and Acasia Mangium for soil stability and Muntinga calabura to attract birds and other wildlife, as the first phase rehabilitation programme," described Soorian.
Things got easier from the third stage onwards where the land had become more fertile making it possible to plant other tree species.
Though later rather than sooner, Soorian had eventually grown a mini jungle in SCKL's backyard. The vision to rehabilitate a desolate wasteland into a wonderland has not only restored a thriving environment, but through cultivating a biodiverse ecosystem of flora and fauna. It is the cornerstone of the smart sustainable, low-carbon city that we know of today. SCKL is now self-sustaining and absorbs more than 500 tonnes of CO2 annually.
To Creation!
"The lungs of the city" – a never more apt metaphor, especially when one puts this description right next to a picture of SCKL today.
SCKL alone is home to 30,000 trees, with shrubs and other perennial plants blanketing the city with flora and fauna, creating an illustrious, sustainable tapestry for the world to see.
"I am lost for words to describe how a former mining and quarrying wasteland, has turned into the luscious wonderland we know today. Most cynics back then, would now dream of owning a property here," proclaimed Soorian.
Research conducted by Gopalasamy Reuben Clements and Andrew Fan Jeffrey Sachs Center on Sustainable Development indicated that the matured trees help bring down the heat of the city, with each tree equalling to 1.5 horsepower of air-conditioner; creating cooler ambient temperatures, as well as absorbing approximately 21 kg of CO2 per year.
"Looking at our township now, I always drew inspiration from our founder and chairman Tan Sri Sir Jeffrey Cheah who always leads by example. A little-known fact is that Tan Sri chairman would still routinely go on the same site walk across SCKL, and pick up rubbish along the way, fostering a cleaner, healthier township. This small act is my drive to make sure every detail in my work is aligned with keeping our city clean for all,"  stated Mr. Soorian proudly.
Sprawl it Out!
Thus far, our Sunway townships across the nation have planted more than 50,000 trees. In SCKL alone, we have planted 30,000 trees and palms. We have also planted some 25,000 trees in our other developments across Malaysia.
Soorian has also brought his green touch to both the northern and southern sides of Malaysia.
Banjaran Hotsprings Retreat
Up north where Sunway City Ipoh is located, Soorian's specialty came in handy, especially when it comes to preserving the natural state of the Banjaran Hotsprings Retreat – a world-class, eco-luxury sanctuary nestled in a 22.7-acre valley, cradled by the towering, 260-million-year-old Paleozoic limestone hills in Ipoh.
Unlike SCKL, there was no need for a revamp, but merely an enhancement, a touch-up. No mountains were levelled and the lakes are preserved as retention ponds. It was all about integrating with Mother Nature to showcase the natural, verdant scenery of SCI.
When the Banjaran Hotsprings Retreat won Best Landscape Award from Jabatan Landscape Negara, Soorian was asked, "what was the theme decided for this landscape?"
He simply replied, "There was no theme! Banjaran and the surrounding landscape was the theme itself.  Our rationale and goal was not to "build" greenery but merely to bring the rainforest and jungle to our guests. That in itself was the character."
This holistic approach to landscape architecture is vital to cultivate a host of benefits for both Sunway and guests alike. It prevents rainforest damage, promotes energy efficiency, environmental friendliness, sustainability as well as social wellbeing. The perfect blend of nature and comfort for all.
These factors have led to a host of coveted awards such as the Highly Recommended Landscape Architecture by International Property Awards 2012, Asia Pacific; the Green Design Award 2009 Honour Award by the Institute of Landscape Architects Malaysia (ILAM), Malaysia Landscape Architecture Awards for Excellent Landscape Design & Planning 2009, as well as cracking the top 10 list of the Landscape Architecture Malaysia BCI Asia Top Ten, among a number of other awards.
Sunway City Iskandar Puteri
Down south at Nature's Capital City – Sunway City Iskandar Puteri (SCIP), the challenge was simpler – taking the model of SCKL and multiplying that by two.
It was no less helped by conserving the mangrove forest alongside the seven-kilometre Pendas River, with the conservation of a 100m strip used for educational, research and recreational purposes.
"SCIP more than doubles SCKL in acreage. We have already planted around 13 acres worth of trees at our nursery in SCIP. But with around 1,800 acres to work with, SCIP will be the key to achieving our target of 100,000 trees by 2040," said Soorian.
On the flipside, whilst we can get carried away with the grandeur of sustainability and saving forests, sometimes, sustainability simply means doing something good for others.
During our development of Sunway Lenang Heights in SCIP, Soorian was instrumental in preserving the Tree of Life – a century old cotton tree that stands as tall as a 10-storey building and weighs an astounding 55 tonnes, acting as centerpiece for the neighbourhood.
While it may not carry the same magnificence as limestone hills or acres of forests, the preservation has left a monumental impact to the people of Taman Molek, speaking volumes to the good work that Soorian has done for Sunway and its community.
This is one of our key goals to achieve net zero by 2050, as well as to build a better, more sustainable Malaysia for the generations to come.
"It is our duty to "green-ify" the Earth and to balance the ecosystem. I can only do my part by continuously planting trees to keep up with our rapid growth and development.  We are aware of the threats climate change can pose to humanity. Hence, our goal is to plant 100,000 trees across Sunway townships in Malaysia by 2040, which is part of our commitment as a group to achieving net zero carbon emissions by 2050," lament Soorian.
For Soorian however, he personally hopes to spur on the good, green work.
"Throughout my 33 years (and counting) here at Sunway, I have come to learn that landscapes generate people's interest. Not only does it helps put Sunway and Malaysia on the map in the tourism scene, but also on the sustainability front as well and to build a better Malaysia for all," said Soorian, in conclusion.
Uthaya Soorian is the assistant general manager of Tajul Green. Tajul Green is the landscape firm for Sunway Group, implementing and maintaining greenery to new and existing developments nationwide. Uthaya heads the landscape division, and has a role as advisor and implementer for most Sunway projects.
The good work of Tajul Green across our Sunway cities nationwide.
< Previous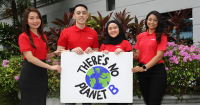 Zeroing in on Net-Zero: The Road to 2050
Next >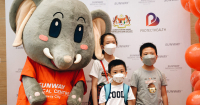 Stamping Out Fear of Needles for the Little Ones