Unpacking the Success Stories of Malaysia's New Generation Visionaries (Part 1)
6
-min read
Sunway Innovation Labs (Sunway iLabs) – the innovation arm of Sunway – introduced the Super Accelerator programme back in 2020 as a start-up incubator, in line with our vision to position Sunway City Kuala Lumpur (SCKL) as a living laboratory, where researchers, experts and academia collaborate to generate real-world solutions and to build a better nation for all.

Throughout this series, we connect with alumni of the Super Accelerator programme, getting up close and personal with these ardent entrepreneurs and learning firsthand how we fuel the growth of start-ups through Sunway's robust ecosystem.

This week, we spotlight Loop Foods – your neighbourhood's favourite sustainable delivery restaurant.
Grounded by the tagline "Inspire. Build. Launch.", Sunway iLabs was launched in 2017 with the aim to advance entrepreneurship and stimulate market-driven innovations, helping entrepreneurs become more competitive in a rapidly changing environment.
Its star Super Accelerator programme forms part of iLabs' comprehensive innovation ecosystem, where long-term sustainability remains at the forefront of its implementation.
In this series, we sit down with our programme alumni to gain better insight into how Sunway has helped propel their business ventures to success.
Loop Foods – Catering "Food for All Moods"
This seemingly innocent question sparked the inception of Loop Foods – an Agrifood Tech start-up representing the third cohort of the Super Accelerator programme, operating as a multi-brand internet restaurant company focusing on creating unique and memorable food experiences through food delivery channels and tech-enabled food points.
Following the successful launch of their first flagship store, SpargoEats,  at Sunway FutureX in March 2021, Loop Foods is taking things to the next level.
The team is excited to launch Loop Food Points, providing customers the phygital (physical + digital) food experience within Sunway City Kuala Lumpur, with more in the pipeline.
Phygital Savvy
Loop Foods is established with one goal in mind – to do things differently and change the game for the food and beverage (F&B) industry. Similar to SpargoEats, the team is grounded by their belief that there is a better, more sustainable way to eat and support local food economies.
Today, the digital food court carries a variety of F&B brands such as SpargoEats – farm-to-fork salad and warm grain bowls, V Burger – vegan fast food, Plant Nation – offering plant-forward menu with globally-inspired flavours, and Busy Bee – fresh sourdough sandwiches and delectable coffee.
The team sees themselves disrupting two parts of the traditional value chain  of a F&B business.
Firstly, by utilising a common kitchen with shared staff and resources, their asset-light cloud kitchen model allows the team to produce quality food at affordable prices catering to Malaysia's fast-growing mobile-first population.
"By adopting a delivery-first model, on top of minimal rent and payroll budget, our distinct cost structure allows us to focus more on the food by utilising the best produce in all our meals!" the team shares.
Secondly, Loop Foods harnesses a tech-enabled supply chain which is both transparent and traceable. Through direct sourcing, the team's partnership with local farmers further supports Malaysia's agriculture industry and improves national economy, in line with our goal to nation-building.
Eat Clean, Sustainably
Putting their best sustainable foot forward, the team achieves carbon neutrality by calculating their carbon footprint, and finding methods to reduce it to zero through a combination of in-house efficiency measures and supporting external emission reduction projects.
These initiatives endorsed by Loop Foods enables restaurants to cultivate wellness through delicious yet nourishing meals with carbon neutral deliveries:
By garnering supplies directly from local farmers and growers (sans middlemen), the team develops menus  in accordance with their suppliers' farming cycles while effectively reducing food miles from farm to table.
Using whole vegetables, fruits and grains  delivered to their stores every morning, the team dices, slices, spices and roasts in-house every day.
Utilising certified biodegradable non-plastic packaging and cutlery.
By introducing tools that forecast demand, this helps avoid orders in excess and promotes pre-   ordering to Loop Food Points, significantly reducing food wastage.
"We believe the choices we make about what we eat, where it comes from and how it's prepared have a direct and powerful impact on the health of individuals, communities and the environment," added the team.
In essence, the team feels a great sense of responsibility and pride to change what it means to be in the business of feeding people.
"We pride ourselves on sustainability, from store design and waste management to the food we serve. Society cannot afford to not think and eat sustainably. It is imperative to positively impact the food system," the team emphasises.
The Sunway iLabs Super Accelerator X-factor
Sunway has provided start-ups with the environment to think laterally and reach their fullest potential through the Sunway iLabs Super Accelerator programme with the aid of strong ecosystem of partners.
Driven by the opportunity to access Sunway's business divisions as well as tap into SCKL as a test bed, the team finds participating in Sunway iLabs' Super Accelerator tremendously beneficial to learn first-hand how innovation is not necessarily about new technology alone — it is about curiosity and asking why.
Not a stranger to accelerator programmes, the team finds that leveraging the thriving ecosystem of Sunway which houses world-class facilities and developments helps them validate the various target markets prior to implementing brand scaling strategies, with being shortlisted as the Top Five start-ups the "icing on top!".
Nicholas Ou, founder of SpargoEats and Loop Foods, confessed that his key takeaway from the Accelerator programme is learning how to craft pilot projects and working with corporations or even conglomerates like Sunway. He expressed the importance of being well-articulated with the problem, as well as providing innovative and executable solutions to overcome it.
"This experience gave me a better understanding of the thought processes of different stakeholders involved in the project, and learning how to accommodate to ensure the pilot project is a success!" says Nicholas.
He particularly enjoyed Sunway iLab's panel sessions, where he was connected to numerous serial entrepreneurs who shared similar start-up journeys. More so, the one-on-one interactions are even more memorable as Nicholas finds himself starstruck sharing these precious moments with role models he has always looked up to.
"Being in a smart sustainable city like SCKL empowers us to constantly reimagine what a restaurant for a new era looks like and allows us to constantly reiterate our product," added Nicholas.
Epilogue: Nicholas Says
The business has been moving really quickly. We are blessed to have the support from Sunway and the Sunway iLabs team, constantly guiding us and also supporting us in all aspects of our business.
The experience is priceless. We recommend fellow start-ups to give Sunway iLabs Super Accelerator a shot!
Identify a problem that you are passionate about solving, and your life purpose . With passion and firm intent, I truly believe these qualities will be your guiding light, grounding your aspiration to be an entrepreneur.
Another piece of advice that I would love to share is this: It is not about how much resources you have, but how resourceful you are. These perspectives gave us a lot of resilience throughout our journey.
Allow me to end my message with an enlightening quote by Steve Jobs: "The people who are crazy enough to think they can change the world are the ones who do."
< Previous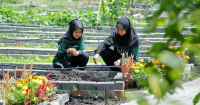 Cultivating Green Leadership and Entrepreneurship
Next >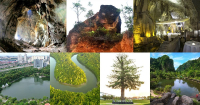 The Seven Wonders of Sunway