Unpacking the Success Stories of Malaysia's New Generation Visionaries (Part 2)
5
-min read
Sunway Innovation Labs (Sunway iLabs) – the innovation arm of Sunway – introduced the Super Accelerator programme back in 2020 as a start-up incubator, in line with our vision to position Sunway City Kuala Lumpur (SCKL) as a living laboratory, where researchers, experts and academia collaborate to generate real-world solutions and to build a better nation for all.

Throughout this series, we connect with alumni of the Super Accelerator programme, getting up close and personal with these ardent entrepreneurs and learning firsthand how we fuel the growth of start-ups through Sunway's robust ecosystem.

In the spotlight this week is Wise Crafters – your trusted local wellness lifestyle advocators.
Grounded by the tagline "Inspire. Build. Launch.", Sunway iLabs was launched in 2017 with the aim to advance entrepreneurship and stimulate market-driven innovations, helping entrepreneurs become more competitive in a rapidly changing environment.
Its star Super Accelerator programme forms part of iLabs' comprehensive innovation ecosystem, where long-term sustainability remains at the forefront of its implementation.
In this series, we sit down with our programme alumni to gain better insight into how Sunway has helped propel their business ventures to success.
Wise Crafters – Eat Healthy the Wise Way, Deliciously Convenient
"By providing healthy functional meals, we close the gap between delicious and nutritious."
Such is the ethos outlining the genesis of Wise Crafters. Established in 2017, the agrifood start-up was founded in earnest by founder Samantha Ng. The subject of attaining health via a balanced diet regimen hit home when she took charge of nursing her father back to health after his heart surgery.
Fueled by the aspiration to be the biggest health F&B provider for the female market in Malaysia by 2025, the team caters personalised meal plans complete with kitchen-to-door delivery service, helping busy Malaysians attain their health goals through the most natural approach possible.
Bridging the Gap between Food, Nutrition and Wellbeing – No Muss, No Fuss
Wise Crafters specialises in oatmeal, kefir and other nutritious and health-giving menus for a wholesome diet, where the team is determined to serve the community the same way they would care for themselves and their families.
Understanding that everyone requires a different strategy to make their meals work for their bodies, the team harnesses big data to curate personalised meal plans for consumers embarking on their journey towards holistic wellness. Wise Crafters is on a mission to encourage everyone to take at least one healthy meal a day to reduce overall non-communicable disease (NCD) and obesity rate in Malaysia.
"In order to eat healthy, it has to be "tasty" to close the gap. Data from meal planning will lead us to amalgamate nutrition and deliciousness, creating a better customer lifetime value from time to time."
Empowering Women at the Grassroots
As a female-centric F&B brand, Wise Crafters is also creating a high-touch female community by offering workshops, interactive campaigns as well as educational videos via social media and offline events.
Besides offering the right sustenance to nourish the population, the team is similarly empowering women by introducing more job opportunities and a safe working environment for the female community.
As direct advocators of plant-based meals, Wise Crafters is indirectly helping to cut down on carbon and greenhouse gas emissions, as well as saving land and water used for livestock farming. Such intentional consumption of fruits and vegetables alongside whole grains, nuts, seeds, legumes and beans focuses on deriving all essential nutrients for optimal health primarily from plants, which are often higher in fibre and phytonutrients nourishment.
"Every engagement will create an impact to our economy. Finances aside, Wise Crafters is also instilling a plethora of good values to our community, such as love, caring and healthy living. That is the main drive fuelling us throughout the start-up journey."
The Sunway iLabs Super Accelerator X-Factor
The team is cognizant of brand values as well as the importance of engaging the right networks.
Enter Wise Crafters' decision to join the Sunway iLabs Super Accelerator programme.
"Being a resident of Sunway City Kuala Lumpur (SCKL), I witnessed how Sunway continues to build infrastructure and facilities that achieve community satisfaction. I am proud to be part of the Sunway community and will continue promoting good values to more people. As a data-driven healthy F&B business, we see potential synergies to work and leverage Sunway Group's ecosystem. Hence, our decision to join Sunway iLabs Super Accelerator."
Touching on the importance of environmental, social and governance (ESG) attributes, the team attests that although Wise Crafters is not a social enterprise, their preferred approach is no different from one.
"I think this is a good reminder for all start-ups in Malaysia. Business strategies and profit margins aside, there is another important element to fulfil – whether our decision or method of execution will bring about a positive impact to our people, our society, our planet."
Epilogue: Samantha Says
During my visit to Sunway XFarms, I am amazed by the team's fervent passion about agriculture despite hailing from various backgrounds. I was also amazed by the effort they put into ensuring the quality of produce grown as well as maintaining community satisfaction.
I am now able to understand better Tan Sri Sir Jeffrey Cheah's pledge to "give back" and invest in agriculture for a better Malaysia. Wise Crafters has gained plenty from this accelerator programme.
It was a massive opportunity for us to leverage SCKL and pioneer innovative solutions which allowed us to challenge the status quo as expected from a food brand. To us, innovation is not necessarily about new technology — it is about arousing and addressing curiosity.  With that said, being in a smart sustainable city such as SCKL empowers us to constantly reimagine what a restaurant for a new era looks like and allows us to constantly reinvent our products.
There are plenty of good ideas and ways to achieve our goals, however, everything falls back to zero without proper execution. Be bold and make a change, as we will learn through the journey.
Remember, everyone's journey is meant to be different and unique. Make no comparison and believe in yourself to blaze a trail. I assure you that you will be able to spot opportunities abound the moment you step out of your comfort zone.
< Previous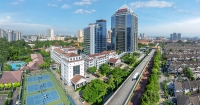 A City in the Cloud?
Next >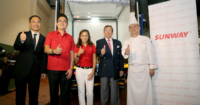 Waste Not, Want Not