Be the Master of Your 'Destiny'
5
-min read
Standing tall in the Sunway University foyer is 'Destiny', a steel structure by Infantino Fernandes, moulded and brought to life to inspire students, teachers, and anyone who walks through the varsity's doors.

Completed in eight months, the sculpture symbolises the relationship between attaining knowledge and writing one's own destiny.
Sunway's resident artist, Infantino Fernandes, knows a thing or two about forging his own path.
Having dabbled in a plethora of fields such as mechanical engineering, photography, hotel management, graphic design, science, commerce, travel and tourism, Infantino started to carve out a name for himself in the arts, back when he was a chef in the Royal Mirage in Dubai.
From polishing his ice carving skills to being responsible for the hotel's aesthetics, Infantino eventually moved through the Hilton Group of hotels in Kuwait and Asia Pacific before joining Sunway in 2014.
Over the years, his experience and time spent with the Group and its founder and chairman Tan Sri Sir Jeffrey Cheah has led him to understand what the Group stands for, and he now endeavours to inspire and touch lives through art across all Sunway townships.
The inspiration for 'Destiny' stemmed from his desire to convey the vital role that knowledge and education plays in sowing the seeds of transformation in our society, encompassing a major pillar that Sunway is built on – accessible, quality education, aiming to transform lives.
"Knowledge when coupled with awareness also helps us understand that although the circumstances we come across in our life might not be what we choose for ourselves, the manner in which we choose to respond is well within our control, a choice that goes a long way in shaping our destiny," said Infantino.
Art Imitates Life
Standing more than five metres tall and four metres wide, 'Destiny' is Infantino's tallest installation yet.
The gargantuan sculpture presented him with a new set of challenges – physically, mentally and emotionally – which he saw as life lessons that he could learn from.
At the start of the COVID-19 pandemic, Infantino had begun working through the various lockdowns to perfect and complete his handiwork.
Formed from mild steel, it features the figure of a graduate with a mortarboard in one hand, a scroll in the other, and the mighty pen as the base on which the character stands on. Each symbolises a deeper meaning – the pen, symbolising continuous learning and creation of character; whereas the mortarboard and scroll portrays the relationship between knowledge and the ability to write one's destiny.
"Our education, both formal and informal, plays a major role in the knowledge we acquire. Knowledge is key to the intelligence that helps us differentiate between a reaction and a response. In identifying between the logical and the emotional, and in deciding between right and wrong, thus enabling us to sow the seeds of transformation in our society," added Infantino.
For a creative mind such as Infantino's, he has gone from carving miniature monuments such as the Egyptian Sphinx and the Statue of Liberty out of Styrofoam, to having his masterpieces displayed in various Sunway malls, Sunway Medical Centre and now Sunway University, he hopes that his art will inspire and change lives.
"I believe art when used as a platform should be at a level more accessible to the common person, more relatable to everyone who stops by and takes the time to observe and appreciate.

Art has the potential to sow the seeds of transformation in our society. Hence as an artist, one should be aware of the power that comes with that responsibility," he further explained.
Opening New Doors
Cutting an inspirational figure for those crossing its path, 'Destiny' is the result of Infantino's message of hope for the youths of Malaysia and around the world who study at Sunway University, or those visiting the campus, further emblazoned by the quote, "It is through the values and hard work that our destiny is shaped."
Professor Elizabeth Lee, Chief Executive Officer of Sunway Education Group echoes his sentiments.
"Destiny's message is very much about crafting our own future. It is also a reminder that possessing the right knowledge and the right mindset can help us overcome whatever challenges that life throws at us.

 "We are committed to nurturing forward thinking, innovative, dynamic, and values-driven global citizens who can thrive and succeed in this fluid and fast changing world. This is in line with our Sunway University motto – Fortuna Eruditis Favet which translates to 'Fortune Favours the Prepared Mind'."
At Sunway, we believe in the importance of lifelong learning, and we hope that this newest addition to the Sunway family will serve as an inspiration and reminder that everyone is in charge of their own destiny, only if they are willing to take the first step.
< Previous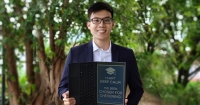 Chevening-Jeffrey Cheah Scholar Heads to Cambridge
Next >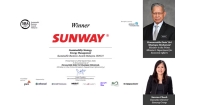 Leading the Charge in Sustainability