Just to be on the Safe Side
5
-min read
The importance of safeguarding the wellbeing, health and safety of people has always been an imperative for us at Sunway.

Across our multiple business divisions, Sunway prioritises a safe working environment physically, mentally and emotionally – so that our people can work more efficiently and productively.
Aside from fair remuneration and work-life balance, workplace safety is highly sought after by jobseekers today. A healthy workplace environment will bring a more positive atmosphere to employees, thus encouraging them to yield better results for the organisation as a whole.
As a people-first organisation, Sunway – boasting a 16,000-strong workforce worldwide – has vast experience in implementing effective policies and strategies that is valued by both employer and employee.
This has evidently borne fruit, leading to several recognitions at the 2022 Malaysian Society for Occupational Health and Safety Awards (MSOSH) for Sunway Malls, Sunway Medical Centre and Sunway Construction (SunCon) – with SunCon and Sunway Pyramid leading the way with a Gold Class I award respectively.
Enforcing the best practices for Occupational Health, Safety and Environment (OHSE) cannot be achieved by leaders alone. This is why Sunway has established a Group OHSE Council to discuss, improve and implement OHSE matters to protect employees. Chaired by Sunway Group president Tan Sri Chew Chee Kin, the council meets once every three months to discuss matters raised by each business division and serve as an avenue for employees to have their voices heard.
In conjunction with World Day for Safety and Health at Work celebrated annually on 28 April, we speak to our leaders in these award-winning divisions on what safety means to them – and how this makes Sunway the workplace of choice year after year.
Preserving a culture of safety
"Datang selamat, kerja selamat dan pulang selamat."
That is the motto that Sunway Construction (SunCon) lives by, and Kalaiselvan Selvaraja, SunCon's Environment, Safety and Health (ESH) general manager elaborates that the safety of each employee is prioritised through proper planning, effective risk management and precautionary measures to protect them and their respective stakeholders.
"The construction industry is most commonly referred to as a "high-risk sector" of the economy, primarily because our workers are exposed to a wide range of hazards daily. Health and safety at work to me is achievable at its highest standard when we are able to adopt and inculcate safety as a culture and self-regulatory practices are in place within an organisation and in every individual," he shares.
Captain Mohd Shahrizal, Sunway Medical Centre (SMC)'s ESH manager perceives safety as the responsibility of not just one individual, but all layers of the organisation.
"Good health and safety management comes from strong leadership that systematically manages safety and health operations based on guidelines set by relevant local authorities involving managers, employees, suppliers, contractors and customers. The result of this efficient management allows employees, tenants, suppliers, visitors and patients to always feel safe within our businesses."
Jason Chin, Sunway Malls' general manager for operations echoes this sentiment, and believes that employee empowerment should be taken into account.
"Employee participation is extremely essential in order to create an environment with the least health and safety risks. It is key to ensure the company builds a caring, humane and safe environment not just for stakeholders, but for ourselves. At Sunway Malls, we take health and safety practices seriously to boost the morale and the productivity of our employees."
As a healthcare institution that serves the nation greatly, SMC is aware of the importance of mental health amongst its employees. With stricter SOPs in line and the guidelines set out by the Ministry of Health (MOH), SMC began introducing employee health awareness programmes as well as continuous training throughout the period.
"Staff health assessment is also carried out from time to time to monitor and ensure that it is at the best level. All planned programmes and implementation activities are taken as a step to provide the best service to customers," Captain Mohd Shahrizal shares.
Rewinding back to the height of the pandemic, Sunway Malls made headlines for providing its retail partners a 14-day rent waiver, followed by further rental assistance totalling RM150 million and a RM5 million marketing campaign to drive sales. However, there was still much to be done as the malls were under much scrutiny by the authorities, public and netizens. Hygiene and safety were a top priority, and this applied to the employees as well.
"On top of introducing campaigns such as "Your Safe Space, Our Safe Space" and "Kita Support Kita" to build consumer confidence, we also collaborated with our business partners to reward frontline workers, thanking them for their unwavering dedication during the difficult period. Together with Group-level management, we encouraged vaccination amongst all employees and tenants, expanding the understanding of herd immunity to prevent the virus from spreading," he shares.
When the world came to a standstill, the construction industry was one of the hardest hit as curbing the spread of the virus amongst workers in a labour-intensive industry was a major challenge.
"To power through, SunCon established a Business Continuity Plan (BCP) to manage our workplaces, ensuring our workforce is protected at all times and risk of infection is minimised as business resumed post-Movement Control Order (MCO). When we discovered that workers' quarters posed a high risk of COVID-19 spread, the enforcement of Act 446 was timely to prevent an outbreak within our premises. The pandemic accelerated an opportunity for us to move forward with digitalised initiatives to help minimise disruptions of our work processes," Kalaiselvan notes.
Highlighting the S in ESG
Kalaiselvan adds that setting a high bar for these OHSE standards has allowed them to adopt a culture of responsibility, accountability, taking ownership and working with integrity.
"A healthier workforce is a more productive workforce, and safeguarding this wellbeing is an important aspect of the social pillar in ESG."
At SMC, regular ESG-related training is carried out for staff to ensure that they understand and are responsible for Sunway's commitment to advancing the UN-SDGs.
Jason concludes by reiterating Sunway's emphasis on establishing holistic policies and placing people at its core.
"By creating a safe, healthy and inclusive environment for our people, Sunway reduces risk exposures which in turn promotes SDG 8: Decent Work and Economic Growth of the UN-SDGs and the social aspect of ESG. Any company can set policies and requirements, but Sunway goes beyond by ensuring that continuous audits are reported according to standards and regulations and becomes part of everyone's daily tasks."
< Previous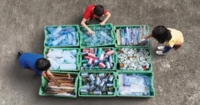 Waste Management: A Trash to Treasure Approach
Next >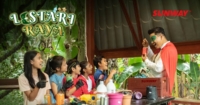 A Raya of Reflection