Gratitude to Generations of Teachers
5
-min read
Teaching is a profession that allows one to leave a legacy that is timeless, a profession that is primed to impart knowledge to the future generations of leaders of the nation in a committed and dedicated manner. 

The Jeffrey Cheah Foundation recognised the importance of well-trained and high achieving teachers to teach our future generation, and has been a pioneer partner of the Teach For Malaysia Foundation (TFM).
The passing of academic knowledge and life-skills through teaching is not unlike parental guidance and nurturing as the formative years are most crucial of a child's development that prepares him/her for the future.
However, the success of a well-planned and comprehensive education system rests with experienced and well-trained teachers needed to carry out the task of teaching. Towards this, many highly-trained teachers and educators in the early years of the Malaysian education system were deployed to educate a country hungry to develop and bring her people out from poverty. There was a desire to help the nation grow and thrive. Among the early teachers and educators who hailed from Europe, came to then Malaya to build more schools all over the country. 
The early schools built were mainly mission schools as the teachers from Europe were nuns or brothers of Christian missions such as Infant Jesus Convent and La Salle. Their dedication, perseverance and sacrifice to have uprooted themselves from their home country to a faraway country in the tropics are well-known. Their singular mission is to teach, and teach they did, driven by the desire that everyone has to have a chance to be educated in order for society and the country to progress. 
Without a doubt, the work of these early teachers have left a huge impact on the generations they have taught, many of whom have progressed to be highly regarded individuals, civil servants, well-respected professionals and members of society who in turn contribute towards building our nation.
After Malaysia gained her independence in 1957, many of the nuns and brothers remained in Malaysia to carry on teaching. It was their deep-rooted sense of faith, duty and responsibility to a calling to complete what they had started that provided the continuity much needed in ensuring that generations of Malaysians are educated according to a consistent uniform standard.
Such is their fondness for Malaysia that many of the nuns/sisters and brethren have chosen to retire, spending their golden years here. The Infant Jesus Convent (IJC) in Cheras, Kuala Lumpur is home to many such retired teacher nuns from various convent and mission schools in Malaysia. Their contribution to the nation's education and the many lives they have touched deeply deserves much gratitude.
As a show of appreciation and recognition of their lifelong dedicated services, the Jeffrey Cheah Foundation donated a van to ferry the nuns for their medical visits as well as for routine errands. Founder and Trustee of JCF, Tan Sri Dr Jeffrey Cheah did not hesitate to help and to follow on with regular maintenance of the vehicle. It was a small gesture compared to their immense contribution to nation building through education.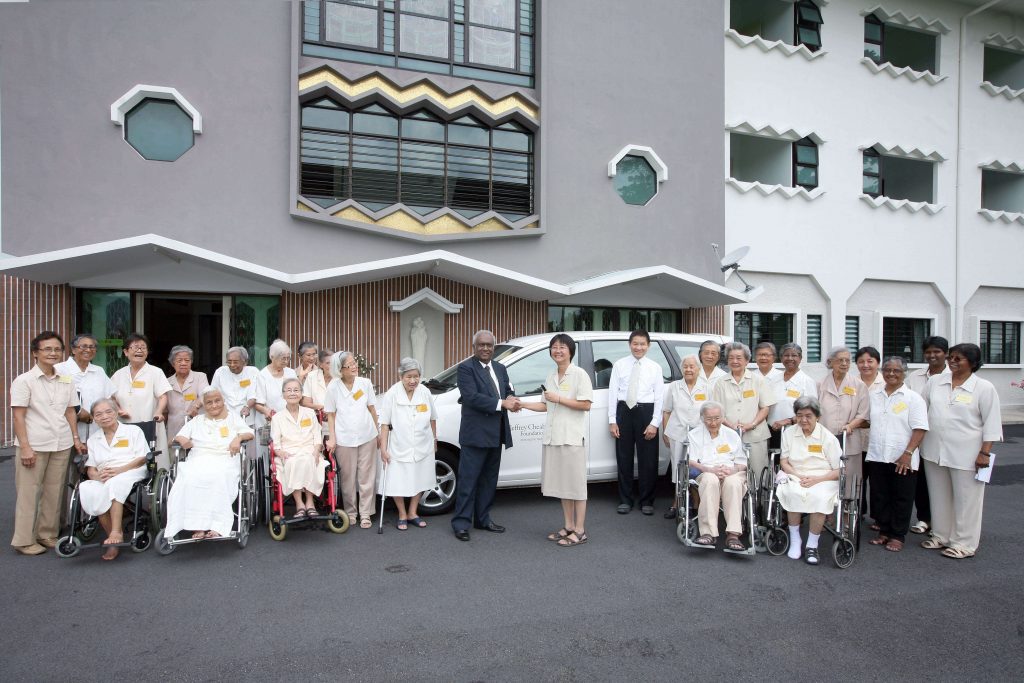 In a warm simple ceremony in November 2011, Tan Sri Ramon Navaratnam, Trustee of Jeffrey Cheah Foundation and the late Mr Henry Yuen of Sunway Group Chairman's Office presented a 7-seater van to Sister Rosalind Tan, The Lady Superior of the Society of St Maur at the IJC.
This small gesture was received with much warmth and gratitude which should really be the other way round. 
The IJC continues to regularly send good wishes and appreciation letters to Tan Sri Dr Jeffrey Cheah who remarked;
"We must not forget the immense contribution of the retired teacher nuns to our beloved country. They are now in their golden years and we are only glad to express our gratitude by lending a helping hand".

Fast forward to the current generation of teachers, the Jeffrey Cheah Foundation recognised the importance of well-trained and high achieving teachers to teach our future generation. Hence, the JCF has been a pioneer partner of the Teach For Malaysia Foundation (TFM) fully-endorsed by the Ministry of Education. The mission that the best should teach Malaysia's future resonate totally with the guiding principles of the JCF which are embodied in Giving to Society through Quality Education in Perpetuity.
The TFM Fellows as they are fondly referred to, such as Amir Saifullah bin Idris and Kularetnam  A/L Vijayakumar, have enriched and brought positive tangible impact to the students in the schools they were attached to for two years.
"I have developed a strong sense of possibility and high performance during this period of Fellowship. With this Fellowship, I have involved myself in TFM week as I had the privilege to pair up with Tan Sri Dr Jeffrey Cheah and experience planning an event that involve a lot of stakeholders from TFM, the school itself and also Sunway."

– Amir Saifullah bin Idris (TFM Fellow, SMK Kepong, Selangor), Universiti Putra Malaysia (Biology)
"I sent 2 students for Sunway Oxbridge English Language Event. One of my students was awarded with national champion of the competition. We worked together for months, staying back  frequently after school for countless practices and it became one of the most incredible experiences during the Fellowship.
I'm currently working with Closing The Gap Malaysia, a TFM-aligned NGO that works on improving education access for ambitious, under-represented students from lower-income communities. We primarily work with students via a one-to-one mentorship program where we connect young professionals eager to help with students eager to learn and be mentored. We have 175 students in the program, with 71 of them being from our current cohort.
I'm also working on improving access to mental health services for teachers and Fellows, in keeping with why I studied Psychology at Sunway University, which was to help others."

– Kularetnam A/L Vijayakumar (TFM Fellow, SMK Kepong, Selangor), Sunway University (Psychology), 2018
The Jeffrey Cheah Foundation pays tribute and salute all teachers, educators, whose passion, tenacity and care provide the impetus to help better our nation for future generations.
To teach is to love, to care, to make a difference, one life at a time.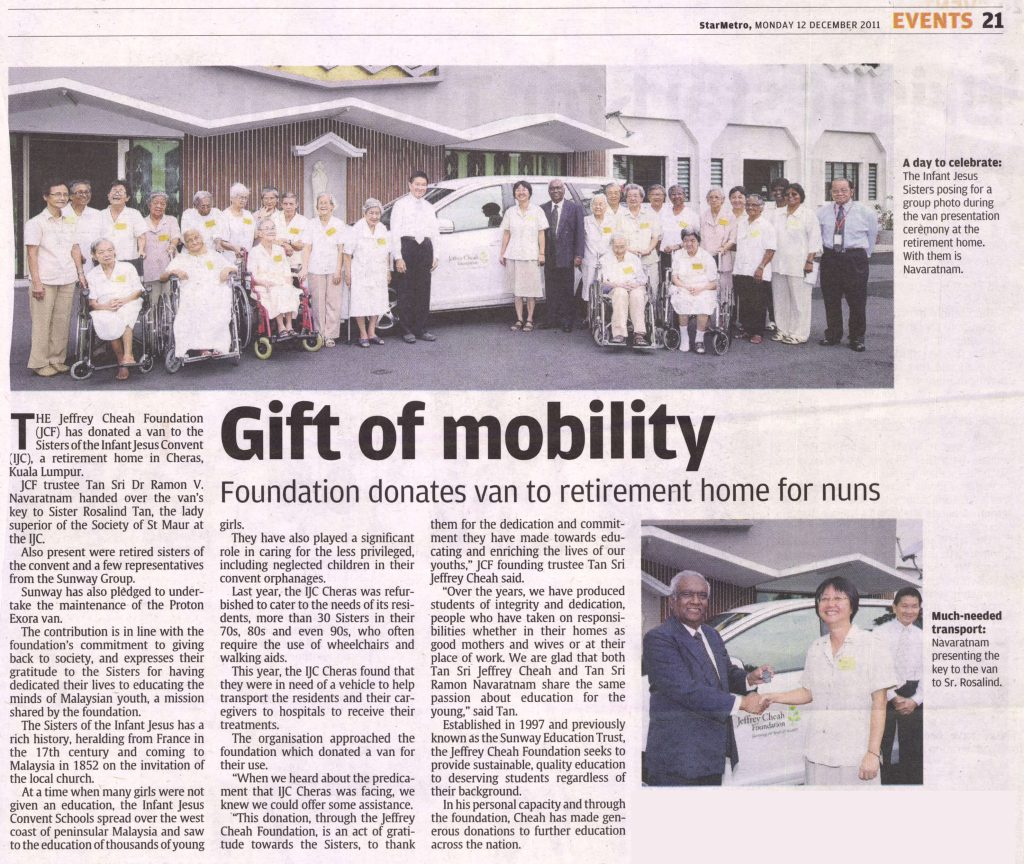 < Previous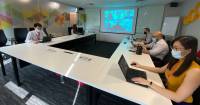 Sunway Workforce Embracing Digital Transformation with Microsoft Office 365
Next >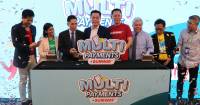 Is Cashless the Way Forward?