How Sunway is Tackling the Net Zero Game
6
-min read
The battle against climate change is both an ethical and environmental imperative.

Sunway City Kuala Lumpur continues to rise with a strategic agenda to do its part and contribute towards a low-carbon, sustainable future.
Recent years have seen the highest global temperatures ever recorded, with little signs that it will go down anytime in the near future. This, combined with an accelerated rise in sea levels and more frequent extreme weather events, is a clear indication that the "code red for humanity" – as warned by United Nations Secretary General Antonio Guterres – is not just a call for concern, but a call for action.
In light of this, Sunway is ramping up its transition towards renewable energy in a bid to meet its vision of achieving net zero carbon emissions by 2050, a critical step towards a more sustainable future.
Green From the Ground Up, Quite Literally
Our decarbonisation approach, literally, began from the ground.
Filling in what was once a tin-mining wasteland, strategic placemaking has restored a thriving ecosystem to the decaying landscape, reincarnating it into the integrated smart sustainable wonderland that it is today. As Malaysia's first Green Building Index-certified township and a Low Carbon City as recognised by the Malaysian Ministry of Environment and Water through the Subang Jaya City Council, Sunway City Kuala Lumpur is a model for low-carbon sustainable living.
While cities are known for displacing nature, Sunway City Kuala Lumpur has been designed to conserve it. Greenscapes and bluescapes comprise 40 percent of the land, housing 30,000 trees within its boundaries. Over the years, we have also planted an additional 10,000 to 25,000 trees in other Sunway developments throughout Malaysia. Collectively, these green lungs form a valuable carbon sink that sequesters atmospheric carbon dioxide while delivering natural cooling properties.
Research by Jeffrey Sachs Center on Sustainable Development at Sunway University has shown that tree shade can have a remarkable cooling effect of up to 15 degrees Celsius depending on latitude. Additionally, evapotranspiration – the absorption of water by roots and release into the air through leaves – helps to bring down the ambient temperature. The research found that even a tiny tree no taller than four metres can provide the equivalent cooling capacity as two small air-conditioning units!
To optimise this conducive atmosphere, thermal-comfort features are likewise embedded within pavements surrounding Sunway City Kuala Lumpur. Unbeknownst to many, managing the solar reflectance of paved surfaces can make a massive difference in tackling urban heat. In 2018, Sunway Paving Solutions introduced NeuPave, an award-winning paver, as part of the solution.
Compared to asphalt, NeuPave's concrete material has been shown to radiate notably less heat by 10 to 15 percent. It has a high Solar Reflectance Index (SRI) too. That is to say, NeuPave resists solar heat more effectively and remains cooler when exposed to the sun. Additionally, its water-permeable design allows water to pass through to the soil beneath, significantly lowering the risk of flooding and erosion.
Moving Towards Net Zero
Sunway City Kuala Lumpur is advancing the "15-minute city" model – an urban-planning concept that advocates hyper-proximity where people can easily navigate all essential services and business premises within a 15-minute walk or bike ride.
The township's Sustainable Intelligent Transport Ecosystem (SITE) comprising seven Bus Rapid Transit (BRT) stations, 4.3 kilometres of elevated canopy walkway, integrated car parks, and smart parking form an extensive mobility network that connects the township from end to end, bringing residences, retail, and public amenities closer so people can live, learn, work, play and stay connected in a healthy and safe environment.
As the pioneering city in Malaysia to launch BRT services, featuring specially-designed elevated lanes and a fleet of buses powered by electricity, the seamless connectivity encourages more non-vehicular traffic.
A behavioural study conducted by Sunway in partnership with Monash University Malaysia and the Institute for Global Strategy and Competitiveness at Sunway University suggests this remarkable transformation in movement: Walking now ranks among the top three most popular modes of commute in Sunway City Kuala Lumpur.
A separate assessment from Monash University Malaysia shows even more impressive statistics of the two different stretches of the elevated canopy walkways by both varsities. At the Monash University Malaysia BRT station, usage of elevated canopy walkways was estimated to have reduced more than 76,440 kg of CO2 emissions per year, corresponding to the same environmental impact as planting some 3,640 adult trees annually, or the equivalent of powering up nearly nine homes for one year.
The trail does not end there – quite literally. Furthering from that study, it shows that the second stretch of the canopy walk – which leads from Sunway University to Sunway Pyramid – saves up to 144,648 kg of CO2, the equivalent of planting 6888 trees.
Oh, and did we mention that our Canopy walks are equipped with solar panels and power-saving LED lights as well?
Going underground into Sunway City Kuala Lumpur's ecosystem also sheds a light as to how even something as mundane as parking can be used to save the environment.
Across our Sunway premises, we have implemented an integrated parking system which gives convenience to our people and our planet. From light sensors that notify drivers of an available parking space to going ticketless, these are the little things that will diminish carbon emissions, and conversely, add up to a more sustainable future for all.
In this same study, a simulation of "a city without BRT and elevated canopy walkways" found that eliminating these transit elements is estimated to place 1,000 additional cars on the street every hour, translating to an 18 percent increase in car traffic. Though this percentage increment may seem minor at first glance, car diversions will cause heavy congestion across the city, leading to greater travel time and ultimately, an increase in CO2 by a whopping 40 percent.
This potentially doubles the emission of CO2 to up to 100kg per hour, causing a major setback to any city's green efforts. It stands to reason that deepening transit availability is not exclusively a mobility necessity, but an environmental one.
Igniting the Power of Renewables
Empowering the community to shift towards "greener" habits and be proactive participants in climate actions will enable us to accelerate our goal to achieve net zero by 2050. Sunway's green policies is a critical instrument in this regard.
Taking effect in 2022, the Green Building Policy looks at the micro-level – mandating all new buildings in our townships nationwide to be green-certified by 2025. On a macro-level, the Green Township Policy reinforces that commitment by requiring all new townships developed in 2025 onwards to meet green certification standards as well. To date, 37 properties and two townships across Sunway developments nationwide have met the necessary green code. This includes developing green townships and green buildings that focus on boosting resource efficiency, while reducing building impact on human health and the environment during the buildings' life cycle through better design, construction, operation and maintenance.
In addition, Sunway aims to harvest 40 percent of its electricity from renewable resources by 2030. This will be achieved through local generation or purchase from solar farms or green power stations and is in line with the national goal of achieving 40 percent renewable energy by 2035. To this end, we have doubled down on retrofitting the energy infrastructure in Sunway City Kuala Lumpur and catalysing innovation to power a clean energy revolution citywide.
Sunway City Kuala Lumpur alone generated 3,210MWh of renewable energy in 2022, enough to power some 443 homes per year. In addition, the Group generates close to 10GWh of renewable energy in 2022, which is enough to power over 850 homes for a year. And we anticipate a trajectory of green growth in the years to come as the transition continues.
As we look forward to Sunway Group's 50th anniversary in 2024, we renew our dedication to doing well by doing good in areas where we can have the greatest impact. Keeping the United Nations Sustainable Development Goals (UN-SDGs) and our net-zero goals firmly in sight, we remain committed to nation-building and leading the way in sustainability, demonstrating responsible practices for other organisations to emulate. This includes transforming Sunway City Kuala Lumpur into a compact city.
In anticipation of their countries' urban growth, several municipalities around the world have begun to redesign their cities in a compact, resource-efficient manner, none more so than Singapore. The country is widely recognised for effectively managing its rapid population growth while improving the liveability of the city. Its successful expansion of its green areas from 36 to 47 percent of its total land area is clear evidence, providing space for recreation and urban biodiversity.
As a forerunner on the sustainability curve, Sunway City Kuala Lumpur is undoubtedly ripe for a more compact conversion. For example, we envision a scenario where unused residential parking lots in the day can be converted into visitor parking for mall patrons or staff parking for nearby offices, thereby keeping wasted space to a minimum. Plans are afoot to identify underused areas, to be repurposed into multi-use spaces, block by block and street by street.
If "cities are here to stay, and the future of humanity is undoubtedly urban" – as the UN World Cities Report 2022 concludes – then Sunway is indeed on the right track.
< Previous
Water Security for Business Continuity
Next >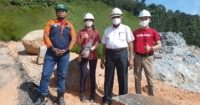 When Safety Becomes Second Nature
This article first appeared in Berita Sunway Issue 77