Zeroing in on Net-Zero: The Road to 2050
7
-min read
With Mother Earth showing signs of heating up and no time to lose, Sunway is urgently cutting through the greenhouse smog to lead the region towards net zero.
The dangers of climate change are no longer hypothetical. Having sown the wind with greenhouse gases for centuries, we now reap the whirlwind – literally. Accumulated emissions in the atmosphere are accelerating a number of climate hazards. From vicious floods that Malaysians experienced in December 2021 – dubbed one of the worst floods to hit the region in 50 years; volcanic eruptions not unlike the one in Tonga, New Zealand; as well as wildfires, fatal heat waves and severe hurricanes wrap up the frightening list of disasters that can plague society.
These further accentuate the words of the Secretary-General of the United Nations, António Guterres, "it is 'code red' for humanity".
The United Nations states that carbon emissions must halve by 2030 and reach net zero by 2050. Otherwise, the disruption to economies, societies and people caused by COVID-19 will pale in comparison", Secretary‑General António Guterres warned.
If we do not act quickly and forcefully enough, we and our children are expected to live through the most extreme weather conditions in our planet's history over the next two decades, with Southeast Asia being among the places hardest hit.
Transparency: The New Green
Amidst the impending climate disaster, Sunway is wasting no time in moving towards "deep decarbonisation", starting from within.
One of the first local companies to join over 1,700 organisations worldwide in their pledge, we aspire to lead the way, hoping to inspire others to address and to match the recommendations set by the Task Force on Climate-Related Financial Disclosures (TCFD) for climate action, before the world expires.
We have been quick to roll out a suite of measures that build on that pledge and it begins with a gesture of transparency. In 2021, we disclosed an account of our carbon dioxide equivalent emissions level, which amounted to 188,952 tonnes in 2020, the equivalent of taking more than 41,000 vehicles off the road for a year. The public report also came with an in-depth breakdown by business units and the types of energy each uses. In this era of greenwashing and sustainability, such accountability is necessary. But more importantly, it offers perspectives sobering enough to send a message: Enough with the empty, green-tinted promises. It is time for a three-legged stool of government, civil society, and corporations the likes of Sunway to walk the talk.
This coincides with Prime Minister Datuk Seri Ismail Sabri Yaakob's intent to speed up the national race towards carbon-neutrality by 2050, as announced during the tabling of the 12th Malaysia Plan in September – a vision also shared by a growing chorus of Asian countries.
In the past year, China, South Korea, and Japan's net-zero commitments have set the stage for a regional push to limit greenhouse gases. India is jump-starting its own domestic solar industry to meet its goal of installing 450 gigawatts of renewable energy by 2030, which is enough to power approximately 337.5 million homes. Countries like Taiwan, Singapore and Philippines, are shifting momentum to electrical vehicles in the face of proposed bans on petrol and diesel-powered cars.
ASEAN, too, is drafting its own green financial rulebook to govern sustainable finances, namely the ASEAN Taxonomy for Sustainable Finance, with the aim of unlocking new business models and scaling up capital and funding towards renewable energy.
Business competition is helping. Singapore's real-estate firm City Developments Limited has committed to be net zero by 2030 – 20 years ahead of rival Frasers Property. Grab and Indonesia's Gojek are racing to be the first delivery app in Southeast Asia to endorse a decarbonisation plan. Following oil giant PetroChina's proclamation to hit near-zero by mid-century, Malaysia's Petronas has also made clear its intention to position itself for a low-carbon future. Arguably, all these changes might only fulfil part of any environmentalists' wish lists. If properly enacted, it is the first step towards achieving a carbon-neutral world.
Putting a Price on Carbon
Sunway is ready to lead with concrete actions. We have pieced together a reduction-and-substitution roadmap to phase down our emission of heat-trapping gasses meaningfully and substantially over the next decade.  Realistically, we know that carbon offsets alone will not eliminate global warming. We need to evince a movement that effectively galvanises more people into action and more investment into sustainable assets. Sunway will be implementing our very own carbon pricing framework, becoming the first company in Malaysia to emulate more than 40 governments in the world who have adopted a progressive stance on climate policy, including calling for a fee on carbon through the cap-and-trade systems. Under these regulations, a cap is set on the allowable levels of emissions which will be progressively reduced over time. Corporate consumers who break the emission ceiling will face charges for every additional tonne of carbon they spew out, generating ample economic incentive for them to shift to cleaner alternatives.
By factoring in the price of carbon into their bottom line through carbon pricing framework, companies can reflect climate-related risks and be better prepared for the enactment of carbon tax down the road. More than that, understanding how emissions are affecting their business and investment choices can help drive positive changes. Sunway's carbon pricing framework shall outline the proposed emission targets for individual business units, alongside the resources to help achieve them.
It also offers a window into where we are heading next. Actively looking into strategic Investment in large-scale solar farms, we aspire to harness 40 percent of our energy requirement from the sun to power all operations by 2035.
This is one step in a much larger equation to put real flesh on our aspiration to decarbonise. Other stakes will be placed on carbon capture and sequestration – a promising technology to potentially extract carbon from the sky and store it underground – as well as waste management. Working to reposition the humble garbage disposal does not only limit the growth of landfills and cut greenhouse gas emissions but also create a new source of renewable energy that can power our cities far into the future.
Sustainable development has always been at the core of our business. Since 1974, we have been making strides in providing environmental solutions. Our flagship development Sunway City Kuala Lumpur (SCKL) is a smart sustainable township bursting at the seams. As a living lab, it often incubates – and later, models – multiple innovations and urbanist ideas birthed by our Group's 13 business divisions and various tech start-ups in our Sunway iLabs portfolio.
Digital applications at SCKL are indeed limitless. Cloud-based data analytics and artificial intelligence have offered to ramp up everything that takes place inside of the city, from smart parking, cashless payments, and remote surveillance system to "stranger things" like a "magic mirror" to try on clothes virtually at the Sunway Pyramid Mall and virtual reality technology to experience its theme park from home – all frictionlessly powered by the 5G fibre-optic telecommunications infrastructure.
In addition to our current "virtual" workforce of 27 robots across the Group that automate processes, we have plans to put in place a host of IoTs (Internet of Things) devices that can precisely measure and track energy usage to identify opportunities for waste reduction throughout our operation. The tenets of green building design and solar energy will add value to the grid and doubles as star players towards achieving our ambition to attain green-building certification for all buildings completed from 2025 onwards. Thus far, these efforts have already won us the Significant Achievement award in "Climate Change & Emission" and "UN Sustainable Development Goals" category in the recent 2021 Sustainable Business Awards.
Standing at the vanguard of smart cities in the region, SCKL is paving the way on innovation in this period of technological and economic ferment, offering a chance to accelerate the trend toward a low-carbon economy and – eventually – a no-carbon one. This could unlock and even turbocharge the growth of renewables in the global energy industry, especially in fast-growing Asian markets where much of the world's energy infrastructure expansion is expected to take place.
These new practices will undoubtedly come with their own set of challenges but we are ready. Because humanity has reached the point where the costs of inaction are even higher.  There is simply no making up for lost time when it comes to climate change.
< Previous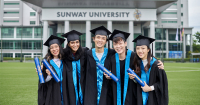 Democratising Education for All
Next >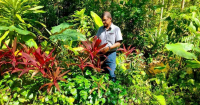 The Green Fingers behind Sunway's Garden