Jeffrey Cheah and Sunway Group: Setting Benchmark for Sustainability
5
-min read
The founder of Sunway leads his group to deliver profits while serving the public good.
The adage, 'Leadership by example' may sound like a cliché but for the chairman of the Sunway Group Tan Sri Dr Jeffrey Cheah AO, it isn't just a slogan, it is a lifelong commitment. As the founder of one of Malaysia's largest conglomerates, he continues to up his game.
Cheah has built a commercial empire that spans 12 established business divisions across 50 locations worldwide while employing 16,000 people to date. He is ranked number 13 in Forbes Malaysia's Richest 2018 list. He's also widely acknowledged as a champion of sustainability and philanthropy.
The executive chairman is renowned for developing some of the most iconic townships and establishments in Malaysia. These include Sunway City Kuala Lumpur – Malaysia's model smart sustainable township – Sunway City Ipoh and the upcoming Sunway Iskandar in southern Malaysia.
Spanning more than 5,000 acres across the country, the townships and other integrated developments comprise a host of healthcare, education, retail, hospitality, leisure and commercial entities built on the concept of sustainable development.
Then there is The Banjaran Hotsprings Retreat, an eco-friendly wellness retreat. It is located about 200 kilometres from Kuala Lumpur and set amid an array of natural features, including 260-million-year-old Paleozoic limestone caves and millenia-old rainforests, all fed by natural geothermal springs.
The common thread that links these commercial ventures is that they deliver the bottom-line results that have pleased Sunway shareholders, while demonstrating a commitment to sustainable development that sets Cheah and Sunway apart from similar corporations in the region.
A Winning Formula
Developed on rehabilitated mining land, Sunway City Kuala Lumpur was transformed from a "wasteland into wonderland" — in the words of the late Singapore Prime Minister Lee Kuan Yew — and built a township that is home to more than 150 species of flora and fauna and a thriving community of more than 200,000 people living, working, and studying in a safe, healthy and connected environment.
Sunway City Kuala Lumpur embodies Sunway's vision to be Asia's model corporation in sustainable development, innovating to enrich lives for a better tomorrow.
"I believe that not everything that matters can be counted in dollars and cents," says Cheah. "There is much more to life than just what's in the wallet. An environment where friendships can thrive, families can prosper and communities can form close bonds is immeasurable in monetary terms, but is also an intangible metric that contributes to quality of life in so many other ways."
This is a commitment reflected in the development of The Banjaran Hotsprings Retreat. Cheah took extreme precautions to ensure the 16-acre site was developed in line with its history and heritage by extending the development time from 15 months to three years to safeguard the conservation of the environment.
The result is resort that has won international accolades as an oasis for tired limbs and minds to escape the pressures and hectic pace of 21st century life.
"We have proven to our shareholders time and time again that caring for people and the planet are not mutually exclusive, and it does deliver profits," says Cheah. "Sustainability is a fundamental tenet in our decision-making process as a business, not an afterthought that's tagged on."
Cheah says the Global Commission on the Economy and Climate estimated that green growth could at the minimum add US$26 trillion in net cumulative benefits to the world economy by 2030, bringing an estimated 65 million new jobs from smarter investments in cleaner energy, cities, food and land use, water and industry.
"There is everything to gain," he declares.
Going Beyond "Green"
Cheah's concept of sustainability transcends environmental concerns such as mitigating climate change or helping heal Mother Earth. "Sustainability is not just about the planet. It is also about its people," he stresses, pointing to the 17 Sustainable Development Goals (SDGs) adopted by the United Nations in 2015 that he has wholeheartedly embraced.
It is this commitment that underlies Cheah's approach in another field. What some view as his philanthropy, Cheah views as part of the continuum of sustainability.
"Growing up in Pusing, a small town in the state of Perak, I noticed a lot of my friends were bright and had great potential. It's unfortunate that their families were too poor to equip them with the necessary education to realize their full capabilities. From very early on, I came to believe that education offered the optimum route out of poverty," he says.
In keeping with his conviction Cheah transferred all his equity in institutions of the Sunway Education Group — in perpetuity — to the eponymous Jeffrey Cheah Foundation. The gift is valued at about US$250 million and the Foundation has disbursed about US$100 million to date.
"I believe education should be a not-for-profit endeavor. By giving out these scholarships, we are making quality education accessible to young people whose families may not otherwise be able to afford it. It is my hope to disburse more than USD 250 million in my lifetime," says Cheah.
To further emphasize sustainability, the Foundation in 2016 endowed US$10 million to the United Nations to establish the Jeffrey Sachs Center on Sustainable Development at Sunway University. It is, headed by the world-renowned academic Jeffrey Sachs, who also serves as a special advisor on sustainable development to the Secretary-General of the United Nations.
Leading by Example
Cheah steadfastly believes that sustainability and profitability can go hand in hand. "At Sunway, we demonstrate day by day that we can do well by doing good. We hope to set an example that others can emulate in this part of the world," says Cheah.
There are challenges though Cheah is optimistic that he is making headway. "Anecdotally, it does appear that more corporate leaders are coming on board. But there's still a lot of skeptics out there," he says, adding that Sunway is increasingly conducting outreach programs to overcome this hurdle.
One such program is Sunway's Sustainable City Task Force, which engages with the public sector, academia, governments and other corporations. The Task Force drives Sunway's group-wide efforts to meet challenges of urbanization and shares its experience and expertise with its outreach partners.
The efforts by the Task Force and the Jeffrey Sachs Center on Sustainable Development burnish the examples set by the Sunway Group in its commercial ventures.
"Over the last 200 years, the world has enjoyed tremendous economic growth and while this progress and prosperity is remarkable, it has come at a cost," Cheah says. "We are now struggling to cope with the social, environmental and economic problems that growth has brought in its wake."
"I firmly believe that realizing the SDGs is not the sole prerogative of governments alone. It requires the commitment of the public and private sector, academia, civil society and all individuals.
We are all in this together.
The article originally appeared in Forbes Magazine – Malaysia: A Fresh Road Map Ahead
< Previous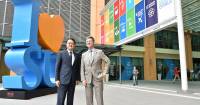 A Sustainable Future for Southeast Asia
Next >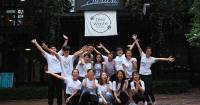 Championing Zero Waste in Malaysia