"Letting Light Lead the Way"
3
-min read
In alignment with our commitment to the United Nations Sustainable Development Goals (UN-SDGs), Sunway has embarked on yet another community-driven partnership to repurpose used cooking oil, creating a more sustainable future for all.

This partnership is illustrated in our Deepavali festive video, where a young boy discovers and shares his newfound knowledge on this effort, shining a light on the importance of taking care of our planet.
Each year, Deepavali is celebrated to commemorate the triumph of light over darkness – and the festival of lights also illuminates the importance of knowledge over ignorance.
As depicted in our festive video for the upcoming celebrations, 'Let Light Lead the Way', a simple action can bring about greater change – and can manifest itself in the most unlikely way.
Aside from showcasing the merriment of Deepavali, the video follows the journey of enlightenment for Kishen, the young protagonist who, upon observing his mother's actions of storing used cooking oil instead of disposing it, sparks his curiosity of what happens to the oil next, and for good.
His father's comments about the clogged drains in their neighbourhood due to irresponsible oil disposal further piques his interest, prompting Kishen to do something about it. With the help of his friends, Kishen and the team goes into research mode.
Kishen and his friends then share their findings with their family and guests during Deepavali about how used oil can be collected, and sent to Sunway to be processed into biodiesel instead of going to waste, which would cause more harm to the environment.
The video concludes with insights from beneficiaries of this effort by Sunway – who in collaboration with Fathopes Energy – has helped to avert the ill effects of irresponsible oil disposal into biodiesel fuel, a useful resource. Established in 2010, Fathopes Energy focuses on developing sustainable fats, oils and grease solutions for advanced biofuel production, a renewable energy that is exported to European countries.
With the average Malaysian using about one kilogramme of oil a month – it adds up to 12 kilogrammes per Malaysian a year, of which about 75% is disposed of. Used cooking oil is one of the largest amounts of waste sent to landfills, and these sites produce greenhouse gases such as carbon dioxide and methane, which contribute to climate change if left uncontrolled.
This is why Sunway has partnered with Fathopes Energy to educate our communities to not only consume, but to also produce and dispose oil, responsibly.
Through this initiative, used cooking oil will be prevented from entering our drains and sewage systems, and instead, repurposed to produce renewable biofuels – reducing waste and cultivating a more sustainable society for all.
This aligns with Sunway's steadfast commitment towards net zero emissions and the UN-SDGs, of which include SDG 11: Sustainable Cities & Communities, SDG 12: Responsible Consumption & production, SDG 13: Climate Action, SDG 14: Life Below Water and SDG 17: Partnership for the Goals.
In 2021 alone, more than 14,000 kilogrammes of used cooking oil have been collected, with the residents from PJS9 notably contributing more than 200 kilogrammes as part of their efforts to keep their neighbourhood clean.
< Previous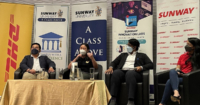 Uncovering What Makes Cities Great
Next >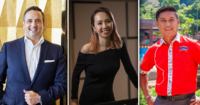 How Industries Are Roaring Back to Spur Tourism