Sunway Spreads a Little Sunshine!
7
-min read
As the modern reality of both parents pursuing careers persists, many are entrusting the welfare of their infants and toddlers to reliable caretakers and babysitters.

Recognising this, Sunway continues to invest in its people with the launch of Sunway Little Sunshine Childcare Centre, further enhancing the group's existing family-friendly policies.
Whilst the reality of working from home may have affected everyone differently during the COVID-19 pandemic, working parents continue to face the additional challenge of caring for their little ones while juggling a full work schedule, as well as keeping the family safe and healthy.
Even before the lockdowns were implemented, Sunway's group-wide survey in 2019 revealed that more than 70% of employees voiced the need for childcare services as a main concern.
With the wellbeing of our employees in mind, the Sunway Little Sunshine Childcare Centre was established at Sunway GEO, a convenient location for the Sunway community.
Working parents can now breathe a sigh of relief knowing their little ones will be in good hands while they focus on the daily demands of their careers.
Nurturing young minds
The 5,000-sq. ft. childcare centre accepts infants aged two months to four-year-old toddlers, in four specific age groups so that each child is provided with enlightenment that they need at their respective learning levels. The centre is open from 7.30am to 7.00pm, from Monday to Friday except public holidays.
All teachers are Sunway employees, catering exclusively to the needs of the children. Adhering to regulatory requirements, the teacher-to-student ratio at the centre is a balanced one teacher to five to 10 toddlers in a class (depending on age group) and one teacher to three infants. These teachers are qualified personnel with expertise in areas of Early Childhood Education, Education, Nursing, etc.
Championing a holistic wellness for the little ones, the children's menus are planned by the management team and reviewed by Sunway Medical Centre's Dietetics and Nutrition Services, designed to meet the nutritional needs of the growing children.
Keeping the kids secure
As the safety and health of the children and staff is paramount, Sunway Little Sunshine Childcare Centre has also implemented a strict policy in order to protect the welfare of its children, educators and visitors alike.
Exterior doors are always locked, and each classroom is monitored with cameras. The centre is also equipped with smoke alarms and fire extinguishers for heightened security.
The centre requires all children to sign in to a designated app called Oodlins – a multi-purpose application customised for the centre's use – every morning upon arrival, and sign out when parents or authorised nominee arrive for child pick up.
Hygiene-wise, surfaces within the facility are frequently sanitised, cleaned and rinsed daily or more often if necessary. The same goes for cribs, cots, mats and high-touch areas. All air conditioners in the centre are installed with UV lights to ensure upper air flow is treated before it reaches the children. Multiple air purifiers are also placed around the centre, ensuring good air quality within the entire centre.
Parents are obligated to inform the principal or a staff member if children are unwell, or display symptoms such as high fever, vomiting and diarrhoea, eye or throat infections and other infectious diseases such as COVID-19, chicken pox, H1N1, Hand, food and mouth diseases, mumps or measles.
Kids tested; Parents approved
Sunway Theme Parks Assistant Director of Marketing Eunice Chua is the proud mother of Charlotte – a longstanding member of Chrysalis class – and Sunway Little Sunshine's loyal patron from day one.
Particularly impressed with the impeccable standards of safety & cleanliness employed by the centre, Eunice openly lauds the teachers and administrators for displaying utmost levels of professionalism as well as the team's sense of responsibility, sincerity and caring nature.
"The pandemic has definitely been a challenging time for everyone. Despite that, the team continues to go above and beyond the call of duty each and every day. Allow me to express my heartfelt gratitude to Group HR for not only establishing a daycare centre of such calibre, but also in leading a team as responsible and caring as Sunway Little Sunshine's. With my child in safe hands, mothers like me are able to work with ease," expressed Eunice.
As one of the many intrigued by the service, Dr. Wo, a lecturer at Sunway University, ultimately opted to send her daughter to Sunway Little Sunshine for the convenience factor – the centre is located just opposite Sunway University where she works – on top of the dynamic space, children-friendly amenities and affordable fee structure.
"Besides the service quality proffered by capable teachers and carers, I am impressed with the nutritionally dense meals catered and how the centre reacts swiftly to any crisis to ensure children's safety – as expected from their responsible childcare management team," states Dr. Wo.
Four-year-old Aariz learns Mandarin alongside his peers at Sunway Little Sunshine while his mother Nurul Erleawaty Jamaludin, who is a manager of medical records at Sunway Medical Centre, attends to daily duties with ease knowing that her toddler is growing in a safe and secure environment with a friendly on-site security guard on duty at all times.
"During my first visit to the centre, I was immediately fond of the classrooms and the overall design and decoration which I know Aariz will similarly love. The Oodlins school application is another nifty innovation for easy remote monitoring. Jauh di mata namun dekat di hati," shares Nurul Erleawaty.
Family-friendly facilities for all
Aside from the centre, Sunway also provides support for expecting and breastfeeding mothers with designated parking spaces, escort assistance by security officers and mothers' rooms. This provides working mothers with the opportunity to ease themselves back into a new work-life balance after returning from maternity leave, and also greater convenience while at work.
In addition to these facilities, flexible working hours are also offered to working mothers. Immediate family members, such as children and spouses of Sunway employees, will also benefit from the employee's medical care to ensure their health and wellbeing is taken care of as well.
Launched in October 2020, Sunway Little Sunshine is an enhancement of the Group's family-friendly policies and employee benefits, complementing childcare subsidies introduced in 2016 for working parents here.
"In 2019, we carried out a group-wide survey to understand our employees' needs, and one of the key takeaways from the results showed more than 70% of the surveyed employees' need for childcare services. The Sunway Little Sunshine Childcare Centre was conceptualised precisely to address this rising need."

"We have invested significant time, effort and money to set up this centre. Sunway employees who wish to send their children to this centre even enjoy a subsidised fee," Foo added.
Resonating well with such needs, the management team who are also working parents themselves constantly strive to improve and provide better services.
"The management team underwent courses and obtained license to set up this centre. We surveyed numerous childcare centres, studied the childcare support for employees provided in the market and eventually settled with our current facility design and childcare program. Little Sunshine – the Sunrays of Sunway," Iris Koo Sow Ming, general manager of human resources services, and management team of Sunway Little Sunshine commented.

"It is a learning progress for us as well. We communicate with parents who have entrusted their children with us and reflect on areas of enhancement. We are a considerably young centre, but our growth has been exponential, thanks to all the positive and constructive feedback received," said Tiffany Ooi Hooi Inn, senior manager of performance and rewards, and management team of Sunway Little Sunshine.
As an employer, Sunway is constantly seeking ways to enhance our family-friendly policies and employee benefits further. The launch of this childcare centre is one such example in ensuring employees' wellbeing and needs are well met, exemplifying our people-first approach and marking yet another step forward towards empowering nation-building from within. Located at F-01-03 of Sunway GEO Avenue, you may contact the centre via phone at 03-5611 8883 or via email at sunwaylittlesunshine@sunway.com.my
< Previous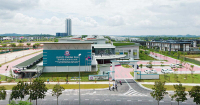 Sparking the Flame of Knowledge at Sunway City Iskandar Puteri
Next >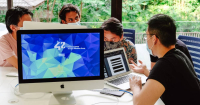 To Code or Not to Code? 42KL's Piscine Survivors Sheds Light on Their Dive