Sustainable Winning Ways
3
-min read
The pandemic has seen the rise in the significance of sustainability and how it is essential for the continuity of businesses and organisations worldwide – an agenda that Sunway has consistently championed since its inception.

Sunway was recognised for its efforts in sustainability reporting at a prestigious virtual awards ceremony held in Singapore.
Sunway made headlines once again as the only Malaysian conglomerate honoured at the sixth Asia Sustainability Reporting Awards (ASRA), a prestigious regional award for sustainability reporting.
Sunway Berhad bagged gold in Asia's Best Sustainability Report (Digital) category, while Sunway REIT took home bronze for Asia's Best Integrated Report (Design) category out of 500 entries from 17 countries throughout Asia.
Participants vying for the top spot underwent a rigorous multi-tier evaluation process with ASRA, where an independent judging panel determined the finalists and winners through triple assessment rounds to discover the creme de la creme in each category. Aside from assessing the quality of each report, the judges also carried out comprehensive due diligence on the company's reputation among their stakeholders.
"Both Sunway Berhad's and Sunway REIT's reports demonstrated exceptional leadership in transparent reporting of its sustainability performance and reflected its readiness for a resilient future," – Rajesh Chhabara, founder of ASRA and managing director of CSRWorks International.
These recognitions are testament to Sunway's commitment towards environmental, social and governance (ESG) compliance to communicate the company's sustainability strategy and to create long term value for shareholders, investors and communities alike. By aligning our efforts with the United Nations Sustainability Development Goals (UN-SDGs), Sunway actively and conscientiously works towards putting the mechanism in place to build and promote sustainability in all that we do.
The ongoing and consistent efforts have placed Sunway at the forefront of sustainability – evidenced by a collection of sustainability awards and recognitions over the years.
Sunway has also maintained a firm stake in the FTSE4Good Bursa Malaysia Index since 2014, scoring a hat trick at the National Annual Corporate Report Awards and becoming a champion in sustainable living through various honours in 2020.
A carbon neutrality mission
As Malaysia's model smart sustainable city, Sunway City Kuala Lumpur (SCKL) has consistently championed initiatives that benefit its communities and surroundings – which have led to SCKL receiving the Diamond recognition through the Subang Jaya City Council (MBSJ) at this year's Low Carbon City Awards.
This selection was based on SCKL's success in reducing greenhouse gas emissions by 1.19% since 2018 through efficient energy and waste management, in line with our commitment to becoming carbon neutral by 2050.
Organised by the Malaysian Green Technology and Climate Change Centre (MGTC) under the purview of the Ministry of Environment and Water (KASA), the Low Carbon Cities 2030 Challenge is an initiative conceptualised to accelerate the transformation towards low carbon cities in Malaysia and to recognise those that implement the National Low-Carbon Cities Framework.
"The awards are testament that we are on the right track in our sustainability efforts. We have aligned our material ESG priorities to the United Nations Sustainable Development Goals (UN-SDGs) as part of our strategy for the Group's long-term success, economic impact to communities and commitment towards nation-building. Our task now is to work harder and go the extra mile with innovations for enduring solutions to some of the world's pressing challenges." – Sunway Group executive director of chairman's office, Mr. Ong Pang Yen.
< Previous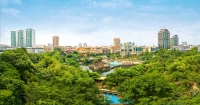 The New Priority and Norm for Corporations
Next >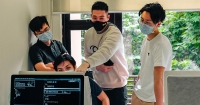 42KL Cadets Among Top Three in Global Ecological Hackathon