What Is Deep Tech?
4
-min read
In an ever-changing landscape, innovation has become integral to the growth of businesses, organisations and even shapes governmental approaches to issues within communities and the environment.

Sunway iLabs has inked a partnership with Deeptech Labs in the United Kingdom to foster a two-way ecosystem for startups – accelerating respective net zero ambitions.
A quick search on the word 'technology' in 2023 will present you with a plethora of information, including communicative technology, informational technology and assistive technology. Adding to the mix is deep technology or deep tech – but what is it really?
Defined by the Cambridge dictionary as "an area of business or research that involves using advanced science and technology such as AI, Blockchain or advances in Biotechnology to provide solutions for complicated problems", deep tech is also cited as the fourth wave of innovation following the industrial revolution, information revolution and the digital revolution.
With various issues plaguing the world today, Sunway is working – both internally and externally by tapping into other institutions' expertise to achieve a common goal of using innovation to solve real-world problems and quite simply, build a better future.
Zero is Hero
It is no secret that Sunway has been working towards a net zero future, setting integral checkpoints along the way to ensure that they are on track. This is why Sunway, through its innovation arm, Sunway Innovation Labs (iLabs), has partnered with Deeptech Labs to bolster synergies in deep tech and foster breakthroughs in net zero technologies.
Based in Cambridge, UK, Deeptech Labs is a venture capital (VC) fund and deep tech startup accelerator that aims to catalyse deep tech success. It facilitates two cohorts a year who are embedded into a network of successful entrepreneurs, practitioners, leading researchers and deep tech organisations – much like what Sunway iLabs has been doing closer to home.
The partnership was announced at London Tech Week and witnessed by Minister Dominic Johnson, UK's Minister for Investment at the Department of Business & Trade alongside Natalie Black CBE, His Majesty's Trade Commissioner for Asia Pacific. It will allow UK startups to tap into the Southeast Asian market, while at the same time facilitate the entry of Southeast Asian startups into the UK market.
"As a deeptech-specific accelerator, we're focused on drawing in specific sector experts, investors and founders which are arguably solving some of the world's greatest challenges. This partnership between our organisations will be instrumental in commercialising and accelerating the growth of net zero technologies. Together, we will open new avenues for UK startups to tap into Southeast Asia, while facilitating the entry of Southeast Asian startups into the UK market. By leveraging Sunway Group's extensive ecosystem and resources, we aim to equip startups with the necessary tools and support to thrive in today's highly competitive landscape. Together, we look forward to making a significant impact." – Miles Kirby, co-founder of Deeptech Labs

"Deep technology companies have unique new technology at their core. They are not using existing off-the-shelf solutions, rather they are developing brand-new technologies because no existing approach fully solves the problem at hand," he says.
Knowledge sharing at a deeper degree
Another recent development for Sunway iLabs was the soft launch of the Net Zero Lab during the Demo Day of the UK-MY Digital Innovation Programme – in line with their aspirations for a net zero future and to bring deep tech to Malaysia.
The Net Zero Lab, a cross-border investment programme is rooted in several key focus areas to create and maintain sustainable cities of the future. This includes renewable and efficient energy, food security, sustainable cities and circular economy. Eligible startups will have the opportunity to test and validate their solutions in Sunway's ecosystem and receive funding of up to US$1 million as well as access to angel investors or venture capital firms under Sunway's network.
The opportunity to tap into tech talents from Sunway University and 42 Kuala Lumpur keeps the innovative spirit alive for the current generation and new wave of fresh talent to come.
Through initiatives such as Net Zero Lab, startups from flourishing markets in the UK and beyond can leverage Sunway's testbeds as a launchpad to Southeast Asia, piloting and localising before it goes on the main stage. As Malaysia's first integrated green city, Sunway City Kuala Lumpur (SCKL) is a thriving testbed for digital talent to expand their offerings and achieve their fullest potential.
"When it comes to deep tech, Cambridge's ecosystem is one of the most advanced in the world, driven by world-class talent, strong IP, and a cluster of successful tech companies. What we like about Deeptech Labs is that they have been able to embrace the key ingredients of this ecosystem to build the next generation of entrepreneurs and startups that have a chance of changing the world for the better. This aligns with our Net Zero Lab initiatives, aimed at leveraging technology and innovation to accelerate Sunway's ambition in becoming net-zero by 2050. Through this partnership we are determined to advance the development of sustainable solutions, propelling Malaysia's journey towards a greener and more sustainable future." – Matt van Leeuwen, chief innovation officer of Sunway Group and director of Sunway iLabs
To advance its commitment to the United Nations Sustainable Development Goals (UN-SDGs), Sunway has adopted sustainability as part of its DNA, and is guided by it in every decision made for the betterment of the planet.
Through this partnership with Deeptech Labs and providing support for Net Zero Lab's initiatives, Sunway aims to create an empowering ecosystem that not only equips, but also propels startups towards maintaining sustainable progress to reach the end game of a net zero future.
< Previous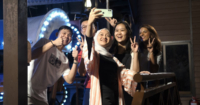 The Pursuit of Happiness: Breaking the Hustle Culture Mindset
Next >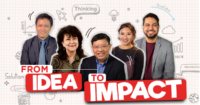 From Idea to Impact