Lifting Communities During the Pandemic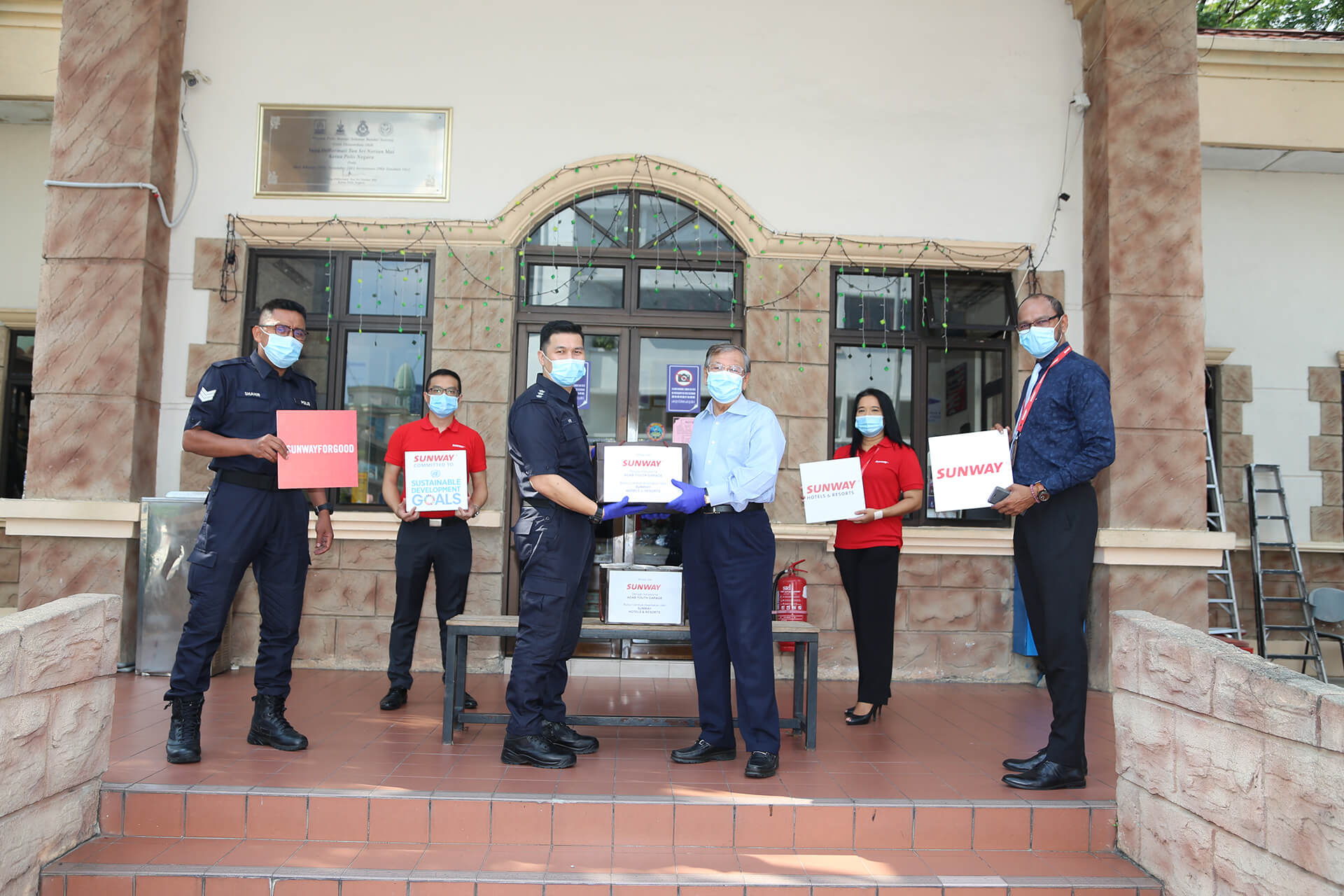 Sunway City Kuala Lumpur,30 December 2020
Through its #SunwayforGood corporate social responsibility (CSR) initiatives, Sunway Group has reached out to more than 200,000 lives throughout the nation during this pandemic year.
While Sunway's CSR efforts have been centered around the three key pillars of education, healthcare and community enrichment, it has turned its focus to food security following the global pandemic and movement control order (MCO) in Malaysia, which has affected scores of B40 communities. Many of the (B40) income-group communities have lost their sources of income and struggling to put food on tables since early this year.
Sunway through the #SunwayforGood fund gave out AEON vouchers worth RM50 each, to more than 2,000 beneficiaries with income ranging from RM980 to RM2,208 around Bandar Sunway, and AEON vouchers worth RM100 each to 736 Sekolah Kebangsaan (SK) Bandar Sunway students from B40 families, one of the adopted schools by Sunway. Each beneficiary can use the voucher to buy groceries or school uniform and shoes.
The #SunwayforGood Fund was set up in collaboration with Jeffrey Cheah Foundation, to collect donations from all Sunway employees to help alleviate the hardships of the poor and those hit hardest by the COVID-19 pandemic
In the spirit of caring for the grassroots, Sunway also used its own Sunway Resort Hotel truck to transport 250 kilogrammes of groceries from the Food Aid Foundation to Persatuan Insaf Murni in Kajang, aiding 20 families living with HIV.
To complement #SunwayforGood efforts this year, Sunway has produced a video highlighting the Group's progress and achievements in helping B40 communities and how the public can provide assistance.
Video can be viewed on Sunway Group's social media sites, namely Facebook and YouTube.
These are among the CSR initiatives aligned with Sunway's core values of integrity, humility and excellence and its commitment to the United Nations 17 Sustainable Development Goals (SDGs).
Earlier this year, Sunway announced an aid package totalling RM34 million, with the target to support at least 40,000 beneficiaries. The Group had also contributed RM1 million to the government's COVID-19 Fund for Malaysians.
"It has certainly changed our mindsets – from the art of living to the heart of living and giving," said Sunway Group deputy executive chairman Tan Sri Datuk Seri Razman M. Hashim, who led the #SunwayforGood initiatives.
"We have the power to make a difference and be the light to someone's life. Through our initiatives, we have impacted more than 200,000 lives and contributed more than RM34 million to aid those in need.
Furthermore, we have also surpassed our target of collecting 40,000 kilogrammes of food through the #SunwayforGood Food Bank programme and have reached more than 53,000 kilogrammes as of December.
"We aspire to bring hope to the underserved communities."
Razman shared that Sunway's ultimate goal is to look into the long-term impact of uplifting the B40 communities and help them break free from poverty.
"Sunway acknowledges that it is not the government's responsibility alone to realise the UN 17 SDGs," echoing Tan Sri Dr Jeffrey Cheah, Sunway Group founder and chairman. "It requires the commitment and shared efforts of all strata of society – the private sector, academia, civil society and every single individual. We are all in this together."
Notable #SunwayforGood initiatives in 2020
One of which is the #SunwayforGood Food Bank programme, the largest food bank drive by any Malaysian conglomerate, kick-started in conjunction with the National Day and Malaysia Day.
Prioritising food security with the help from public donations, the programme was aimed at bringing together Malaysians and helping B40 income-group families fight hunger due to COVID-19.
The food bank programme, held until 31 December 2020, pledges to collect 40,000 kilogrammes of food, with the aim of surpassing that target by end-2020 which will feed 25,000 individuals in B40 families worst hit by the pandemic.
The beneficiaries were identified by non-governmental organisations (NGOs) – the Development of Human Resources for Rural Areas Malaysia (DHRRA Malaysia), the Food Aid Foundation and The Lost Food Project. The food is delivered monthly to the needful families.
As part of its Hari Raya Aidilfitri initiative during the MCO, Sunway delivered thousands of packets of "bubur lambuk" to frontline workers, essential service staff and B40 families nationwide.
Sunway, together with the Selangor Youth Community, had delivered new clothes, groceries, "duit raya", Vitamin C packs, sanitisers and baked cookies to caretakers and children to orphanage homes.
In conjunction with the Festival of Light, the #SunwayforGood Deepavali Cheer initiative was introduced, providing food aid to a total of 10,155 beneficiaries in the Klang Valley, Perak and Johor.
In Johor and Perak, Sunway collaborated with its long-time partner, The National Committee for Community Services & Health Malaysian Red Crescent, to reach out to the B40 communities.
In Klang Valley, Sunway partnered with FFM Berhad who had donated 5,089.2 kilogrammes of food products worth RM80,000.
These products were divided into three batches and donated to the DHRRA Malaysia, Food Aid Foundation and The Lost Food Project.
Sunway's healthcare division, meanwhile, subsidised treatments for public patients from the Ministry of Health of Malaysia and University Malaya Medical Centre.
Sunway's hospitality division contributed more than 25,000 hygiene and personal protective equipment such as blankets, shower gel, shampoo, dental kits, small pillows and kitchen gloves to Hospital Sungai Buloh in Selangor and Hospital Seberang Jaya in Penang.
In the southern region, the property team contributed items such as infrared electronic thermometers, face masks and hand sanitisers to hundreds of frontline healthcare staff as well as essential and critical service workers at hospitals such as Hospital Sultanah Aminah as well as Iskandar Puteri Police Station.
Sunway City Ipoh's organic farm had contributed vegetables to the community there and hundreds of kilogrammes of fresh organic produce were given to some 6,000 frontline healthcare workers and patients of Hospital Raja Permaisuri Bainun in Ipoh throughout the MCO period.
In response to charity homes hit hard by the movement control order (MCO) – with donations declining and volunteers finding it more difficult to extend help – Sunway staff, through the #SunwayforGood Fund, have channelled close to RM130,000 to foot electricity bills, up to six months, for 16 charity homes nationwide.
Another unique programme is the ICT Literacy Aid focusing on digital learning where students are taught the basics of information technology and programming skills.
Notice
Please do not alter, sell or redistribute the pictures. All pictures here belong to the Sunway Group.
Contact us for permission