Research Institute at Cambridge-based Jeffrey Cheah Biomedical Centre Leads Global Efforts in COVID-19 Fight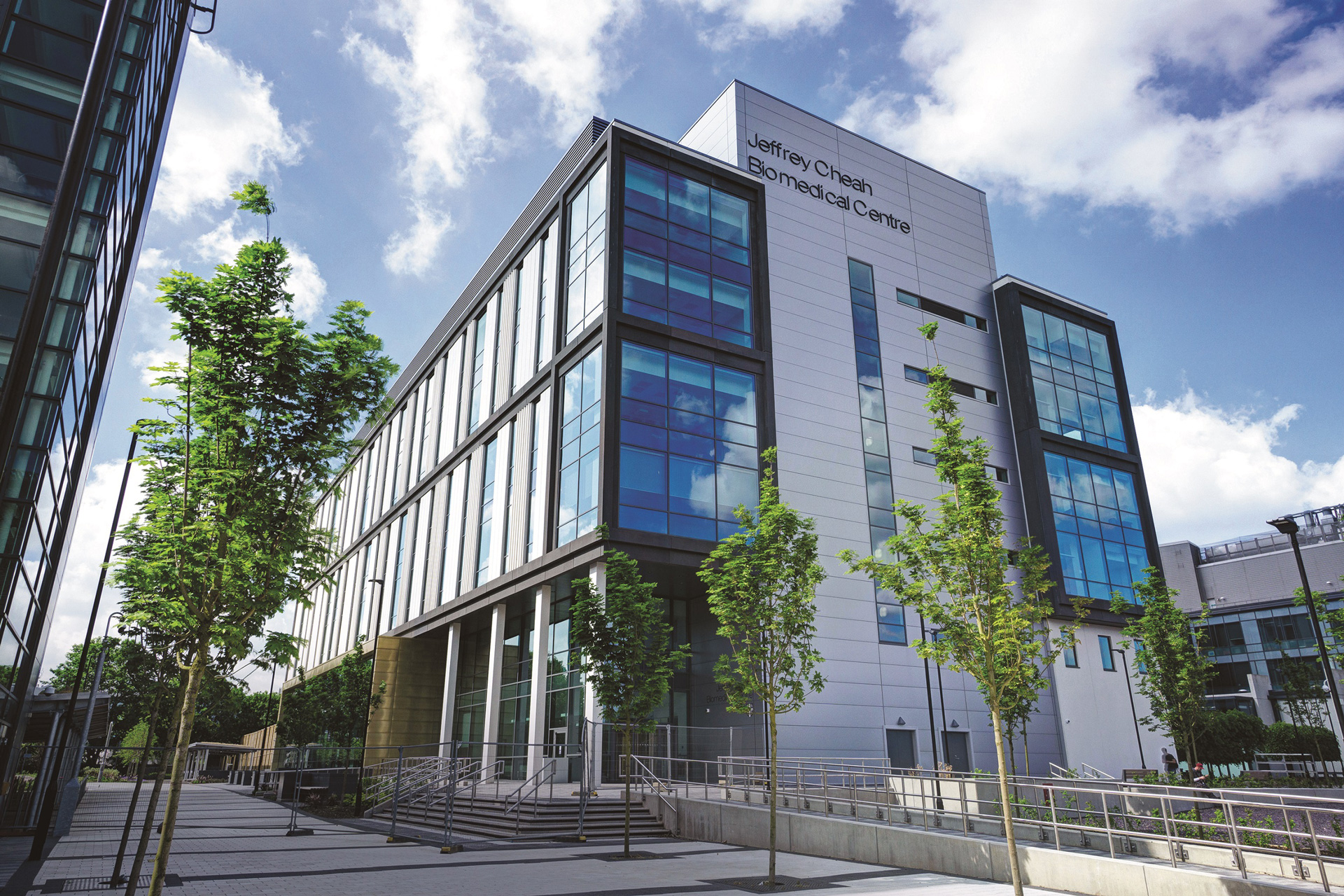 Sunway City Kuala Lumpur,15 May 2020
Sunway is currently in discussions with the University of Cambridge for potential collaboration opportunities to fight the pandemic.
The University of Cambridge's main response team against the COVID-19 pandemic is currently led by over 150 scientists and clinicians, who are working at the Cambridge Institute of Therapeutic Immunology and Infectious Disease (CITIID). They are housed at the Jeffrey Cheah Biomedical Centre (JCBC), which is located on the Cambridge Biomedical Campus, the largest biotech cluster outside the United States.
"The University of Cambridge is currently playing a leading role in the UK's national effort to understand and control the new coronavirus infection. We hope the research team will be able to successfully generate research data that will be crucial to fight COVID-19. We are also in discussions with the University for potential collaboration opportunities to bolster Malaysia's currently successful fight against the pandemic," said Sunway Group Founder and Chairman, Tan Sri Dr Jeffrey Cheah.
Professor Stephen J Toope, vice-chancellor of the University of Cambridge thanked Tan Sri Dr Jeffrey Cheah and Sunway for JCBC's contribution to international efforts in fighting COVID-19.
"The Jeffrey Cheah Biomedical Centre has become absolutely pivotal to our clinical medicine response to COVID-19. On the (Cambridge) Biomedical Campus, we are launching multiple pre-clinical and clinical research studies and trials (spanning improved diagnostics, experimental treatments, vaccine candidates and large-scale observational studies), many in close partnership with our teaching hospital, Addenbrooke's," he said.
"CITIID is now focusing entirely on COVID-19 research. It is clear how important this new facility (including the biocontainment capacity) is in enabling us to make a substantive contribution to national and international efforts. While no one could have anticipated this immediate and pressing role for CITIID, we are so glad to have it, and profoundly grateful for your visionary support in its creation," he added.
CITIID is home to the largest BSL (biosafety level 3) containment facility in the UK, which was established to study the relationship between infectious diseases and human immune systems. Research institutes with containment level 3 facilities are allowed to work on lethal and dangerous pathogens such as the coronavirus.
The CITIID is currently leading the UK Government-supported COVID-19 Genomics UK Consortium project to deliver large-scale, rapid sequencing of the cause of the disease. The data will help public health agencies to manage the COVID-19 outbreak in the UK and inform vaccine research efforts. The consortium brings together the UK's best scientists from NHS, public health agencies, numerous academic institutions and one of the world's most-advanced centres of genomes and data, the Wellcome Sanger Institute.
The CITIID team has also successfully set up a Point of Care test system, implemented rapid diagnostic testing for patients using SAMBA II machines at Addenbrooke's Hospital, and developed new tests for infection with four-hour detection rate to screen frontline healthcare workers treating COVID-19 patients.
The SAMBA II machines, which were developed by a University of Cambridge spin out company, Diagnostics for the Real World, are capable of producing results for COVID-19 infection in under 90 minutes compared to current tests which can take over 24 hours or longer. 
With the rapid testing capabilities, hospitals will be directing those who test positive for the infection to dedicated wards and identify which healthcare workers are infected, enabling those who test negative to return to the front line, ultimately saving lives.
Jeffrey Cheah Biomedical Centre
Located on the Cambridge Biomedical Campus, the largest biotech cluster outside the United States, JCBC is situated within a group of state-of-the-art laboratories and hospitals including the world famous Laboratory of Molecular Biology which has produced 16 Nobel Prize winners, the most illustrious heart and lung hospital in Europe, the Royal Papworth Hospital and Addenbrooke's Hospital.
Opened in September 2019, JCBC brings under one roof the CITIID, the Wellcome-MRC Stem Cell Institute and the Milner Therapeutics Institute, which allows greater collaboration between scientists and clinicians who are transforming pioneering research into effective therapies. The three institutes are now collaborating intensely in tackling the COVID-19 threat.
The establishment of JCBC is one of a number of partnerships between Sunway and the University of Cambridge to expand and bolster research capabilities, knowledge and skills in Malaysia and the region. Sunway's partnership with Cambridge began in 2015 with the establishment of Jeffrey Cheah Professorial Fellowships in Gonville and Caius College, University of Cambridge and a Jeffrey Cheah Scholar-in-Residence programme where two Sunway academics each year may reside in the College for one month to undertake research and scholarly study. Subsequently, Sunway had also collaborated with University of Cambridge to host health symposiums as well as continuing medical education (CME) seminar series for Malaysian healthcare professionals.
The naming of the JCBC has its origins in a 2017 agreement with the University of Cambridge to establish a major collaboration in biomedical sciences. The result was the creation of the Sunway Clinical Research Centre in Sunway Medical Centre as a Regional Site Partner of the Cambridge School of Clinical Sciences, an extensive visiting leaders programme, and a series of medical education programmes.
Notice
Please do not alter, sell or redistribute the pictures. All pictures here belong to the Sunway Group.
Contact us for permission