Sunway and China Experts Discuss COVID-19 Treatment and Research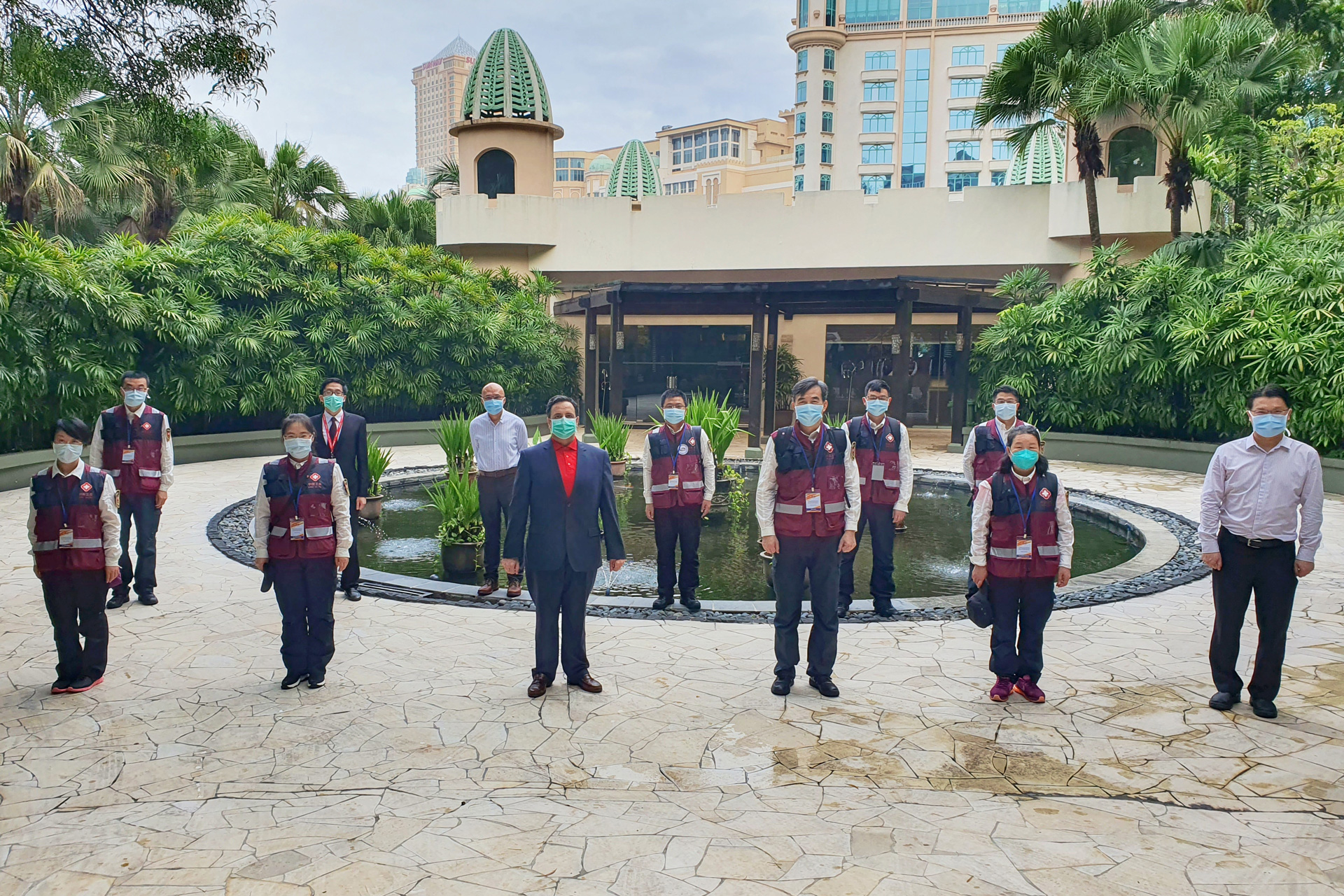 Sunway City Kuala Lumpur,27 April 2020
Sunway is proud to have hosted the medical professionals brought in by the Chinese embassy in helping Malaysia fight the pandemic as a nation.
The eight medical professionals from the Guangdong province arrived in Kuala Lumpur at noon on 18 April and were accommodated at Sunway Resort Hotel for two weeks.
Health director-general Datuk Dr Noor Hisham Abdullah had said that the team was here to give a helping hand to the frontline Malaysian healthcare workers as well as to observe the performance of Malaysian hospitals in handling the COVID-19 outbreak.
Since the first outbreak of the coronavirus in Wuhan, which is in the Hubei province of China, late last year, 346 medical teams from 29 provinces in China, have been sent to Hubei to save lives, aiding the local medical teams. While China has made strides toward controlling the outbreak within its own borders, it has reached out to help those affected as cases rapidly increase in other countries.
China and Malaysia have long enjoyed close bilateral ties for decades now, and Sunway Group has cemented strong business ties with a number of partners in China across the real estate as well as the trading and manufacturing sectors.
The medical professionals were led by Dr Li Jun, chief physician of the Integrated Chinese and Western Emergency Medicine and vice-president of Guangdong Provincial Hospital of Traditional Chinese Medicine. The other medical professionals include associate chief physician of the intensive care unit at Guangdong Provincial People's Hospital, Dr Wen Miaoyun; professor of nursing director of the Nosocomial Infection Control Department, Dr Zhang Youping; and associate chief physician of Respiratory and Critical Medicine Department, Dr Yang Shifang. The others are associate chief physician of Infection Department Dr Luo Xiaodan; senior psychologist Dr Liu Xiangxin; chief physician of Guangdong Provincial Center for Disease Control and Prevention, Dr Liu Tao; and associate chief technician in Virology and deputy director of General Study Office of Guangdong Provincial Institute of Public Health, Dr Sun Jiufeng.
An important meeting was held between the medical team of Sunway Healthcare and the eight medical professionals at Sunway Resort Hotel, where the latter shared their experiences on COVID-19 preventive measures, treatment, management and research with Sunway Healthcare medical experts to help combat the pandemic. Dr Seow Vei Ken, Medical Director, Dr Tan Lian Huat, Internal Medicine & Infectious Diseases Consultant and Dr Lim Ren Jye, TCM Consultant & Director were present.
China's ambassador to Malaysia, Bai Tian said, "They are among the best experts selected by China. Some of them had served in Hubei province, the epicentre of the COVID-19 outbreak. Tentatively, this team would be in Malaysia for a two-week period. They would also travel to Sabah and Sarawak to share their expertise,".
Three Sunway hotels gazetted as quarantine facilities
Three Sunway hotels with more than 1,200 rooms collectively have been gazetted as COVID-19 quarantine facilities for Malaysians returning from overseas amid the Movement Control Order (MCO).
The three Sunway hotels are Sunway Pyramid Hotel, Sunway Lagoon Hotel in Sunway City, Selangor and Sunway Velocity Hotel in Kuala Lumpur. The hotel rooms are expected to be fully occupied this week. 
Only Malaysian returnees without COVID-19 symptoms are allowed into the facilities. They are required to undergo a pre-arrival medical screening by the Ministry of Health. Those exhibiting symptoms will be immediately sent to designated government hospitals.
The returnees are confined to their hotel rooms during their 14-day mandatory quarantine. Each occupant has to adhere to the detailed procedures and guidelines for cleanliness and safety set out by the ministry during this period. Personnel from the Ministry of Health were based in each hotel to ensure compliance and to provide assistance throughout the duration.
"Since the COVID-19 outbreak, all nine Sunway hotels in Malaysia have been operating in strict compliance with Ministry of Health's health and safety protocols during this time, in particular disinfection and sanitisation procedures," said Dato' Tan Kia Loke, Sunway Group senior managing director of chairman's office, who also oversees hotel operations.
"As a home-grown Malaysian hospitality brand, Sunway Hotels & Resorts, as part of the Sunway Group, is committed to supporting the government and our fellow Malaysians with this initiative. This is how we as a corporate citizen can help combat and contain the spread of COVID-19 in our country," added Dato' Tan.
Notice
Please do not alter, sell or redistribute the pictures. All pictures here belong to the Sunway Group.
Contact us for permission