Sunway and Huawei Expand Partnership to Drive Digital Transformation Across ASEAN
This strategic partnership comes following a successful collaboration which started in 2021 to accelerate innovation and introduce new digital services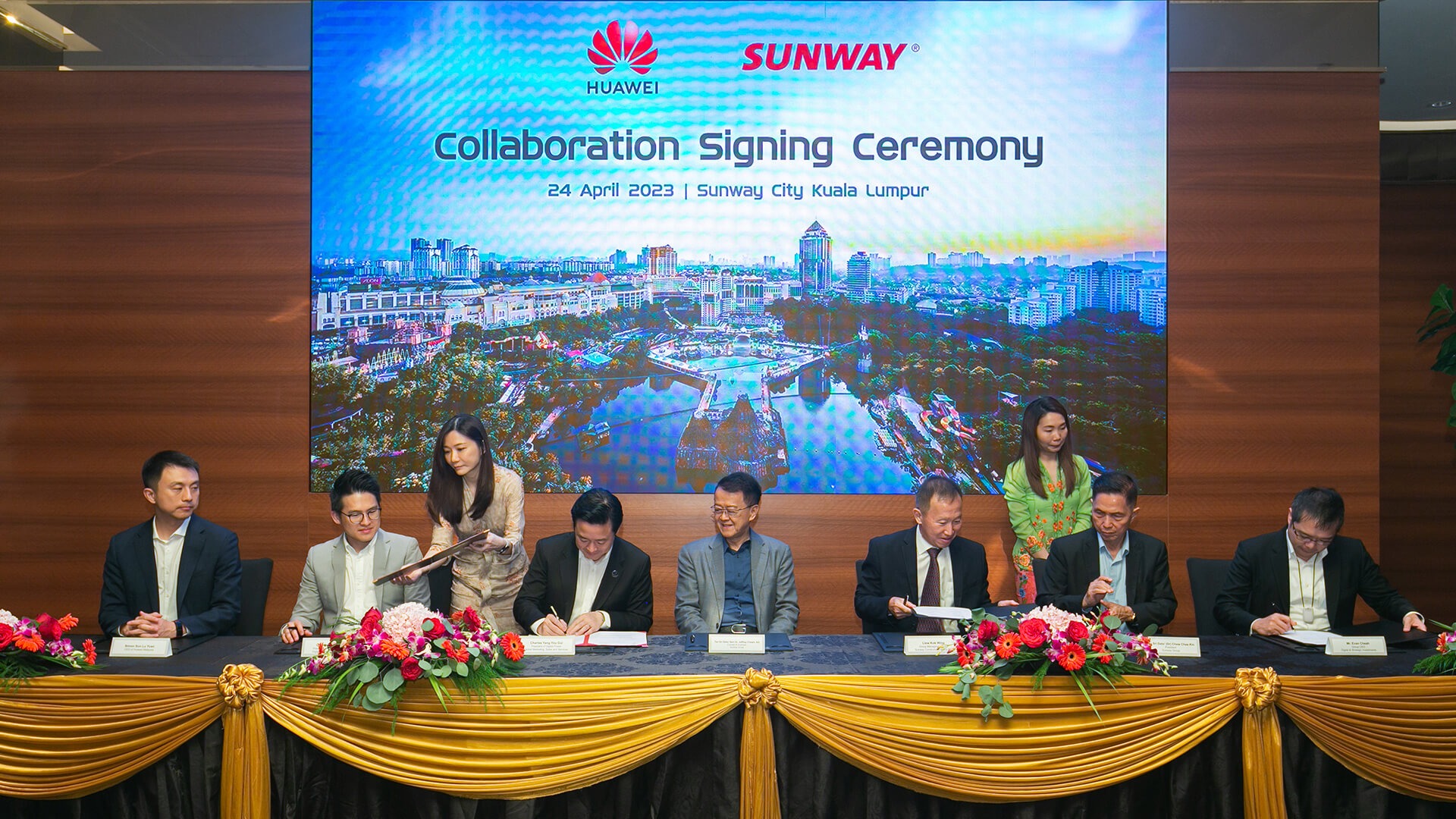 Sunway City Kuala Lumpur,09 May 2023
Sunway Group ("Sunway") and Huawei Technologies (Malaysia) Sdn Bhd ("Huawei Malaysia") have agreed to embark on 'Digital Innovation Programme 2.0', which will further advance digital innovation, the cloud modernisation journey, and strengthen collaboration across all Sunway business divisions in the ASEAN region. This includes identifying additional areas of cooperation with a focus on Big Data, Smart Townships and Digital Power.
The partnership between Huawei Malaysia and Sunway has advanced significantly since their first MoU in September 2021 on 'Digital Innovation Programme 1.0', where both entities successfully collaborated on several fronts, including cloud migration, app modernisation and digital growth platforms, comprising the Sunway Super App as well as artificial intelligence and machine learning capabilities.
Through 'Digital Innovation Programme 2.0', Huawei Malaysia aims to export the company's cutting-edge capabilities in information and communications technology to harness the synergies of Sunway's business divisions and develop innovative energy solutions for smart, sustainable low-carbon cities.
This collaboration will see both parties leveraging each other's strengths to innovate new digital services and co-build partnerships for the entire Sunway ecosystem. These include:
Data to value programme: The programme offers a jointly defined framework to increase the value and capabilities of Sunway from building a Data Lake to adopting Huawei's Big Data platform to support Sunway's business strategy and roadmap.
Smart townships development programme: In line with Sunway's mission to scale smart sustainable townships in the next three to five years, this joint partnership explores a robust ICT infrastructure to support a variety of smart technologies that will be implemented across all Sunway townships. This combined effort will also be extended to the Borneo states of Malaysia.
Digital Power Partnership domain: This will further expand new scopes to enable new business growth, such as Smart PV and battery energy storage systems (BESS), hyper-scale data centre partnerships and next-generation all-in-one smart green home, office and industrial park solutions.
Sunway Group founder and chairman Tan Sri Dato' Seri Dr. Jeffrey Cheah expressed his confidence in the long-term strategic partnership with Huawei on Sunway's continuous journey of digital transformation.
"I would like to thank Huawei for their very warm welcome and hospitality extended during Sunway's visit to their headquarters in Shenzhen.
We are truly inspired by Huawei's dedication to digital transformation, as well as their strong and enlightened leadership.
At Sunway, our vision is to become Asia's model corporation in sustainable development, innovating to enrich lives for a better tomorrow. I am convinced that our strategic partnership with Huawei can meet the challenges in a world of rapid development in technology especially across Asia, and to collectively advance the sustainability agenda in this part of the world," said Tan Sri Dato' Seri Dr. Jeffrey Cheah, who toured the Huawei campus at Shenzhen, China, with a delegation from Sunway in March 2023.
Chief Executive Officer of Huawei Malaysia Mr Simon Sun said the collaboration between the two organisations serves a vital purpose in enhancing and driving digital transformation as well as in strengthening the nation's economy.
"We are honoured to be given this opportunity to continue working hand-in-hand with Sunway to build and innovate solutions that will help us create a progressive environment that will drive the digital economy.
"With the renewal and expansion of our agreement, we hope to develop meaningful and real-world solutions to reduce carbon footprints and to provide advanced technologies as part of our commitment to the sustainability agenda. Our collaboration has come a long way and we are confident of delivering much more in the coming months and years," said Mr Sun.
Notice
Please do not alter, sell or redistribute the pictures. All pictures here belong to the Sunway Group.
Contact us for permission