Sunway Brings Chinese New Year Festive Cheer to Children Across Three States and Klang Valley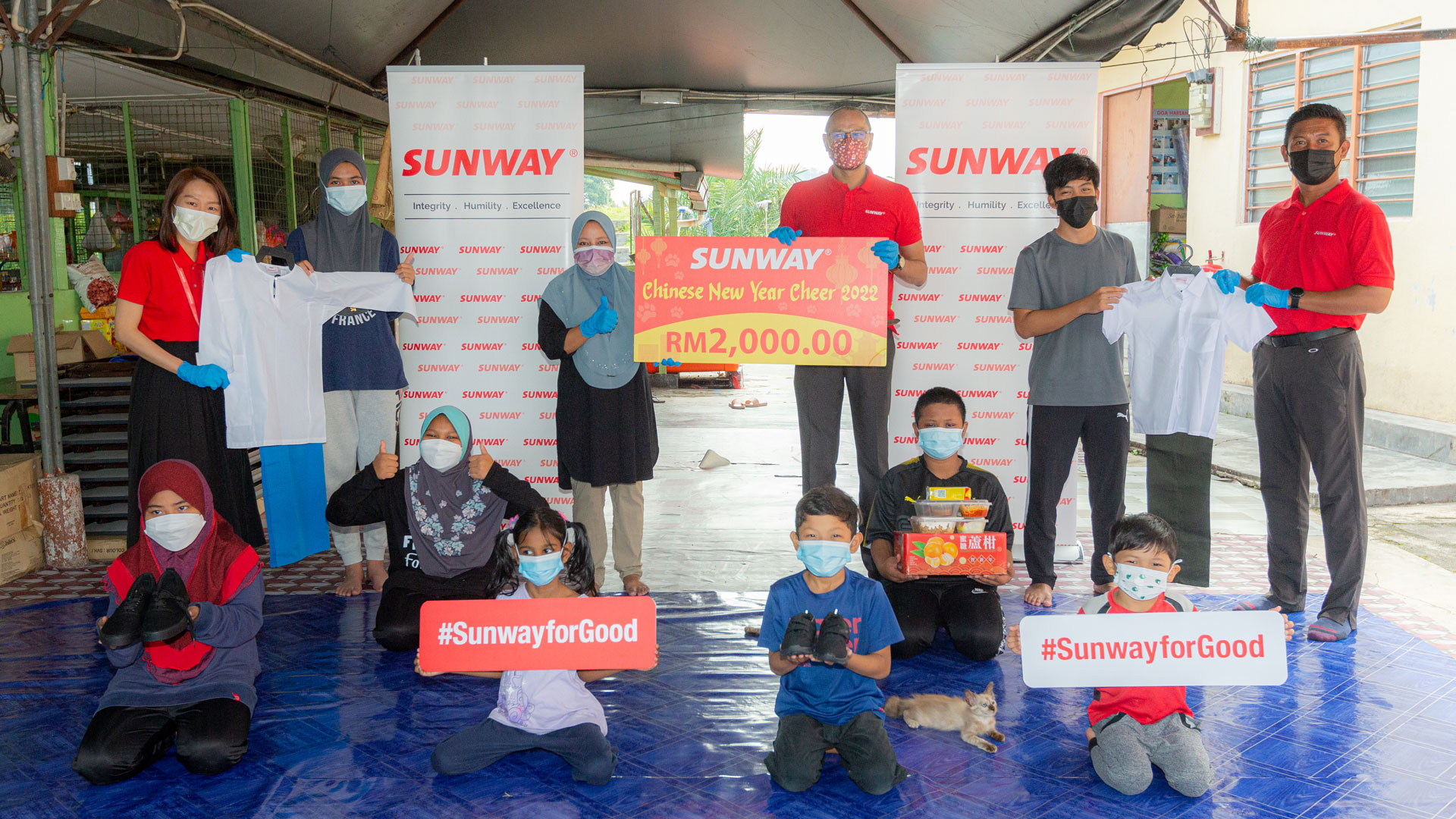 Sunway City Kuala Lumpur,24 January 2022
Sunway is celebrating this Chinese New Year (CNY) with more than 2,400 beneficiaries across three states and Klang Valley with donations and goods worth more than RM84,000 to 14 orphanage homes, underprivileged centres and B40 families through the #SunwayforGood CNY Festive Cheer Initiative.
As COVID-19 threatens festive celebrations, Sunway aims to spread the festive cheer to children across the nation with packed meals, "back-to-school" essentials, fun activities as well as a cash donation of RM2,000 to lighten the burden of festive expenses at eight homes across Perak and six more in Johor (2), Penang (2) and Klang Valley (2).
Each school-going child will receive a full set of "back-to-school" essentials comprising of two sets of school uniforms, one pair of shoes and two pairs of socks before the new school semester commences in March.
"For Sunway, education is a vital component in all that we do to ensure no one is left behind; it can lift a family out of poverty and go on to lead a meaningful life. It is very important for us to support these underprivileged children with the right foundation and motivation to shine in life," said Sunway Group Brand Marketing & Communications Senior General Manager Ms. Nik Tasha Nik Kamaruddin.
This initiative is part of the umbrella #SunwayforGood initiatives that pledge to promote sustainability and social responsibility efforts through three areas namely education, healthcare, and community enrichment, aligned with Sunway's commitment to the 17 United Nations Sustainable Development Goals as well as Environmental, Social and Governance (ESG) targets.
Since its inception, #SunwayforGood has touched the lives of over half a million beneficiaries, and aims to touch millions more throughout the country in the lead up to the Group's 50-year milestone in 2024.
In partnership with the Malaysian Red Crescent Society (MRCS), the #SunwayforGood Food Bank initiative will provide essential grocery items worth more than RM24,000 to at least 400 B40 families in the People's Housing Project (PPR or Program Perumahan Rakyat) community of Setiawangsa, Klang Valley.
The Sunway Lost World of Tambun team also took the opportunity to distribute more than 240 packed meals to all eight homes in Perak namely, the Previous Gift Orphanage Society, The Salvation Army Boys Home, Vision Home, Rumah Anak-Anak Yatim Dan Miskin "Anning", Pertubuhan Pengurusan Pusat Jagaan 1Malaysia, Pertubuhan Kebajikan Kasih Nurul Iman, Hannah Home and the Pertubuhan Kebajikan Harapan Baru.
The remaining six homes and underprivileged centres are the Cheshire Home and Rumah Sinar Kebahagian in Johor, Shammah Children Home and Pertubuhan Rumah Sinar in Penang and Persatuan Kasih Sejati (Great Heart) and Pertubuhan Kebajikan Anak-Anak Yatim dan OKU Mesra in Klang Valley.
Making things more festive and exciting is the Sunway virtual photo contest for students in four categories: Male and female in primary school as well as male and female in secondary school. Winners with the best Chinese New Year attire across the eight participating orphanages in Perak can look forward to cash prizes totalling more than RM6,500.
May Heah Mee Mee, Principal of the Pertubuhan Pengurusan Pusat Jagaan 1Malaysia said that receiving ongoing support from corporates such as Sunway will impact the children in a long run. "One day, these children will go out to the world to make a life for themselves. They will remember the helping hand and, hopefully, keep the cycle going by demonstrating kindness and compassion to others," she said.
In 2021 alone, the first time in the brand's history, Sunway garnered four significant CSR awards in a single year, a strong testament to the Group's efforts in uplifting communities nationwide. These include Company of the Year at the Sustainability & CSR Malaysia Award, the Best Corporate Responsibility Initiative award at the The Edge Billion Ringgit Club 2021, the Community CSR Award at the iProperty Development Excellence Awards 2021, as well as a special recognition by former Prime Minister YAB Tan Sri Muhyiddin Yassin at the 75th anniversary celebration of the Department of Social Welfare Malaysia.
Notice
Please do not alter, sell or redistribute the pictures. All pictures here belong to the Sunway Group.
Contact us for permission