Sunway Brings Festive Cheer to Children With Raja Muda of Selangor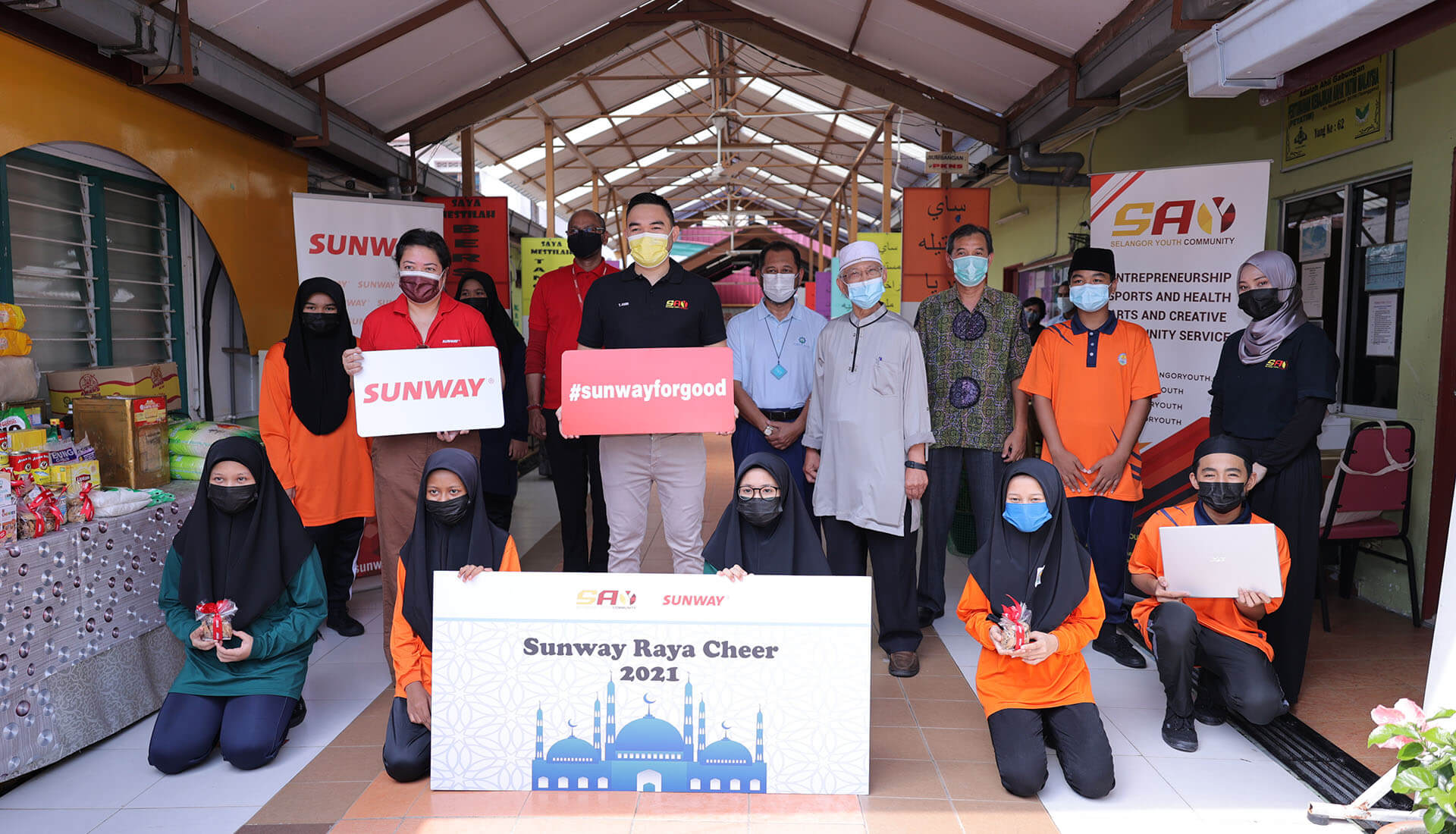 Kajang,28 April 2021
Sunway Group, in partnership with Selangor Youth Community (SAY), and His Highness Tengku Amir Shah Ibni Sultan Sharafuddin Idris Shah Alhaj, Raja Muda of Selangor, brought smiles and happiness to the 34 children from underprivileged backgrounds at Pusat Jagaan Kanak-kanak Rukaiyah Yatim dan Miskin with a variety of goodies and duit raya today.
His Highness Tengku Amir Shah, alongside Sunway Group, handed over essential groceries alongside duit raya, cookies, Vitamin C and masks to the children. The home was also gifted a laptop for the children to have access to quality education, a Sunway LINE (Learn. Innovate. Nurture. Evolve.) initiative which falls under the #SunwayforGood banner.
"I am happy to be part of this campaign as the children need as many opportunities as they can get to lift them from the cycle of poverty. I applaud Sunway's annual CSR affair in ensuring that no one should be left behind and this is only one of the many initiatives planned for the #SunwayforGood Raya outreach campaign," said His Highness Tengku Amir Shah.
The Raja Muda of Selangor's visit is part of the Sunway Raya Cheer with orphans and underserved children that involves 185 young ones from four homes in Selangor – Persatuan Kebajikan dan Perlindungan Rumah Jalinan Kasih, Pusat Jagaan Darul Sakinah Angkasa and SHELTER Home for Children – with a sponsorship amounting to RM27,675.
"This coming Raya, amidst the COVID-19 pandemic, sees the vulnerable communities disproportionately impacted – especially among the B40 communities. We are resolute in our pledge to leave nobody behind and Sunway's Corporate Social Responsibility (CSR) efforts will continually strive to ensure we bring an inclusive and sustainable community initiatives to all," said Sunway Group Brand Marketing & Communications Senior General Manager Ms. Nik Tasha Nik Kamaruddin.
President of Pusat Jagaan Kanak-kanak Rukaiyah Yatim dan Miskin Dr Abd Rahman Hj Kurais said the children were very excited to know that the Raja Muda of Selangor is coming to visit them and couldn't wait to see him.
"Not only the children, even us caretakers are so happy to receive our guests and it has brought on hope and cheer to our children. We hope this will motivate them further to excel in their education, knowing that there are so many people and organisations that care for their wellbeing."
In total, Sunway teams across the nation will deliver rice, bubur lambuk, packed meals, groceries and other essentials worth over RM281,000 to more than 22,500 beneficiaries for Hari Raya. These items are contributed by Sunway Lagoon, Sunway Lost World of Tambun, Sunway Pharmacy, Sunway Medical Centre, Sunway Malls, Sunway Integrated Property, Sunway City Iskandar Puteri, Sunway Resort Hotel and Sunway Putra Hotel.
Leading up to its 50th anniversary, Sunway has also embarked on a mission to fulfil four pledges by 2024. The pledges are to build and refurbish at least 50 libraries through the Sunway READ programme; to pack a total of one million meals for undernourished communities; to set up 50 urban farms for 50 orphanages, and to provide basic health screening in partnership with the National Kidney Foundation for 50 Orang Asal communities.
Sunway's Corporate Responsibility is encapsulated in the #SunwayforGood initiatives that pledge to promote sustainability and social responsibility efforts through three areas namely education, healthcare, and community enrichment, aligned with Sunway's commitment to the 17 United Nations Sustainable Development Goals.
Notice
Please do not alter, sell or redistribute the pictures. All pictures here belong to the Sunway Group.
Contact us for permission