Sunway Celebrates a Muhibah Festive Cheer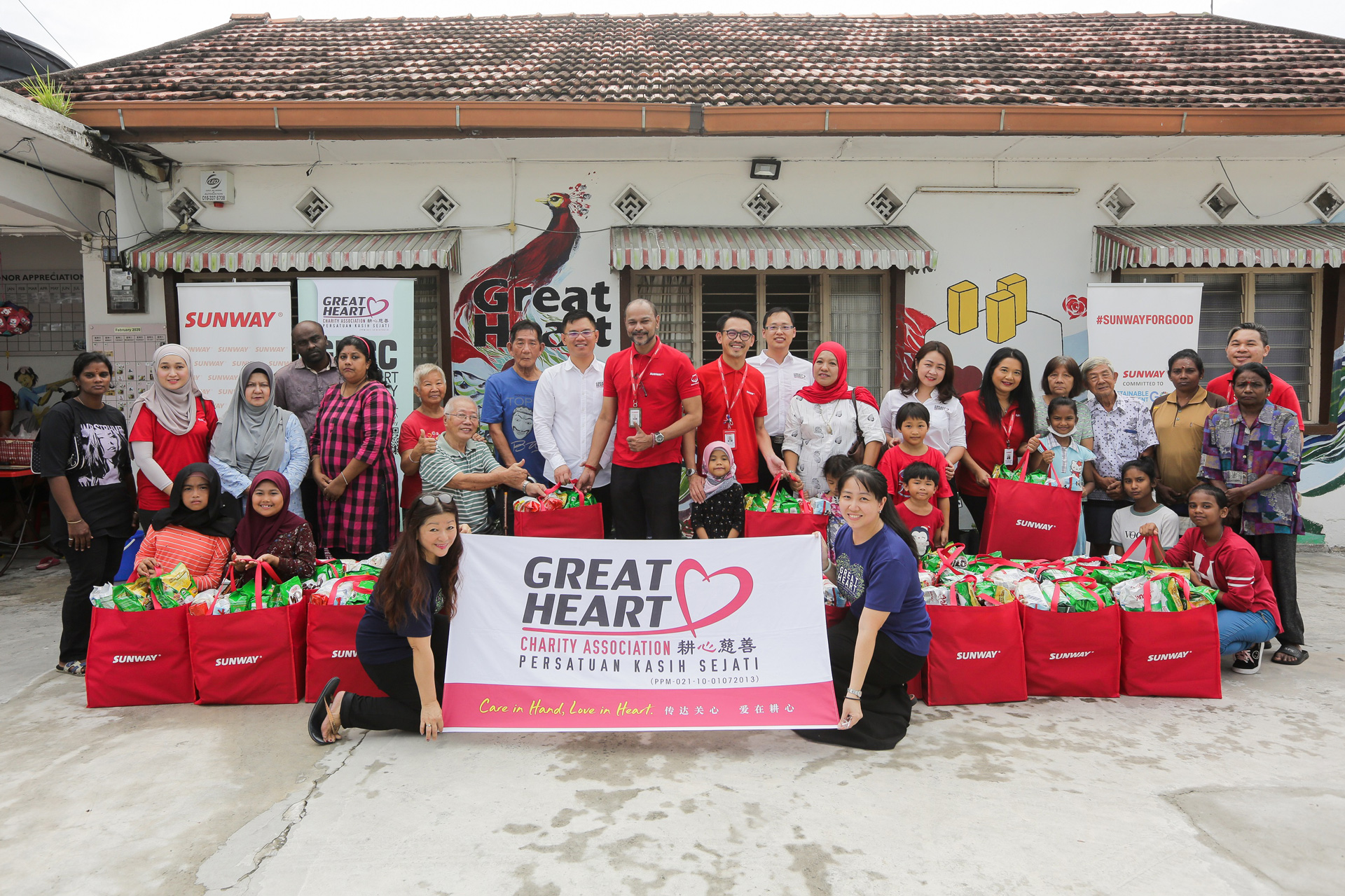 Kuala Lumpur,17 February 2020
#SunwayForGood initiative benefitted more than 420,000 beneficiaries nationwide in the past 20 years
Sunway celebrated this Chinese New Year in a muhibah spirit by giving back to 222 underserved beneficiaries from the B40 group. In an effort to promote inclusiveness, this year's #SunwayForGood CNY Cheer was celebrated with various multiracial families, who are also beneficiaries of Great Heart Charity Association.
Bernard Paul, Sunway Group General Manager for CSR, Internal Branding & Events, together with Sunway volunteers gave out more than RM41,000 worth of groceries and ang pow. Each grocery pack consists of basic necessities including rice, milk powder, Milo powder, canned sardine, essence of chicken and bath towel.
He said, "Festive seasons may be filled with joyful celebrations but for families who are struggling to put food on the table on a daily basis, these festive seasons may not necessarily be a happy occasion for them. What we are trying to achieve with our #SunwayForGood Festive Cheer is not only to enable them to celebrate these festivities but also ease their burden."
"This is the 20th year we are carrying out our #SunwayForGood Festive Cheer programme and this year, we take on a refreshing approach in a muhibah spirit. We celebrated CNY Cheer with our fellow Malaysian families and we will do the same for the upcoming Raya Cheer, Deepavali Cheer and Year-End Cheer as well. We believe that sustained development can only be achieved when no one is left behind. By focusing on uplifting those who are furthest behind first, we hope to pave to progress with solidarity and dignity for all."
Franky See, Great Heart Charity Association President said, "All of the beneficiaries have gone through hard journeys in their lives. We are doing what we can to make everyday a little easier – be it through providing emotional and physical support, funds, food, or treatment that they need. We cannot do it alone. We have been working with Sunway Group since 2018 and we are truly grateful and thankful that such a big corporation is dedicated towards giving back to society."
The Great Heart Charity Association is a charity platform that connects contributors, volunteers, and beneficiaries that strives towards making charitable giving a part of everyone's life. About 62% of the beneficiaries are from underprivileged families, which includes dialysis patients, 34% are from senior citizen homes and orphanages, while the rest are from differently abled groups, education projects, and orang asli communities.
Twenty Years of Doing Well By Doing Good
Intertwined with Sunway Group's core values of Integrity, Humility, and Excellence, Sunway's Corporate Responsibility is encapsulated in the #sunwayforgood initiatives, which is our pledge to continue to do good and to stand alongside Malaysians for good. We champion Corporate Responsibility through three areas of focus, namely Education, Healthcare, and Community Enrichment, aligned with our commitment to the 17 United Nations Sustainable Development Goals.
Since 2000, Sunway had celebrated #SunwayForGood Festive Cheer programme with people from all walks of life across Malaysia. Festive Cheer is an annual initiative to reach out and touch the lives of the underserved, and to create a sustainable impact in improving the lives of the community, especially during major festive seasons. For the past 20 years, the #SunwayForGood initiatives had reached out to more than 420,000 beneficiaries nationwide.
The #SunwayForGood initiatives are aligned to the United Nations 2030 Agenda for a world of sustained progress that leaves no one behind. This year, Sunway intends to reach out to 65,000 beneficiaries nationwide.
Notice
Please do not alter, sell or redistribute the pictures. All pictures here belong to the Sunway Group.
Contact us for permission