Sunway Kicks Off Its #SunwayforGood Initiative, Aims to Reach Out to 65,000 B40 Beneficiaries in 2020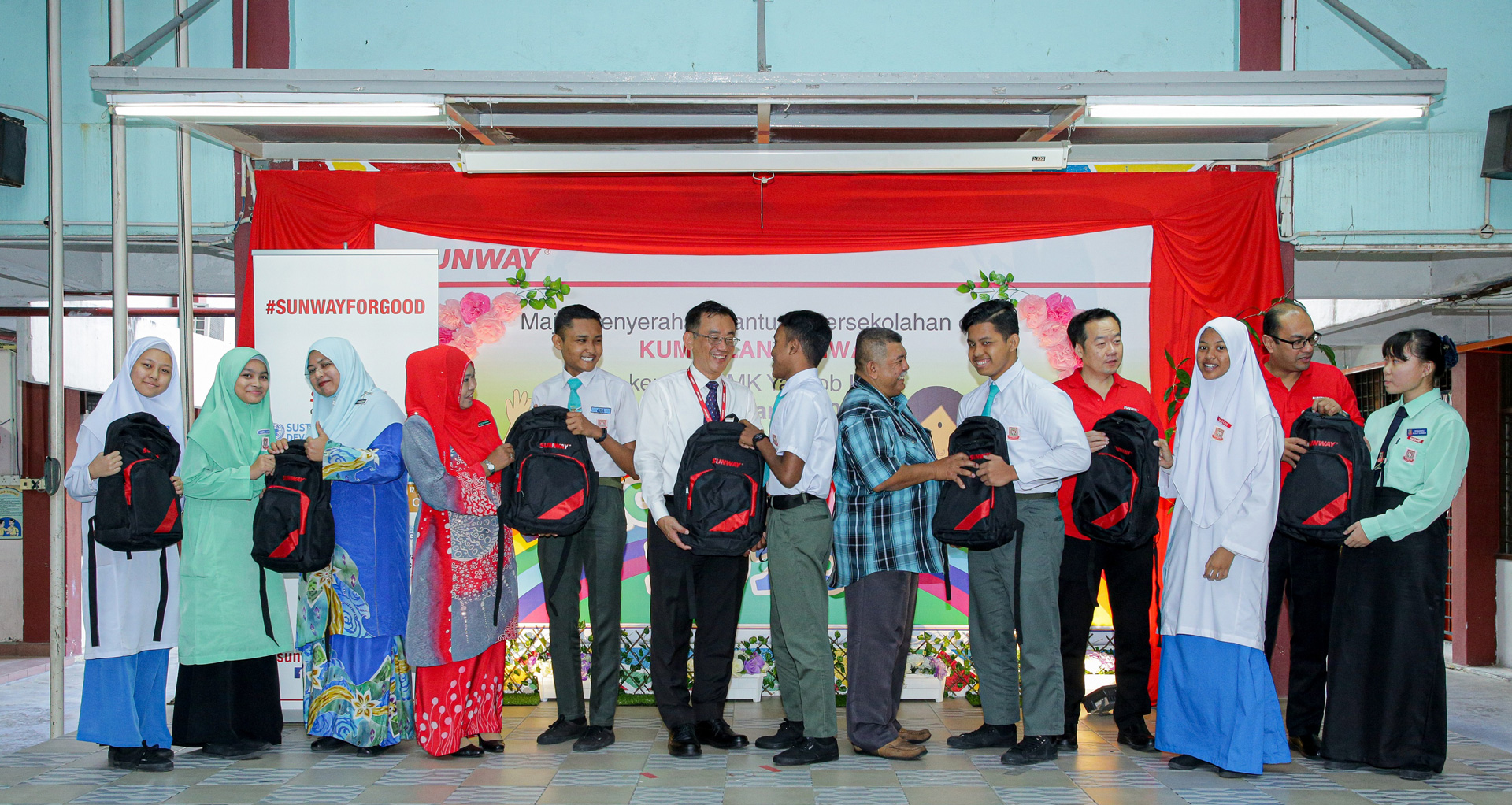 Kuala Lumpur,16 January 2020
Sunway Group kick started its first #sunwayforgood initiative for the year, focusing on one of its three key pillars, education. The Group started the year with its annual Back-to-School programme at SMK Yaacob Latif in Cheras and will continue with various educational programmes by Sunway Medical Centre Velocity (SMCV) with the Cheras community.
Sunway Group Deputy Executive Chairman Tan Sri Datuk Seri Razman M. Hashim said the Back-to-School initiative will be the first of Sunway Group's many #sunwayforgood efforts which intend to reach out to 65,000 beneficiaries nationwide this year. Last year, #sunwayforGood initiatives reached out to 50,000 beneficiaries.
"The #sunwayforgood initiatives are part of our commitment to the 2030 United Nations Sustainable Agenda and our intention to build a nation where no-one is left behind. By providing the supplies, we hope to ensure that the students receive a chance to pursue quality education so they can improve their lives and contribute to better their families and their communities," he added.
Readies B40 Students for School
The Back-to-School initiative saw a team of Sunway volunteers distribute school supplies to some 400 students in SMK Yaacob Latif. This initiative is timely as school has just started a week ago.
The students who received the supplies are from B40 households and each student received a school bag, water bottle, writing supplies and food container to alleviate their family's financial loads.
The event was attended by the Deputy District Education Officer, Sector of Learning Bangsar/Pudu District Education Office Noorhana Binti Hashim and Sunway Berhad Central Region Property Development Division Executive Director Chong Sau Min.
The Ministry of Education had previously quoted poverty, lack of interest, lackadaisical attitude of parents, illness or disabilities, social problems and learning problems as well as underage marriages as the possible cause of school dropouts.
SMK Yaacob Latif principal, Puan Hajah Noraizah Binti Shaharuddin said that Sunway's contribution of the school supplies will help encourage the students to stay in school.
"This means that there is less pressure on the family to prepare their children for school and they can focus their budget on other necessities such as food. For a large part of our societies, school supplies may be basics but for these students, having them could mean the difference between staying in school or staying out of school," she said.
Educational Programme with the Cheras Community
As part of its effort to continue serving the community, Sunway Group also started an educational programme with the Cheras Community which will run until 31 March 2020.
In line with the United Nations Sustainable Development Goal 3: Good Health & Well-Being and Goal 4: Quality Education, the educational programme will be conducted by Sunway Medical Centre Velocity (SMCV). It will be held at various community centres as well as SMK Yaacob Latif in Cheras.
The programme includes CPR and AED workshops as well as talks on Child and Adolescent Behavioural Health. The CPR and AED workshops aim to educate the public, especially secondary school students on basic life-saving skills while the Child and Adolescent Behavioural Health talk focuses on increasing awareness and understanding of different behaviors or disorders, especially among parents and teachers. The Group hopes that these sessions will help elevate the mental health and well-being of students.
Notice
Please do not alter, sell or redistribute the pictures. All pictures here belong to the Sunway Group.
Contact us for permission