Sunway Pals Partners with Enrich to Benefit Avid Members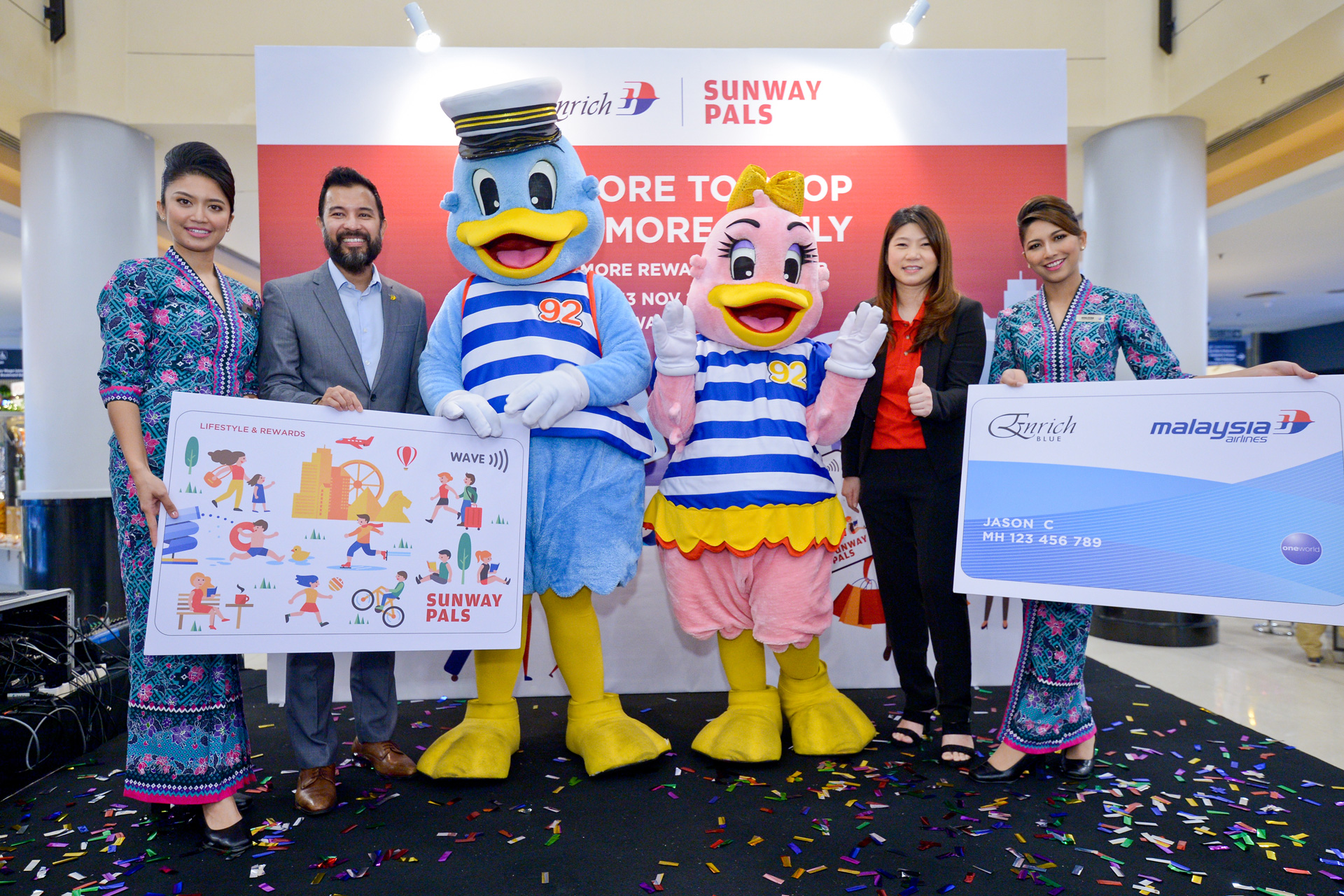 Sunway City Kuala Lumpur,13 November 2019
Sunway Pals today, announced the first strategic partnership with Malaysia Airlines' frequent flyer programme, Enrich, to benefit avid travellers through a points exchange collaboration.
Starting today, the conversion initiative will allow members of both programmes to put their Miles or Sunway Pals points for an expanding array of rewards, and hence getting more value from their programme. With the collaboration, Enrich members will be able to exchange their miles at Sunway's establishments and Sunway Pals members will be able to use their points to redeem for travel and lifestyle rewards.
Sunway Group Executive Vice President of President's Office Evan Cheah said,
"With the Visit Malaysia Year 2020 around the corner, inbound and domestic travellers will be able optimise their reward options exponentially."
"Sunway Pals members can now redeem their miles for flights across 13 global airlines on the Oneworld alliance, and Enrich members can now utilise their miles to shop in Sunway's malls and redeem their points with over 1,000 merchants, play in Sunway's theme parks, stay in Sunway's hotels, and seek health screening in Sunway's medical centres. The partnership will strengthen loyalty for both Sunway Pals and Enrich members whilst enhancing the overall customer experience," he added.
According to Malaysia Airlines Group Chief Marketing and Customer Experience Officer Lau Yin May, "This partnership with Sunway Pals loyalty programme provides our Enrich members more choices in how to spend their accumulated miles beyond travel-based redemptions with the option of shopping at the partner merchants under the Sunway banner".
She added, "This partnership also further cements Malaysia Airlines' larger goal of Fly Malaysia, the campaign where we aim to share the beauty of Malaysia in the aspects of its culture, nature and people. Fly Malaysia also aims to promote travel by leveraging on creating a uniquely Malaysian travel experience for the travellers."
The launch event of the Enrich & Sunway Pals Partnership was held at Sunway Pyramid today, which saw special rewards for new members who signed up for either of the loyalty programmes. Enrich and Sunway will embark on more joint promotions in the future aimed at strengthening customer loyalty whilst enhancing the overall member experience.
Notice
Please do not alter, sell or redistribute the pictures. All pictures here belong to the Sunway Group.
Contact us for permission