Sunway Partners MLDA to Create Unique Rare Disease Experience in Conjunction with World Rare Disease Day 2019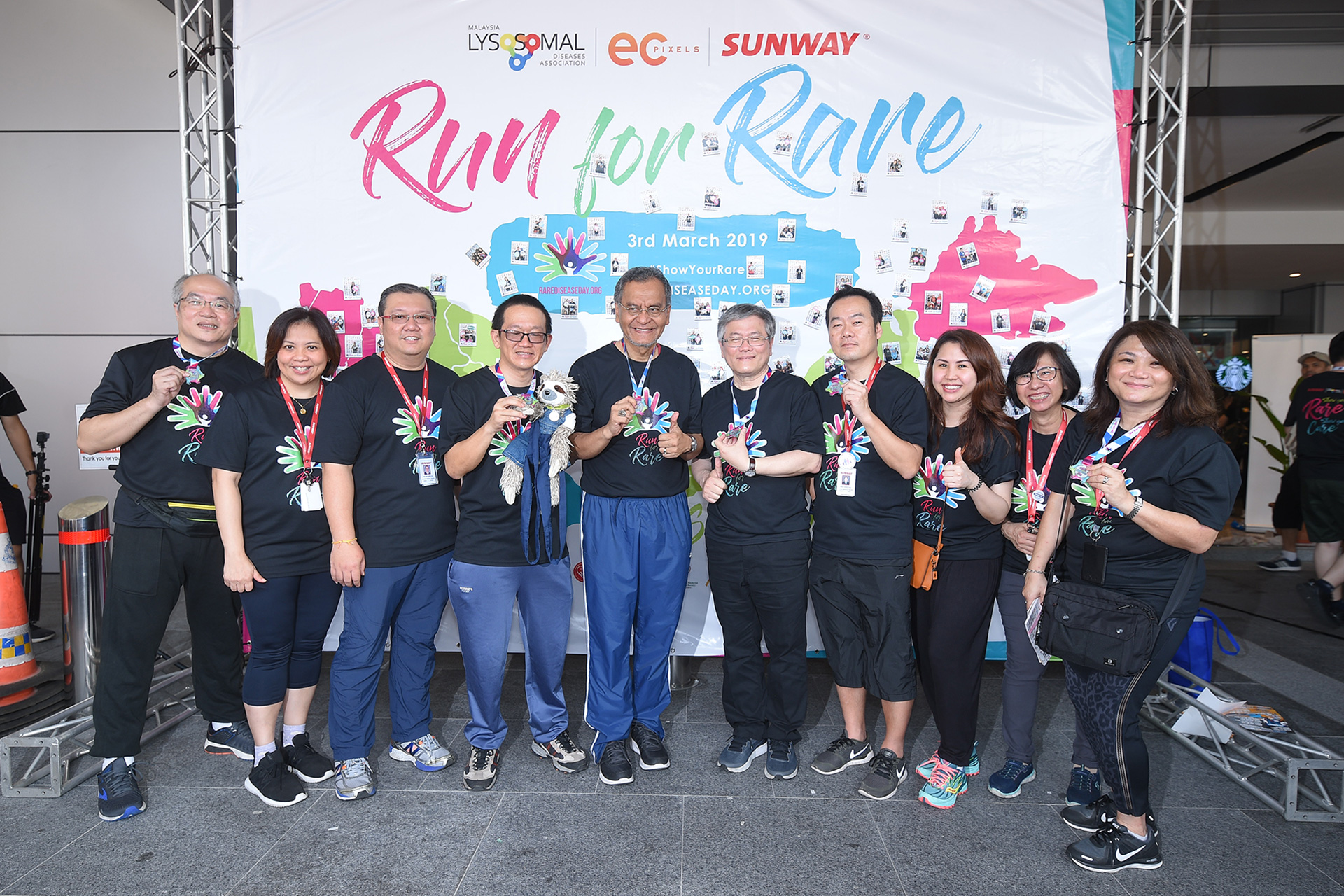 Sunway City Kuala Lumpur,14 January 2019
Run for Rare to simulate daily ordeals by patients
Proceeds to benefit patients with lysosomal diseases
In conjunction with the World Rare Disease Day 2019 which takes place on the last day of February this year, the Malaysia Lysosomal Diseases Association (MLDA) is organising a rare disease charity run, 'Run for Rare' in Sunway City KL, with the support of the Ministry of Health, Malaysia and 13 rare disease non-governmental organisations.
'Run for Rare' intends to create awareness for rare diseases through taking its participants through a unique obstacle course in the run which gives runners a chance to step into the shoes of a rare disease sufferer.
Scheduled to take place on March 3, the Run will be flagged off by Health Minister Dr Dzulkefly Ahmad, who will also participate by running with some children who are afflicted with rare diseases.
An accepted definition of rare disease is a disease that affects 1 in 4,000 – but in reality, rare diseases are not that rare. Because there are about 7,000 variants of rare diseases – it has been estimated that about 10 percent of the population, or 30 million people might be affected.
Ranging from Gaucher to Pompe disease, sufferers live with various complications from muscle weakness to organ failure. Due to the rarity of their diseases, patients often receive erroneous diagnosis or need to wait years for an accurate diagnosis. As a result, patients and their families suffer tremendously.
MLDA founding president IR Lee Yee Seng, who has two children afflicted with Pompe disease, a type of lysosomal disease which results in a rare neuromuscular disorder, said that "Run for Rare" aims to create awareness and bring together stakeholders to address the issues faced by the sufferers of the rare disease.
"Lysosomal diseases (LSD) are classifed as a rare disease and currently there's very little awareness about this disease. The diseases happen due to failed "recycling center" in each cell. Abnormal storage in the body's cells causes many complex symptoms such as developmental delay, regression, movement disorders, seizures, dementia, deafness, blindness, enlarged heart, enlarged livers, enlarged spleens, pulmonary and cardiac problems, and bones that grow abnormally.
"Only 8 out of 50 types of LSD have Enzyme Replacement Therapy (ERT) treatment. However, the cost of the treatment is very expensive. Each patient will need an average of RM 1 million each year for a lifelong treatment. LSD patients almost always die at premature age due to late diagnosis or late treatment.
"Children suffering from these diseases as well as their families are faced with a host of challenges. Firstly, these diseases are misdiagnosed resulting in prolonged suffering by the individuals and families. Secondly, even when diagnosed, costs of tests and treatments are high and all which is beyond the resources of most families. Most of them are forced to rely on government aid and public generosity. The lack of proper diagnosis, treatment and financial aid could ultimately result in death for the sufferers," he explained.
He said that he had formed MLDA in 2011 with a group of parents who believed that they were the best advocates for their children who are suffering from LSD. MLDA currently has 90 LSD patients.
"Our immediate priority is to save 7 LSD patients who are awaiting ERT treatment. Without treatment these patients will die. We are thankful to Ministry of Health for continuing the RM 10 mil allocation for LSD patients in 2019, which has help rescue more than 50 LSD patients nationwide and with the help from Zakat Selangor and several corporate sponsorship, this jointly lifesaving effort are truly commendable.
We are also excited to see the RM16 mil budget allocation for rare disease patients in 2019, however this budget is still not enough to cater for overall Rare Diseases patients' needs as more drugs has been invented in recent years and provide hope to these patient family. We hope government will come up with Rare Disease Act to overcome this issue by ensuring every child will receive prompt medication before it's too late."
With "Run for Rare," Lee hopes to raise awareness and bring stakeholders together to alleviate the suffering of rare disease patients and their families.
"We would like Malaysians to be aware of these rare diseases, diagnosis and treatment options, funding, as well as garner even more interest amongst stakeholders such as researchers and practitioners to come together to progress the work that is being done here for the disease," he said.
Lee had worked with Sunway Group to design the obstacle course for "Run for Rare" to be a truly unique experience for the runners in Sunway City.
Sunway Group Brand Marketing and Communications Director Jane Poh said, " Together with MLDA, we have designed 'Run for Rare' to include activities that will simulate the experiences of children who are living day-to-day with a rare disease, such as a wheelchair obstacle challenge and writing calligraphy with a dumbbell. We hope that by going through these obstacles, participants will get a little insight into the lives of those who live with these rare diseases; and come to understand the challenges from their perspectives."
"Sunway is committed to the United Nations Sustainable Development Goals, one of which is SDG 3: Ensure healthy lives and promote well-being for all at all ages. We believe that every individual has a right to well-being, and we hope this run will serve to raise awareness for rare diseases."
"Our healthcare division, Sunway Medical Centre, currently offers comprehensive paediatric services to meet the physical, emotional and developmental needs from infancy through young adulthood. We currently have a consultant and a pathologist in clinical genetics for the complex and unique care that children with rare conditions need. We hope to be able to provide more options for treatment in the future," she said.
All proceeds from the run will be channelled to MLDA to fund treatment for to be used for funding treatment of patients with lysosomal diseases.
Run for Rare participants will be able to take part in lucky draws and win competition prizes worth almost RM11,000 including a Star Cruise round trip to Phuket, Thailand, a Toshiba 40" LED TV, and HuaWei and Xiaomi mobile phones.
Other sponsors of this event include BioMarin, Sanofi, Tenaga Nasional Berhad, Gardenia and Yakult.
Notice
Please do not alter, sell or redistribute the pictures. All pictures here belong to the Sunway Group.
Contact us for permission