Sunway Promotes Organic Gardening with The Banjaran Hotsprings Retreat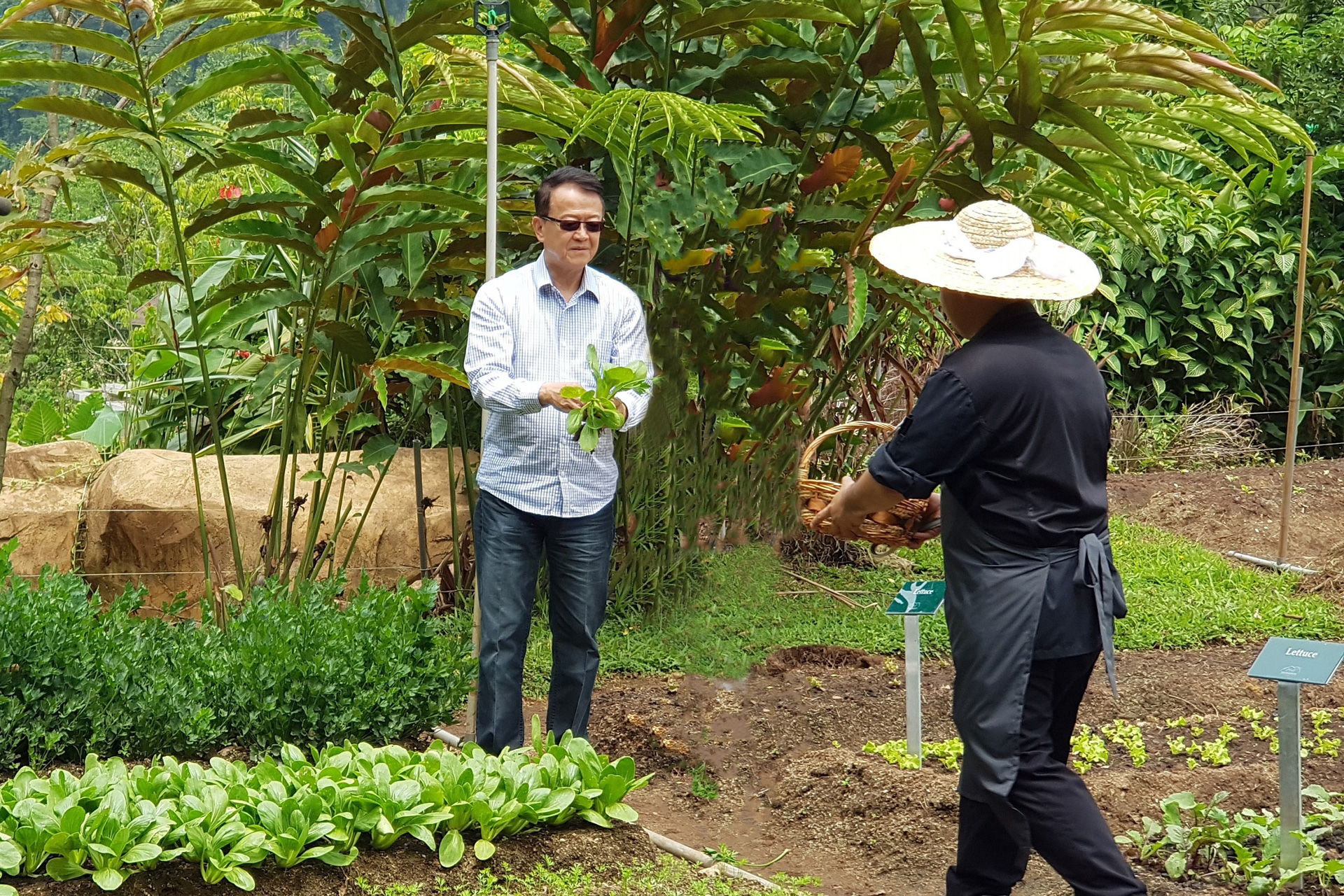 Sunway City Ipoh,05 June 2020
Three organic gardens cultivated to encourage sustainable living and advocate farm-to-table dining concept.
The Banjaran Hotsprings Retreat, managed by Sunway Hotels & Resorts, has cultivated three organic gardens; Organic Garden, Herbal Garden, and Chef Boon's Garden. The fresh organic vegetables and herbs harvested from the gardens are served to retreat guests and restaurant patrons of The Banjaran to encourage sustainable living and advocate farm-to-table dining.
The three gardens collectively span almost 10,000 square feet and are nourished by fresh water from the mountains of Ipoh which flows into a natural lake within the retreat. The Organic Garden and Chef Boon's garden typically grows vegetables commonly used in cooking such as cucumber, carrots and leafy greens. Chef Boon's Garden acquires its name from The Banjaran's head chef Lee Choon Boon. While the Herbal Garden produces frequently used herbs such as basil, rosemary, and oregano.
The Banjaran adopts gardening practices that encourage food to be grown and harvested in a sustainable way. The professional organic farmers practice healthy crop rotation on the gardens, an essential part of organic gardening to add nutrients that naturally enrich soils. Produce of the gardens are also free of carcinogenic pesticides and chemical fertilizers. Sustainable gardening practices ensure long-term land sustainability that benefits the environment, while yielding more nutritious produce. The organic gardens have also reduced the retreat's food wastages and carbon footprint by minimising greenhouse gas emissions.
The concept of organic gardening within the retreat stemmed from Sunway Group Founder and Chairman Tan Sri Dr Jeffrey Cheah who believes in the farm-to-table dining concept, as he said, "Farm-to-table dining reminds us about the things that really matter – our inseparable relationship with nature, our infinite capacity to nurture, our imperative to live healthy and our inherent responsibility to the stewardship of the planet."
Advocating the farm-to-table dining concept, The Banjaran's dining restaurants incorporates all fresh produce of the organic gardens into their menu offerings. The fresh organic vegetables and herbs are harvested at its peak ripeness so that guests are able to enjoy peak nutritional benefits when consumed. Pomelo offers freshly squeezed organic vegetable juice at their breakfast juice counter and Jeff's Cellar offers a course of "The Banjaran Organic Garden" in their signature menu. The Banjaran also offers seasonal buffet packages of durian, fresh from their organic farm in the month of February and July.
As a wellness retreat, the environment and philosophy of The Banjaran is designed to encourage renewal towards wellness, offering numerous packages incorporating villa stays, spa and wellness treatments and dining, aimed at rekindling romance, relaxation, or rejuvenation. A new culinary experience package with a unique purpose of wellness and healthy cooking will soon be offered in The Banjaran; the package will guide retreat guests in creating delicious and nutritious dishes packed with well-being benefits using fresh produce from the gardens.
The Banjaran, Malaysia's first luxury natural wellness hot springs getaway, is built on eco-friendly practices with a strong emphasis on environmental conservation and sustainable practices. Nestled in a 22.7-acre valley, the award-winning retreat of bespoke wellness is cradled by lush tropical rainforest, geothermal hot springs, natural caves, cascading waterfalls and magical 260-million-year-old Paleozoic limestone hills. This sanctuary of wellness is a 15-minute drive from the city of Ipoh, in the northern state of Perak; and two hours from Malaysia's capital city, Kuala Lumpur.
Sunway City Ipoh's organic farm
Last year, 30 hectares of undeveloped land had been repurposed in Sunway City Ipoh for food and agriculture, which led to the establishment of Sunway Organic Farm. Located at The Banjaran Hotsprings Retreat, the farm produces pesticide-free fruits and vegetables with fresh water from the mountains.
In an incessant effort to help the communities affected by the COVID-19 pandemic and the Movement Control Order, Sunway Property has delivered more than 200kg of fresh organic produce from Sunway City Ipoh's organic farm. This contribution has benefitted more than 6,000 frontline healthcare workers and patients of Hospital Raja Permaisuri Bainun, Ipoh.
Biodiversity across Sunway townships
The very birth of Sunway was founded on the concept of sustainability with the rehabilitation of Sunway City Kuala Lumpur, a former tin-mining site turned into a vibrant sustainable township serving a community of more than 200,000 people. This success has been replicated in Sunway City Ipoh and Sunway Iskandar in Johor.
Sunway's commitment to environmental conservation and building of green cities led to the introduction of the tree-planting programme in 1989. Under the programme, Sunway has planted some 50,000 trees across all Sunway townships.
Committed to advancing UNSDG
Sunway is deeply committed to advancing the 17 United Nations Sustainable Development Goals and has incorporated these practices in its township development. This initiative is in line with United Nations Sustainable Development Goal 2: Zero Hunger, Sunway aims to achieve food security, improve nutrition and promote sustainable agriculture; and Goal 12: Responsible Consumption and Reproduction, Sunway believes that sustainable food production and consumption is crucial in any environment and must be done responsibly. The Banjaran will also start to collect food waste and dried leaves to be processed into compost for the gardens.
Notice
Please do not alter, sell or redistribute the pictures. All pictures here belong to the Sunway Group.
Contact us for permission