Sunway Shares Festive Cheer With Multiracial Children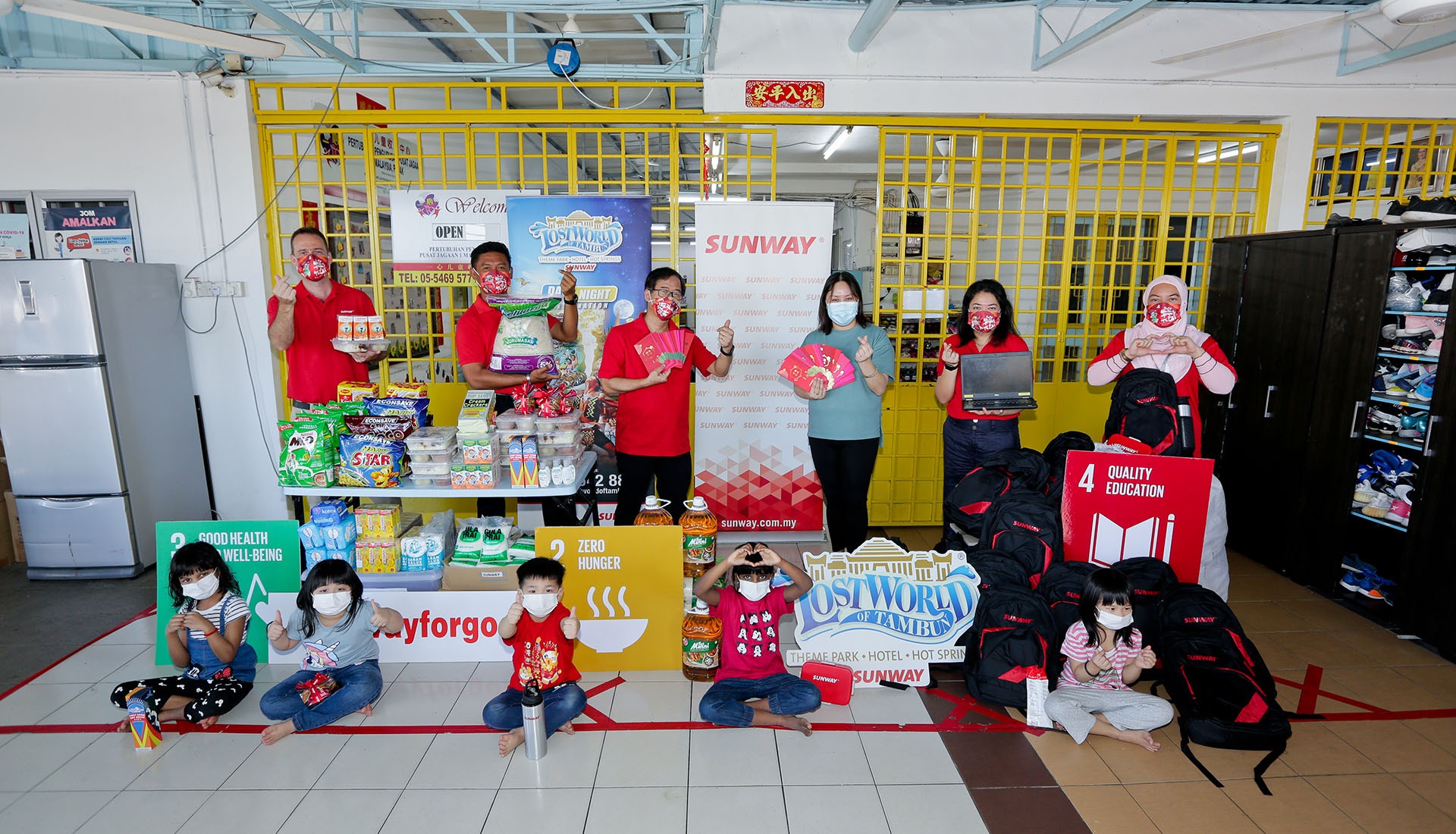 Sunway City Kuala Lumpur,01 March 2021
Sunway celebrated this Chinese New Year by giving essential groceries, and festive goodies, as well as ICT equipment and services to children homes in Perak. In an effort to promote inclusiveness and diversity, Sunway celebrates all festive seasons in Muhibbah spirit under its #SunwayforGood umbrella. 230 beneficiaries of various multiracial children homes benefitted from its Chinese New Year cheer this year.
As part of #SunwayforGood, the Sunway LINE (Learn. Innovate. Nurture. Evolve.) initiative saw a total of seven laptops and one-year worth of WIFI being gifted among the orphanages to ensure that the children have access to the quality education that they deserve.
This latest initiative by Sunway aims to create learning opportunities for underserved children by equipping them with the much-needed information and communications-related equipment or services to continue learning in the new norm.
In addition, the team also brought with them packed lunches, Vitamin C, hand sanitizers, ang pows, festive cookies, as well as school bags to prepare the children for school.
"The COVID-19 pandemic has disproportionately impacted the vulnerable communities – especially with the B40. As a strong and consistent advocate of sustainable development, we have made a pledge to assure that no one will be left behind in our pathway to development. We will continuously push our efforts during this time to bring an inclusive future to all," said Sunway Group Brand & Marketing Communications Group Senior General Manager Ms. Nik Tasha Nik Kamaruddin.
Pertubuhan Kebajikan Harapan Baru Chief Officer Ms. Tham Ee Kuan said that Sunway Group's visit had cheered its 21 children up immensely.
"Our children have gone through a difficult period, with a lot of them having fallen back on their lessons as they did not have internet access to continue learning during difficult times. Sunway Group's visit brought much hope and cheer to our children. With the free WIFI for a year, the children will now be able to catch up on their lessons and not left behind."
The homes that received assistance were Salvation Army Boys Home, Rumah Anak-Anak Yatim Dan Miskin "Anning", Vision Home, Precious Gift Orphanage Society, Pertubuhan Pengurusan Pusat Jagaan 1Malaysia, Pusat Jagaan Anak-Anak Yatim Dan Miskin Nurul Iman, Hannah Home and Pertubuhan Kebajikan Harapan Baru.
The Sunway team worked closely with the Malaysian Red Crescent Society as they played the essential role in helping to provide manpower, transportation and purchase of groceries.
Since the start of this year, Sunway has donated RM100 AEON vouchers each via the #SunwayforGood fund to 736 B40 students' families in SK Bandar Sunway to purchase school items and groceries; sponsorship of television and furniture from Sunway Resort Hotel to charity homes in the Klang Valley; 2,800 kg rice distribution to six rice ATM machines via mosques in Klang Valley, Ipoh, Johor and Penang; and distribution of 1,600 packed lunch for PDRM frontliners in Subang Jaya and Petaling Jaya.
Leading up to its 50th anniversary, Sunway has also embarked on a mission to fulfil four pledges by 2024. The pledges are to build and refurbish at least 50 libraries through the Sunway READ programme; to pack a total of one million meals for undernourished communities; to set up 50 urban farms for 50 orphanages, and to provide basic health screening in partnership with the National Kidney Foundation for 50 Orang Asal communities.
Sunway's Corporate Responsibility is encapsulated in the #SunwayforGood initiatives that pledge to promote sustainability and social responsibility efforts through three areas namely education, healthcare, and community enrichment, aligned with Sunway's commitment to the 17 United Nations Sustainable Development Goals.
Notice
Please do not alter, sell or redistribute the pictures. All pictures here belong to the Sunway Group.
Contact us for permission