Sunway Unites Malaysians to Feed 25,000 in B40 Families with #SunwayforGood Food Bank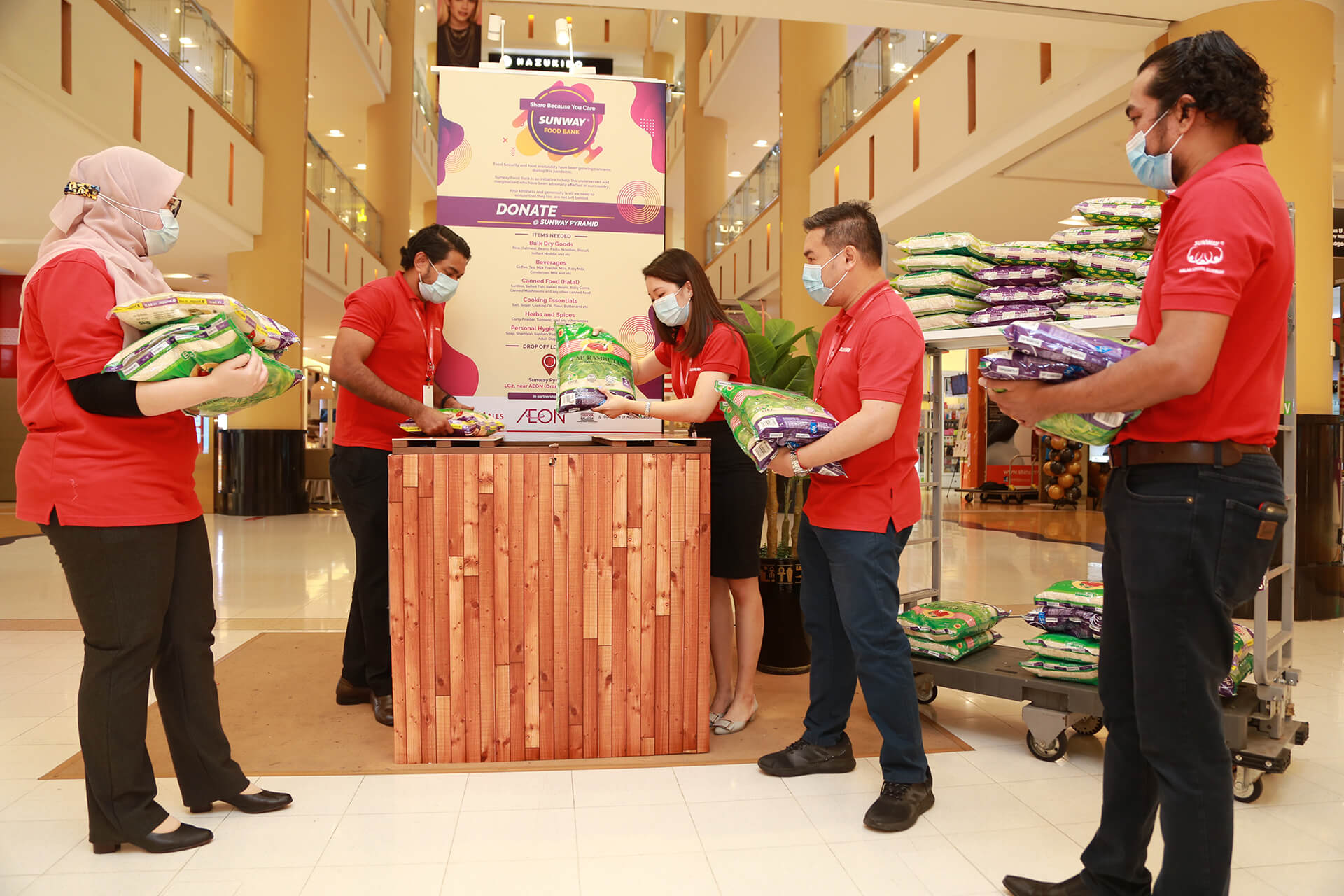 Sunway City Kuala Lumpur,28 August 2020
In an effort to raise awareness on food security in Malaysia, Sunway Group kick started its #SunwayforGood Food Bank programme, the largest food bank drive by a conglomerate in Malaysia.
Aptly timed in conjunction with the National Day and Malaysia Day, Sunway took this opportunity to educate the public on the impact of food security with its recent National Day video accessible on on Sunway Group's social media sites, namely Facebook, YouTube and www.sunway.com.my/teguh-bersama. The #SunwayforGood Food Bank programme aims to bring together Malaysians in the spirit of helping families in the bottom 40% (B40) income group threatened by hunger due to COVID-19.
The #SunwayforGood Food Bank programme, right up to 31 December 2020, pledges to collect 40,000 kilogrammes of food, with the aim to surpass that target by end-2020 which will feed 25,000 individuals in B40 families, worst hit during the pandemic.
The individuals were identified by non-governmental organisations (NGOs) – the Development of Human Resources for Rural Areas Malaysia (DHRRA Malaysia), the Food Aid Foundation and The Lost Food Project. The food will be delivered to the needful families on a monthly basis.
Sunway Group Deputy Executive Chairman Tan Sri Datuk Seri Razman M. Hashim, leading the #SunwayforGood Food Bank initiative said, "The global scale of this outbreak has worsened the situation for B40 households facing food insecurity in our country and has pushed families in the B40 households to greater hardship. From having less income or nothing at all during the Movement Control Order (MCO), the hardships faced by the B40 income households have led to low quality of food intake."
"Hunger limits our development. It is now more important than ever to ensure the most vulnerable Malaysians do not go to bed hungry. It is crucial for us to come together and step in to provide help to those families most in need, leaving no one behind, especially children, so they can have the much-needed nourishment to uplift themselves, and we can emerge stronger as a nation during this pandemic. The #SunwayforGood Food Bank programme aims to help mitigate this issue and raise awareness on the scale of global hunger. Through this initiative, we hope to play a role in aiding the 820 million people across the world who are still struggling to get access to food." he added.
"The Lost Food Project General Manager Mohd Syazwan, said, "The pandemic has very much worsened the plight of vulnerable communities. During the movement control order, donations poured in for our B40 families. However surplus food donation is inconsistent, but the demand for food has not subsided. We believe with Sunway Group's resources, and the help from kind Malaysians, we can together solve this problem and emerge from the pandemic as a stronger nation."
"It became very hard to pay the utility bills and do grocery shopping as our financial capabilities were stretched to its limit due to the pandemic. There were times when I had close to nothing in my refrigerator to make a meal. The #SunwayforGood Food Bank Programme has come at the right time to help my family and I go through this trying times," said Iruthayamery D/O Amaladass, 45, mother of three children and one of the beneficiaries of the #SunwayforGood Food Bank programme.
To achieve the aforementioned target, Sunway is also working with leading grocers- Village Grocer and Cold Storage who are donating their surplus items to this cause, as the food would otherwise end up in landfills.
The public can make donations at collection boxes in seven participating malls – Sunway Pyramid Mall, Sunway Putra Mall, Sunway Velocity Mall, Sunway Giza Mall, Sunway Geo, Sunway Citrine Hub and Sunway Big Box Retail Park.
Members of the public wanting to do their part for B40 families can head to the nearest participating mall. Items for donation are ideally halal foods, including bulk dry goods, beverage, canned food, cooking essentials, herbs and spices. Donations of personal hygiene products are welcomed too.
The public can also donate excess food and items from their surplus supplies which are in date but unused – just place them in the collection boxes. Fast-moving consumer goods companies can pledge contributions as well by contacting Alex Kishen Raj via email at alexkr@sunway.com.my.
The #SunwayforGood Food Bank programme underscores Sunway's commitment to the United Nations Sustainable Development Goals (UNSDG). The programme is anchored on Goal 2: Zero Hunger, and will deliver impact for Goal 3: Good Health and Wellbeing, Goal 10: Reduced Inequality, Goal 11: Sustainable Cities and Communities, Goal 12: Responsible Consumption and Production, and Goal 17: Partnerships for the Goals.
For more information and a detailed list of items required, visit www.sunway.com.my/foodbank
Notice
Please do not alter, sell or redistribute the pictures. All pictures here belong to the Sunway Group.
Contact us for permission