Sunway XFarms to Launch Largest Indoor Vertical Farm in Kuala Lumpur City Centre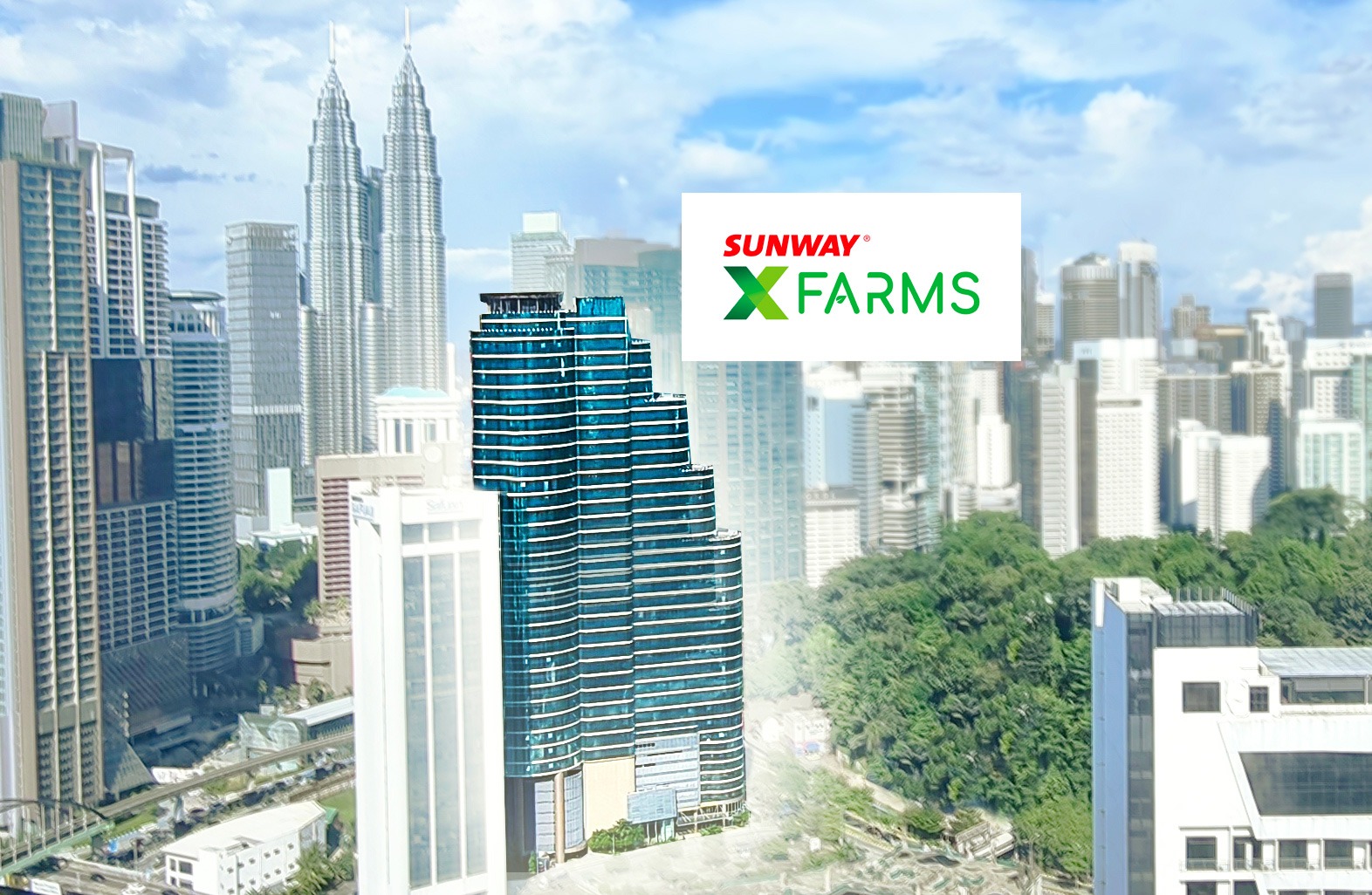 Sunway City Kuala Lumpur,02 June 2022
Sunway XFarms, a Malaysia based agritech company, will launch Kuala Lumpur city centre's largest indoor vertical farm in the third quarter of 2022.
The urban farm will occupy three floors spanning 37,000 square-feet in Sunway Tower. The farm is expected to produce at least 13,000 kilogrammes of fresh, healthy and pesticide-free vegetables per month.
The new Sunway XFarms hub at Sunway Tower will allow the urban population of Kuala Lumpur to enjoy fresh produce with maximum nutritional benefits, grown in the heart of the city and delivered to restaurants and consumers within three hours of harvest.
Strategically located at the intersection between Jalan Sultan Ismail and Jalan Ampang in Kuala Lumpur, famously known as the Golden Triangle, Sunway Tower is a 33-storey prime office building offering excellent connectivity with convenient access to public transit and major expressways.
"With Sunway XFarms' launched in Sunway Tower, we hope to accelerate our commitment towards scaling sustainable food production which is close to consumers. Sunway XFarms will be able to contribute towards Malaysia's food security, one seed at a time," said Sunway XFarms Chief Operating Officer Eleanor Choong.
The produce from Sunway XFarms is grown faster and healthier with significantly less wastage leveraging precision farming technologies. By using 90% less water compared traditional farming, XFarms is able to yield ten times more produce with less than 5% on-farm wastage.
To ensure consistently high quality, produce is grown in a safe and controlled environment powered by a range of smart IoT sensors and cameras, which provide live analysis and information to the farm managers.
"Sunway XFarms builds farms which are both market and technology driven. Our smart farm ecosystem allows us to remotely manage our farms' output, match it to demand accurately and make informed decisions using data collected and analysed from hundreds of data points at any given time. By doing so, we see that we are not only achieving key production metrics but also sustainability goals," added Choong.
Sunway XFarms has nourished more than 1,800 families with over 15,000 kilogrammes of leafy vegetables grown and harvested right from the urban farm in Sunway's flagship smart sustainable city Sunway City Kuala Lumpur since its inception. Set up in September 2020 with funding and talent by Sunway Property and Sunway Education Group, Sunway XFarms is currently collaborating with the group's various business divisions including Sunway Malls, Sunway Hotels and Resorts as well as Sunway Lagoon, to expand its presence by building four food hubs and farms in Klang Valley, Johor, Ipoh and Penang.
The Sunway XFarms in Sunway City Kuala Lumpur is also a key source of ingredients for local healthy food eatery La Juiceria Superfoods as well as restaurants at the five-star hotel Sunway Resort which includes upcoming world-class restaurant Gordon Ramsay Bar & Grill.
To reduce carbon footprint, food wastage and nutrition lost through transportation, all Sunway XFarms' locations are strategically located to ensure fresh produce is accessible to every neighbourhood within a five-kilometre radius.
This is in line with Sunway's commitment to advancing the United Nations Sustainable Development Goals as well as pledge to achieve net zero carbon emissions by 2050, with an interim target to halve emissions by 2030.
Restaurants and hotel kitchen outlets in Sunway City Kuala Lumpur and Kuala Lumpur's city centre looking to serve these fresh, quality, pesticide-free and sustainably grown produce to their consumers can partner with Sunway XFarms by getting in touch with the team at xfarms@sunway.com.my.
Notice
Please do not alter, sell or redistribute the pictures. All pictures here belong to the Sunway Group.
Contact us for permission