Tan Sri Dr Jeffrey Cheah Conferred AAMO Asian Leadership Award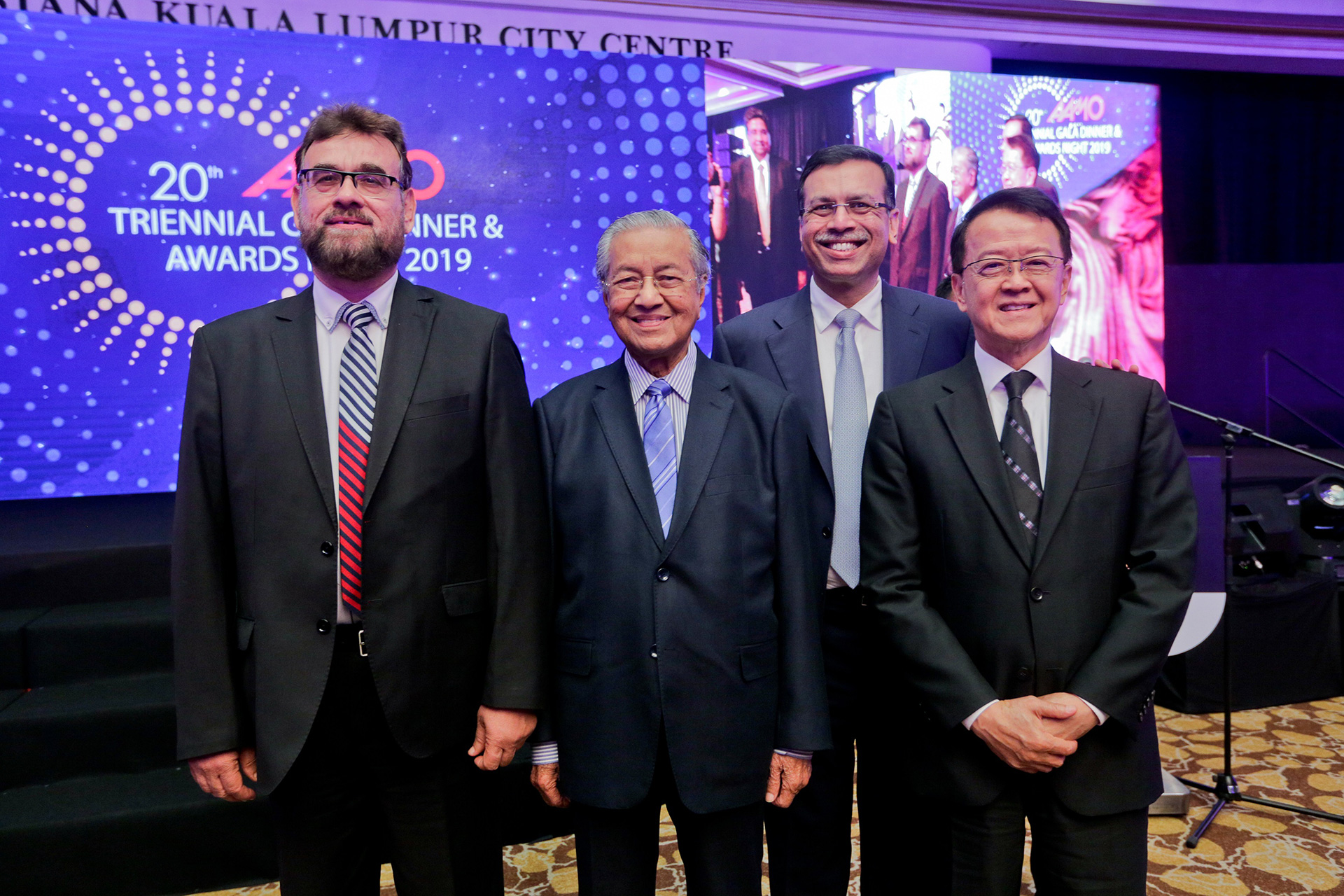 Kuala Lumpur,30 April 2019
Sunway Group Founder and Chairman and Jeffrey Cheah Foundation Trustee Tan Sri Dr Jeffrey Cheah was conferred the AAMO Asian Leadership Award last night at the 20th Asian Association of Management Organisations' (AAMO) Triennial Conference and Dinner.
Prime Minister Tun Dr Mahathir Mohamad received the "Visionary Leader and Nation Builder" Award at the 20th Asian Association of Management Organisations (AAMO) Triennial Conference and Dinner on April 29.
RP-Sanjiv Goenka Group's Chairman Sanjiv Goenka who leads the USD3.2 billion (revenue) conglomerate headquartered in India, and Indus Health Network's CEO Professor Dr Abdul Bari Khan who created a network of privately run hospitals which is run free of charge in Pakistan.
The AAMO is an 11-member organisation which promotes and supports the development of professional management and leadership in Asia Pacific.
Besides driving sustainable socio-economic growth through the 12 businesses of the Sunway Group, Tan Sri Dr Jeffrey Cheah has pioneered the concept of integrated green townships in Malaysia, as well as focusing on nation-building through education.
Sunway Group was founded on the concept of sustainable development, beginning with the development of Sunway City Kuala Lumpur, Malaysia's first integrated green township. The city was rehabilitated from a barren land of disused and abandoned mining pools and restored into a complete eco-system. Today, Sunway City is home to a thriving community of more than 200,000 people living, working, playing, and studying in a safe, healthy and connected environment.
Tan Sri Dr Jeffrey Cheah is the Founding Trustee of the Jeffrey Cheah Foundation (JCF) Malaysia's largest education-focused social enterprise which has awarded a total of RM 402 million in scholarships and grants as of 2018, and has donated over RM 25 million for school upgrades and developments.
To further advance the sustainability agenda in Malaysia and the Asian region, Jeffrey Cheah Foundation endowed US$10 million to the United Nations Sustainable Development Solutions Network Association in 2016 to establish the Jeffrey Sachs Center on Sustainable Development at Sunway University.
The Center also serves as the host for SDSN Malaysia, chaired by Tan Sri Dr Jeffrey Cheah. He was also named the Sustainability Icon by RAM Consultancy in 2017.
Notice
Please do not alter, sell or redistribute the pictures. All pictures here belong to the Sunway Group.
Contact us for permission