The Amazing Sunway City Challenge Reality Show to Air on IFLIX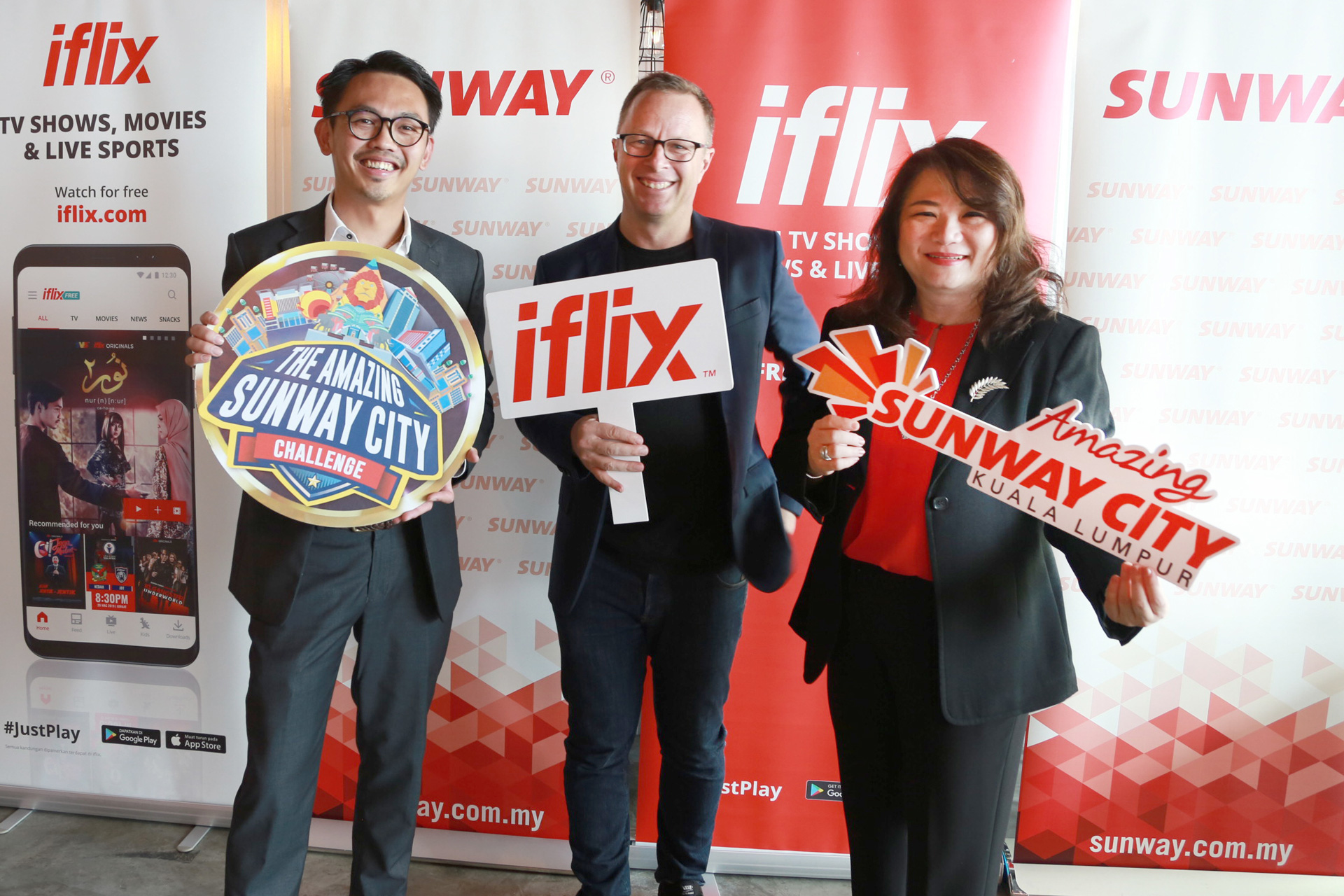 Sunway City Kuala Lumpur,11 June 2019
The reality show garnered more than 15 million views across Asia
Sunway has today, announced a partnership with iflix to showcase the highly successful The Amazing Sunway City Challenge five-episode reality series on Southeast Asia's largest digital entertainment service for free, starting today.
The Amazing Sunway City Challenge is an original production by Sunway to promote Sunway City Kuala Lumpur as the region's premier tourist destination aligned with the nation's tourism ambition.
The production is the first of its kind reality series that features Asia's hottest social media superstars and has garnered more than 15 million viewers across Asia. All iflix viewers in the Philippines, Malaysia, Indonesia and Thailand can catch The Amazing Sunway City Challenge on iflixFREE and iflixVIP.
"Our commitment remains to offer and deliver our customers the most compelling collection of premium content, specifically for the younger demographic. Sunway's boundary-pushing venture into original programming featuring the region's most celebrated social influencers is a welcomed addition to iflix's ever-growing free short form offering for the mobile-first generation." said Craig Galvin, iflix Global Head of Content.
"We took a different approach in our branding exercise for Sunway City Kuala Lumpur when we decided to produce this reality show. We are proud that this became a popular show in our social media and became viral. We look forward to expanding the reach of our original production to iflix's ardent viewers, in particular Indonesia, Malaysia, Thailand and the Philippines where iflix is number one," said Jane Poh, Sunway Group Brand Marketing and Communications Senior General Manager.
Hosted by Malaysia's top influencer, Jenn Chia, The Amazing Sunway City Challenge features Asia's top ten hottest social media superstars: Malaysia's Jaa Suzuran, the Philippines' Medyo Maldito, India's RJ Abhinav, Indonesia's Michelle Joan, Singapore's Matthew Stewart, Taiwan's Ironbull, Thailand's SorDor Style, China's Gong Yi, South Korea's Hong Young Gee and United Arab Emirates' Hadia Ghaleb in a battle across the world-class premier tourist destination of Sunway City Kuala Lumpur to be crowned the champion of The Amazing Sunway City Challenge.
Some of the most daunting tasks went through some of the most challenging tasks bungee jump in Sunway Lagoon, team mission in Sunway Pyramid's ice skating rink and hurtling down the world's largest water ride, Vuvuzela.
Comprising integrated components of one of Asia's best multi-attraction theme park, Sunway Lagoon; one of the world's largest and Malaysia's first themed mall, Sunway Pyramid; and a collection of award-winning hotels, Sunway City Kuala Lumpur currently welcomes 42 million visits yearly.
Notice
Please do not alter, sell or redistribute the pictures. All pictures here belong to the Sunway Group.
Contact us for permission