A Raya to Remember: Sunway's Message of Togetherness and Sacrifice this Raya
5
-min read
Sunway Group expresses gratitude and appreciation to our frontline essential workers for their selfless efforts in ensuring the health and safety of all Malaysians this festive season.

As part of the ongoing #SunwayforGood initiative, Sunway is providing aid to various underserved communities nationwide to ensure no one is left behind in the spirit of togetherness and belonging this Raya.
As we ring in the Raya festivity amidst a changing landscape, the one thing that remains constant is the relentless hard work and sacrifices by our frontline superheroes to keep our nation safe and protected.
These heroes have been working tirelessly to provide the care and help that we need. This year, Sunway dedicates its festive video titled 'Misi Seiring Bersama' to all of them as a gesture of appreciation for their resilience, compassion and selfless efforts.
Inspired by the unwavering commitment of these frontline workers even during the festive period, the video follows Suraya, a nurse carrying out her duties during the month of Ramadhan. Set against the backdrop of the ongoing National COVID-19 Immunisation Programme (NCIP) being carried out at the Sunway Pyramid Convention Centre (SPCC), Suraya is determined to serve and care for others especially in these trying times.
With International Nurses Day coinciding with the eve of Hari Raya Aidilfitri on 12 May, the video also serves as a reminder of the importance of nurses in the healthcare system and the central role they play in amid the pandemic.
Since March 2020, Sunway has committed more than RM50 million to help our nation battle the COVID-19 pandemic, including offering SPCC and Sunway Medical Centre in Sunway City Kuala Lumpur rent-free as COVID-19 vaccination centres in support of the NCIP to achieve 80% herd immunity in the country.
'Misi Seiring Bersama' can be viewed on Sunway Group's official Facebook, Instagram, LinkedIn, and YouTube pages.
Giving to Those Who Need it Most
Aligned with Sunway's commitment to continuously reach out to the B40 communities nationwide, we are partnering with various organisations to bring cheer to some 30,000 beneficiaries across Kuala Lumpur, Selangor, Perak, Penang, Johor and Kelantan.
Our partnerships with various NGOs include Yayasan Kebajikan Negara Malaysia (YKN), Malaysian Red Crescent (MRC) and Selangor Association of Youth (SAY).
The initiatives carried out under the #SunwayforGood Raya Cheer banner include:
Reloading of rice packets into rice ATM vending machines in mosques and surau installed by Sunway in 2019
Distribution of bubur lambuk to selected communities
Distribution of packed Raya meals to senior citizens at nursing homes and orphanages
Distribution of buka puasa meals to the homeless at Anjung Singgah YKN and Pusat Transit Gelandangan KL
Sponsorship of Raya lunches for inmates and prison personnel at Penjara Wanita Kajang
Distribution of buka puasa meals to the frontline workers and caretakers at Hospital Tengku Ampuan Rahimah, Klang.
All in all, the aid comprising rice, bubur lambuk, packaged meals, groceries and other essentials worth a combined total of more than RM200,000 was contributed by Sunway Resort Hotel, Sunway Property, Sunway Theme Parks, Sunway Malls, Sunway Medical and Sunway Pharmacy and will be distributed to the impoverished communities.
Prime Aid for Communities Down South
Joining forces with the Pusat Khidmat Rakyat Pagoh in Johor, Sunway was able to distribute bubur lambuk and groceries at Masjid Haji Muhammad Yassin in the presence of YAB Prime Minister Tan Sri Muhyiddin Yassin.
The bubur lambuk was prepared by the Sunway City Iskandar Puteri team led by its CEO Gerard Soosay and Sunway Group Deputy Executive Chairman Tan Sri Datuk Seri Razman M. Hashim distributed the buka puasa dishes to the Asnaf community in Pagoh.
"While the pandemic has been difficult for most Malaysians, invariably there are communities who are more adversely impacted by the pandemic than the others. It is more critical than ever before for us to shore up our support and deliver the necessary aid to them, not forgetting the frontline workers as well for their selfless contribution. "
Tan Sri Datuk Seri Razman M. Hashim
A very Royal Raya
In Selangor, we worked together with the Selangor Association of Youth (SAY community) and His Highness Tengku Amir Shah Ibni Sultan Sharafuddin Idris Shah Alhaj, Raja Muda of Selangor to bring smiles and happiness to 34 children from underprivileged backgrounds at Pusat Jagaan Kanak-kanak Rukaiyah Yatim dan Miskin.
During the special visit, His Highness Tengku Amir Shah and Sunway Group handed out essential groceries, duit raya, cookies, Vitamin C and masks to the children. The home was also gifted a laptop to provide the children with access to online education, a Sunway LINE (Learn. Innovate. Nurture. Evolve.) initiative under the #SunwayforGood banner.
"This coming Raya, amidst the COVID-19 pandemic, sees the vulnerable communities disproportionately impacted – especially among the B40 communities. We are resolute in our pledge to leave nobody behind and Sunway's CSR efforts will continually strive to ensure we bring inclusive and sustainable community initiatives to all."
– Sunway Group Brand Marketing and Communications Senior General Manager, Ms. Nik Tasha Nik Kamaruddin
The Raja Muda's visit is one of a wide range of efforts under the #SunwayforGood Raya Cheer initiatives nationwide. In Selangor, 185 orphans and underserved children from four homes namely Persatuan Kebajikan dan Perlindungan Rumah Jalinan Kasih, Pusat Jagaan Darul Sakinah Angkasa and Shelter Home for Children benefitted from this CSR effort.
Sunway Group would like to wish all celebrating a Selamat Hari Raya Aidilfitri, Maaf Zahir dan Batin. While we celebrate the light and hope that the festive season brings, may we continue to look out for one another in these trying times – alone we can do so little, together we can do so much more.
< Previous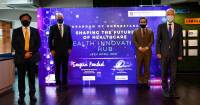 Sunway iLabs x AstraZeneca: Breaking Barriers in Digitalising Healthcare
Next >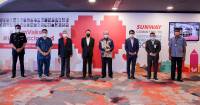 Supporting the Nation Towards Herd Immunity