Sowing Seeds of Kindness this Lunar New Year
5
-min read
Sunway's Lunar New Year video titled 'Soil for the Soul' highlights how a simple gesture of kindness can change another's life and help one's community achieve a new sense of meaning and purpose.
Lunar New Year is a time of coming together, as well as giving and sharing amongst family, friends, loved ones, and even to those within our communities.
This message is imparted in "Soil for the Soul", the theme of our Lunar New Year video this year, inspired by actual events of kindness that led to the empowerment of a wider community.
One Who Plants a Garden, Plants Happiness
The three-minute video follows the real-life journey of Yvonne, a dedicated member of Sunway XFarms' 'Growner'  initiative.
The initiative – focusing on the aspects of 'grow' and 'own', invites communities to take part in local food production, allowing subscribers own a farm plot and grow their desired vegetables, guided by the expertise of Sunway XFarms.
It also aims to foster a sustainable-minded community – through workshops and a Facebook group, it allows the exchange of ideas, experiences, tips and tricks that encourages collaboration between 'Growners' and further expounds the benefits of sustainable farming.
Prior to the first movement control order, Yvonne discovered alarming amounts of wastage at the Selayang Market, which led her towards sustainable urban farming as she wanted to find a solution to this waste issue. Her intention to learn how to grow and maintain produce safely and sustainably led her to discover Sunway's XFarms' programme.
After becoming a 'Growner' herself, she now pays it forward by educating communities about urban farming, empowering them to live independently and sustainably through this solution.
"Soil for the Soul" aims to spread the spirit of helping communities achieve a sense of meaning and purpose through sustainable living. The video can be viewed on Sunway Group's social media sites such as Facebook, LinkedIn, YouTube, and Instagram.
Timeless Sustainability
Aligned with the Group's pledge to put sustainability first, our 2022 festive packets incorporate a timeless approach to three significant religious and cultural celebrations in the country.
Our festive packets cater to these festive seasons in order to minimise wastage and reduce the need for unnecessary production.
The festive elements include
Corak Batik (in yellow) – To represent Raya festivities.
Fireworks (in red) – To represent Lunar New Year festivities.
Rice Paddy or Kolam (in orange) – To represent Deepavali festivities.
With sustainability at the forefront of all that Sunway does, the festive packets also are designed with our commitment to the United Nations Sustainable Development Goals in mind, specifically Goal 12: Responsible Consumption and Reproduction.
Kindness, the Currency of Humanity
Further amplifying the spirit of giving, Sunway is spreading festive cheer to more than 2,400 orphans and B40 families across Perak, Johor, Penang and Klang Valley with goods and donations such as packed meals, "back-to-school" essentials, and fun activities worth more than RM84,000.
This is part of Sunway's mission to champion sustainability and social responsibility efforts through three areas, namely education, healthcare, and community enrichment.
"For Sunway, education is a vital component in all that we do to ensure no one is left behind; it can lift a family out of poverty and go on to lead a meaningful life. It is very important for us to support these underprivileged children with the right foundation and motivation to shine in life." – Ms. Nik Tasha Nik Kamaruddin, Senior general manager of Group Brand Marketing & Communications at Sunway Group
More than 400 B40 families in Klang Valley will also receive essential grocery items worth over RM24,000 under the #SunwayforGood Food Bank initiative. At the same time, the Sunway Lost World of Tambun team also distributed at least 240 packed meals to eight homes in Perak on top of another six homes and underprivileged centres in the Klang Valley.
To liven up the festivities, a virtual photo contest for primary and secondary school students across the eight participating orphanages in Perak will be carried out with cash prizes totalling more than RM6,500.
Having touched the lives of over half a million beneficiaries since the inception of #SunwayforGood, the initiatives carried out spur on Sunway's greater goal to touch few millions more across the country, leading up to the Group's 50-year milestone in 2024.
Bagging four significant Corporate Social Responsibility (CSR) awards in 2021 alone is unprecedented for Sunway, standing as a testament to our employees' tireless efforts nationwide driven by a shared passion for improving the wellbeing of the community and the planet, one effort at a time.
The awards include Company of the Year at the Sustainability & CSR Malaysia Award, the Best Corporate Responsibility Initiative award at The Edge Billion Ringgit Club 2021, the Community CSR Award at the iProperty Development Excellence Awards 2021, and a special recognition by former Prime Minister YAB Tan Sri Muhyiddin Yassin at the 75th anniversary celebration of the Department of Social Welfare Malaysia.
At Sunway, it keeps us going to know that every life touched and every heart filled will continue to make the world a better place for the generations to come.
"One day, these children will go out to the world to make a life for themselves. They will remember the helping hand and, hopefully, keep the cycle going by demonstrating kindness and compassion to others." – May Heah Mee Mee, Principal of the Pertubuhan Pengurusan Pusat Jagaan 1Malaysia
This Lunar New Year, let us look beyond our circle and ripple the effect of kindness to create a sustainable future for all. There is so much more to be done, and we have only just begun!
< Previous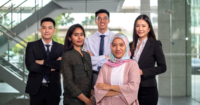 Workplace Inclusiveness and Diversity: A People-First Approach
Next >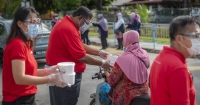 But First, Compassion