A Special Girl Spends a Special Day at Sunway Lagoon
2
-min read
Lacking limbs and having a speech impairment has not trampled the spirit of 13-year-old Azizah – a bubbly teenage girl who continuously looks forward to each day with a smile on her face. Despite her physical challenges, Azizah gets by with happiness she found within herself. Even with what little she has, she is eternally grateful to her ever supportive family, especially her twin sister.
The reality, however, is sometimes not as promising. Due to the financial status of Azizah's family, her wish to spend their day at Sunway Lagoon was – at one point – simply a wish, as they were unable to afford the entrance tickets.
With the power of social media, a post about Azizah's wish went viral, turning her dream into reality!
The response was staggering – as close friends and even strangers pledged their support to help make Azizah's dreams come true.
Enter Sunway.
With the outpouring of support, Sunway Lagoon caught wind of Azizah's story. This prompted the team to go all out to plan a special, all-expenses-paid treat for her and her family, making their visit truly one to remember.
On the morning of 16 June 2022, the family was greeted and accompanied by our Sunway Lagoon team, inspired to give them an experience befitting royalty.
It was a heartwarming sight to see Azizah indulging herself at the Sunway Lost Lagoon and Lake Kariba, amongst many of the attractions at Sunway Lagoon.
The staff at Sunway Lagoon truly went above and beyond to give Azizah and her family their ultimate ''Best Day Ever'' experience. With smiles all around, Azizah is ever grateful to Sunway Lagoon for making her wish come true.
"This is our way – the Sun-way – to give back to society, no matter how small a price to pay. Whilst this may not capture the headlines, we hope to continuously make this world a better place – even if it is just to put a smile on a little girl's face and to make her life immeasurably better," said Calvin Ho, executive director of Sunway Theme Parks.
< Previous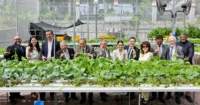 Forging Partnerships to Drive Smart Cities
Next >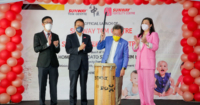 East Meets West – Sunway Launches TCM and Fertility centres in Kuching