Doing Well by Doing Good
6
-min read
It is the year 2022, almost two years since the COVID-19 pandemic disrupted the lives of millions around the world.
In Malaysia since March 2020, over 30,000 lives have been lost, 2.6 million people infected, and more than 140,000 individuals unemployed as of December 2021.
With diversified business interests such as construction, hospitality, retail and property development, Sunway's businesses were not spared from the pandemic's impact.
However, Sunway did not waver from helping others in their time of need, continuing its #SunwayforGood corporate social responsibility (CSR) efforts despite the challenges posed by the pandemic.
This is in line with Sunway's firm belief that no corporation can survive – or thrive – unless it is connected to the community it serves.
Sunway's CSR efforts demonstrate its commitment towards advancing the 17 United Nations' Sustainable Development Goals (UN-SDGs), as the Group aims to build a sustainable and inclusive future for all.
Thanks to Sunway's CSR efforts, more than 500,000 beneficiaries have been impacted from 2015 to 2020, with the aim of touching a few million lives by 2030.
"To quote our chairman, we can do well by doing good. It is part of our DNA. We focus our efforts on three areas – community enrichment, education, and healthcare – but not exclusively. Where we can help, we will try," said Sunway's deputy executive chairman Tan Sri Datuk Seri Razman M. Hashim, who oversees Sunway's CSR efforts.
From handouts to hands-on
The Sunway of today may be synonymous with CSR, but this was not always the case.
"When we were starting out, CSR was not quite the focus. We were busy building up the business, so we took the easy way out – we never forgot about CSR, but we just did donations here and there," said Razman, a former banker who has been with Sunway for more than two decades.
As the company became more successful, the management strengthened its CSR team internally and sought to do more than just present donation cheques – they wanted to get on the ground.
"Now, we don't just donate to a disaster relief fund, but are more connected with the people. Having trudged through some rural areas for CSR, only then do we realise how fortunate we are to live where lights can be turned on with a switch, and water comes from a tap," he said.
Volunteering on-the-ground allows Sunwayians to experience the hardships of those in need, and in doing so, drives them to do more for CSR.
"During the Raya Cheer iftar barakah grocery donation drive, some of our volunteers cried when they saw how poor the people living on the outskirts of Hulu Langat were. They never realised there were so many poor Malaysians, so much so that they started donating money out of their own pockets," said Sunway Group's general manager of CSR, internal branding and events, Bernard Paul.
Sunway's CSR journey has also shifted towards more sustainable, long-term CSR projects, such as the Sunway Seeding Inspiration and Leadership Via Knowledge (Sunway SILK) urban farming project.
Designed to be executed in phases over three years, Sunway SILK started with a pilot project and culminates with the formation of a social enterprise.
There is now more accountability in Sunway's CSR efforts, with due diligence done for potential partnerships and initiatives to ensure donations are tracked and utilised wisely on the right causes.
"In the past, we would not know what the money is used for once it is handed over but now it is easy with online systems and records in place, more NGOs to partner with and the ability to do due diligence online," said Bernard.
Creating a culture of volunteerism
Volunteer-driven CSR initiatives have helped create a culture of volunteerism in Sunway by providing a platform to mobilise those who want to help but were unsure of how to.
Today, around 90% of Sunway's employees have registered as CSR volunteers, with volunteer registration drives typically filled up within a day or two.
In 2020 alone, Sunwayians clocked up close to 20,000 hours of volunteering.
"Over the last 15 to 20 years, we have been very fortunate that when we started getting more involved in CSR, we have never been short of volunteers. They don't care what festive occasion they volunteer at. This is the spirit that we have at Sunway," Razman said.
For Sunwayians such as Sunway Hotel Georgetown marketing and communications manager Cheong Ka Mei, volunteering for Sunway's CSR initiatives is the highlight of her job.
Starting out with the Rise Against Hunger event at Sunway Hotel Seberang Jaya in 2017, Cheong went on to volunteer in various ways – from distributing bubur lambuk during Ramadhan, to donating shower caps to Hospital Seberang Jaya at the height of the pandemic in 2020.
Her most memorable volunteering moment is seeing the smiles of the children at Sunway's Raya Cheer and Back-to-School CSR events.
"A simple act means a lot. We cannot be helping everyone, but even a small act impacts lives," she said.
Sunway's CSR events not only attracts volunteers from within – it piques the interest of external stakeholders too.
Staff from Menara Sunway Annexe's tenants Merck Malaysia joined Sunway volunteers to help with food distribution during Raya Cheer 2018, after learning of the CSR event via event posters in the lifts of the building.
Leading by example
For Sunway, the culture of giving back to society stems from the Group's founder and chairman Tan Sri Sir Jeffrey Cheah.
In 2007, Cheah established the Jeffrey Cheah Foundation (JCF) and in 2010, he transferred his equity in the Sunway Education Group worth several billion Ringgit in perpetuity to JCF.
To date, more than RM570 million worth of scholarships and grants have been awarded to Malaysians, regardless of race and religion.
When Razman highlighted SK Convent Klang's plight of needing RM200,000 for repair works to Cheah, the latter agreed to help without hesitating. Sunway contributed more than RM1 million to help with the school's restoration work.
"We are very fortunate that we never had to beg because our chairman feels CSR is important. CSR starts from the top, and when people see it for themselves, they too want to take part," Razman said.
Sunway has even inspired other companies to emulate its CSR efforts.
Razman, who is a member of the Raja Tun Uda Library's Board of Trustees, said that the library will implement autism-friendly features learned from Sunway Putra Mall's Autsome initiative to better support parents with autistic children.
Similarly, he hopes Sunway's #zerofoodwastage initiative with Kechara Soup Kitchen will inspire other hotels and supermarkets to address food security.
"Whether other companies do CSR or not, that is not for us to say – it must come from their own conscience. The question I would ask is – why should they not think about doing CSR? It is for the good of humanity at the end of the day," he said.
Razman recalls an incident from his early career as a banker that continues to stir his heart towards CSR until this day.
"I had invited about 100 students to my home to have a McDonald's meal. I remember one young boy who had eaten half of his burger and kept the other half in a paper bag. When asked why he was keeping the burger, it was for his other siblings at the home to try, as they had never eaten a burger before. Situations like this really make you realise just how fortunate you are, and makes you want to do CSR," said Razman.

"If the company is doing well, why not do good? If we are fortunate in this world, we should be thankful and think about what we can do for the less fortunate," he added.
< Previous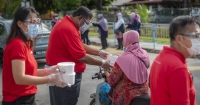 But First, Compassion
Next >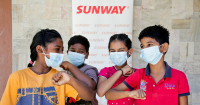 Lightening the Burden of Malaysians