Lightening the Burden of Malaysians
5
-min read
During the first Movement Control Order (MCO) in April 2020, Sunway had pledged RM34 million to COVID-19 relief efforts – demonstrating its commitment to lighten the burden of 40,000 Malaysian beneficiaries affected by the pandemic.
Sunway donated RM1 million to the National COVID-19 Fund to help unemployed COVID-19 patients while Sunway's healthcare division committed RM12 million to subsidise the cost of treatment for public patients at the Ministry of Health's hospitals and University Malaya Medical Centre.
Playing its part in the National COVID-19 Immunisation Programme, Sunway has sponsored RM28 million for Sunway Pyramid Convention Centre (SPCC) to be used rent-free by the Ministry of Health (MOH) and Petaling District Health Centre as the official vaccination venue (PPV) for the Petaling district.
Since March 2020, Sunway has committed almost RM60 million to help the country battle the ongoing pandemic, providing the government four vaccination centres spanning close to 200,000 square feet rent-free.
Another RM300,000 was set aside for the #SunwayforGood Aid Now programme, which funds community relief efforts during times of crises.
Beneficiaries include the B40 community nationwide, with priority given to those living around Sunway townships in Selangor, Perak, Penang, and Johor.
A total of RM100,000 was channelled from this amount to Tabung Prihatin YKN-JKM COVID 19 by Yayasan Kebajikan Negara (YKN), which was then distributed to at least 12,000 beneficiaries in communities affected by the pandemic.
Feeding the hungry
Focusing on food security, Sunway launched the #SunwayforGood Food Bank initiative on National Day in 2020, the largest food bank drive by any Malaysian conglomerate. Since its inception, more than 100,000 kilogrammes of food have been distributed to beneficiaries across the country under this initiative.
Sunway Group deputy executive chairman Tan Sri Datuk Seri Razman M. Hashim said, "The prolonged Movement Control Order to stem the spread of COVID-19 has worsened the economic impact for B40 communities in our country. Unemployment is rising and the situation is expected to worsen before it gets better."
"Together with our people at Sunway and our NGO partners, it is our hope that this gesture of committing our advertising funds to help build resilience among those made vulnerable under these trying circumstances will reaffirm the spirit of unity and patriotism that cuts across racial and religious lines."
This National Day and Malaysia Day, Sunway committed its advertising funds to aid over 2,100 B40 families that were worst hit by the pandemic.
Sunway worked with the Development of Human Resources for Rural Areas Malaysia (DHRRA Malaysia) alongside Adab Youth Garage to purchase and deliver provisions to more than 200 B40 families living around Kuala Lumpur, while Sunway teams in Penang and Johor are working with Kechara Soup Kitchen and Malaysian Red Crescent respectively in providing food aid to hundreds of families below the poverty line.
Throwing a lifeline to retailers
The pandemic left Malaysia's retail sales contracting by as much as 15.8% in 2020 – the first time in 22 years, based on an article by The Edge.
According to Sunway Malls & Theme Park CEO HC Chan, Sunway Malls' retailers were trading at historical highs in 2019 with a healthy cash-flow level where 80% of retailers recorded healthy single-digit ageing days. Post-pandemic, only 20% of retailers were able to keep to single-digit ageing days.
In August last year, Sunway Malls launched the Sunway Malls SME Retailers Relief Financing Programme, facilitating up to RM200 million in working capital to assist its retailers through financing facilities provided by RHB Banking Group and Credit Guarantee Corporation Malaysia Berhad (CGC).
Under the scheme, qualified retailers under Sunway Malls' seven malls can apply for RHB financing facilities of up to RM500,000 with a loan tenure of seven years, where up to 80% of the principal financing amount is guaranteed by CGC.
The programme also offers an overdraft facility of up to 30% of the financing limit with one of the lowest interest rates in the market.
These financing facilities will allow retailers to receive crucial working capital to support their business survivability during various states of the MCO.
"Apart from availability, speed is also critical. Subject to fulfilment of pre-requisite criteria, applications will be fast-tracked with approvals being granted within five to seven working days," said Chan.
In December 2020, Sunway Malls channelled RM500,000 to 12,000 retail frontline workers for their continual effort in serving customers.
Sunway was the first mall group in the country to announce a 14-day rent-waiver in March 2020, which amounted to RM20 million. This was followed by rental assistance programmes and a RM15 million marketing campaigns throughout the year to boost sales.
Sunway Malls was also the first to announce a flexi operating hour option for retailers, enabling better optimisation of staffing arrangements and enabling retailers to cut down on their operating costs.
Overall for 2020 and 2021, Sunway Malls has extended RM250 million worth of rental assistance to retailers.
Compassionate Sunwayians
Driven by compassion, Sunwayians pitched in to help their affected co-workers through the pandemic via the #SunwayforGood Fund.
Set up in collaboration with the Jeffrey Cheah Foundation, more than RM800,000 was raised for frontline workers in essential and critical services across Sunway Group, as well as Malaysians in the B40 group living in the vicinity of Sunway townships nationwide.
These included healthcare workers at Sunway Medical Centre in Sunway City KL and Sunway Medical Centre Velocity in Cheras; zookeepers at Sunway Lagoon and Sunway Lost World of Tambun; staff at Sunway's group of hotels nationwide; facility maintenance workers; security officers and auxiliary policemen in Sunway townships.
As charity homes were hard hit by the MCO, the #SunwayforGood Fund also channelled close to RM130,000 to 16 charity homes nationwide to help pay for their electricity bills for up to six months.
Sunway Hotels & Resorts contributed more than 25,000 hygiene and personal items including bedding essentials to Hospital Sungai Buloh in Selangor and Hospital Seberang Jaya in Penang.
In Johor, Sunway Property contributed infrared electronic thermometers, face masks and hand sanitisers to frontline healthcare staff as well as essential and critical service workers at hospitals such as Hospital Sultanah Aminah as well as Iskandar Puteri Police Station.
Meanwhile, Sunway City Ipoh's organic farm contributed vegetables to the local community and gave fresh organic produce to some 6,000 frontline healthcare workers and patients of Hospital Raja Permaisuri Bainun in Ipoh throughout the MCO period.
< Previous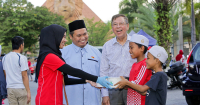 Doing Well by Doing Good
Next >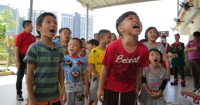 Celebrating Festivities with a Difference
This article first appeared in Berita Sunway Issue 74