Be Our Guest
2
-min read
Sunway Velocity Hotel, Sunway Group's newest mid-market hotel, is set to open in third quarter of 2017.
Located just 3.8km away from Kuala Lumpur city centre and 45 minutes from Kuala Lumpur International Airport, the brand new 351-room Sunway Velocity Hotel is scheduled to open in the third quarter of 2017.
Sunway Velocity, the 23-acre self-contained integrated mixed-used development, connects Sunway Velocity Hotel to numerous facilities like the Sunway Velocity Mall, the soon-to-be-opened Sunway Velocity Medical Centre, Office Towers, Serviced Residences and a Central Park.
The 16-storey hotel is easily accessible through major highways, and is well-served by public transportation including an LRT station and two underground MRT stations – Cochrane and Maluri.
This mid-market hotel will feature two categories of guest rooms, Superior and Superior Plus. Featuring fresh, bold and vibrant details, the rooms have a contemporary functional design that ensures a comfortable stay for individuals, families and groups.
An outdoor infinity-edge swimming pool and the fitness centre are located on the top floor, offering panoramic views of the city's skyline. Other facilities include a café and a boardroom room.
< Previous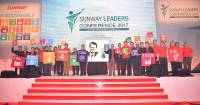 Inspiring Leadership With Sustainability
Next >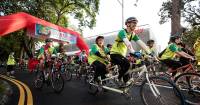 Realising a Flourishing Society

Warning: sort() expects parameter 1 to be array, bool given in /home/swysunway/public_html/stories/wp-content/themes/Avada/single.php on line 555

This article first appeared in Berita Sunway Issue 59