One Life at a Time – Building a Brighter Future, Together
4
-min read
Whether a calm or a storm, we can help lighten the burden by shouldering it together. Sunway has been on a mission to reach out to as many people as possible under our #SunwayforGood umbrella. Since 2015, we have reached out to more than 600,000 beneficiaries nationwide and across the region, and are setting our sights on reaching millions more leading up to our 50th anniversary in 2024.

In a video that rounds up all we have achieved in 2022, it is our hope to inspire others to also do well, by doing good.
In times of darkness, even a spark can emit a ray of hope. Whilst 2022 had its fair share of ups and downs, Sunway has played a part in touching the lives of our communities in this part of the world.
To encapsulate our efforts, we have put together a highlight reel entitled "Transforming Tomorrow" – showcasing the many ways in which we reached out and to ensure no one was left behind.
The video speaks about the importance of imbuing sustainability in all that we do, building a better future for all.
Sharing Kindness with #SunwayforGood
It is in our DNA to walk the talk on sustainability and to give back to our society. This year, we worked alongside NGO partners and our business divisions across the country to inspire and transform lives in the pursuit of positive change.
The #SunwayforGood pillar is the epitome of the inclusivity that we want to achieve amongst our people, in light of the various challenges that are faced by society. Be it through eliminating hunger and food waste, #SunwayforGood is our way of reaching out those in need, lighting up the lives of those in need through the darkest of times.
This year alone, we – alongside NGO partners such as Malaysian AIDS Foundation (MAF), Selangor Youth Community (SAY), Malaysian Red Crescent Society, Yayasan Kebajikan Negara (YKN) and Yayasan Raja Zarith Sofiah, to name a few – have managed to pack and collect food from our food bank efforts that were presented to various homes and centres to add some cheer to the festivities during each major celebration, as well as continuing the fight against food insecurity through our Sunway Meal Pack-a-Thon 2022, has packed a total of 270,000 meals this year with the help of more than 650 Sunway volunteers across five different locations throughout Malaysia – in line with our pledge to pack two million meals for the underserved communities nationwide by 2024.
We have also committed to a long-term partnership with the MAF to launch the MAF-Sunway HOPE Borneo Project, in line with Goal 3 of ensuring healthy lives and promoting wellbeing for all ages, under the United Nations Sustainable Development Goals. The project addresses the socio-economic barriers to HIV treatment, prevention and care services nationwide, and supports the efforts of AIDS eradication throughout Malaysia by 2030.
Democratising Education
From launching new partnerships and refurbishing educational centres, to building libraries and expanding educational opportunities nationwide – we were able to nurture young minds and enrich entire communities as a result. We believe that learning is a lifelong journey and does not stop when you leave the classroom.
By making quality education accessible, we are able to open up new paths of opportunity for those willing to learn so that they can shape the future with their own hands – inspired by the belief of our founder and chairman, Tan Sri Sir Dr. Jeffrey Cheah KBE AO.
One Step Further on Our #Roadto50
With the "code red for humanity" sounded by the United Nations, we stepped up to the plate and made clear our goals to achieve net zero carbon emissions by 2050, building a better future for our children.
With a multitude of initiatives such as our advancement of ESG, introduction of carbon pricing, setting green goals across our buildings and malls as well as educating the public about our sustainability initiatives through various campaigns – further engendering our corporate DNA in cultivating sustainability in all that we do. This is how we take care of the wellbeing of our people and planet.
Ushering in 2023 with Sunway
As the year draws to a close, we would like to give everyone a chance to head into the new year and journey alongside us in the form of our exclusive Sunway 2023 calendars!
Each flip of the calendar page showcases our numerous sustainability initiatives, sharing the stories of people who have benefited from our assistance, and how we have impacted their lives.
This exclusive calendar can be yours in just three easy steps.
Like and follow Sunway Group or Sunway City Kuala Lumpur's Facebook page
Tag three family members or friends on the selected post
Share a comment with the hashtags #SunwayforGood and #Roadto50
All the best, and have a wonderful 2023!
< Previous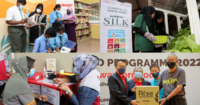 Celebrating the Golden Anniversary by Transforming Lives
Next >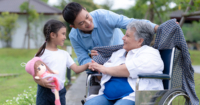 Dementia in Malaysia – What Can You Do? Let Our Specialists Tell You