Billion-ringgit Boost for Nation Building with Endowment Fund Plans
4
-min read
Tan Sri Dr Jeffrey Cheah AO announced Jeffrey Cheah Foundation's plans to launch an endowment fund, targeting to exceed RM1 billion within the next 10 years, in conjunction with Jeffrey Cheah Foundation's 10th anniversary.

The endowment fund will allow the foundation to expand its contributions towards nation-building, in perpetuity, through initiatives in quality education, research and sustainable development.
This year has indeed been a tumultuous year for everyone. Private sectors like Sunway are not spared from economic upheaval the pandemic has brought with it but it does not slow us down from driving our nation building agenda forward.
In conjunction with the 10th anniversary of Malaysia's largest education-focused social enterprise Jeffrey Cheah Foundation (JCF), first established as the Sunway Education Trust Fund, founder and trustee Tan Sri Dr Jeffrey Cheah AO announced JCF's plans to launch an endowment fund, which targets to exceed RM1 billion within the next 10 years.
The announcement was made by Tan Sri Dr Jeffrey Cheah AO at Sunway University in the presence of the JCF's Board of Trustees including Royal Patron H.R.H. Sultan of Selangor, Sultan Sharafuddin Idris Shah Alhaj Ibni Almarhum Sultan Salahuddin Abdul Aziz Shah Alhaj, YAM Tunku Zain Abidin Ibni Tuanku Muhriz, Tan Sri Datuk Seri Razman Hashim, Tan Sri Zarinah Anwar, Dato' Sri Idris Jala, Tan Sri Dato' Professor Dr Lin See Yan, Tan Sri Dato' Seri Dr Ranjit Ajit Singh and Toh Puan Dr Aishah Ong.
Managed by a committee including members of the JCF's Board of Trustees, the endowment fund will help ensure the sustainability of the foundation, and perpetuate its contribution towards nation building through its initiatives in education, research and sustainable development.
It will also enable the foundation to establish professorial chairs at Sunway University in perpetuity.
Local Excellence with Global Expertise
Since its inception in 2010, JCF, which owns and governs all 16 institutions and entities of Sunway Education Group, will have disbursed almost RM540 million worth of scholarships and grants by the end of 2020.
Through the foundation, Sunway University has also established collaborative partnerships with some of the world's highest ranked universities such as the University of Cambridge, Harvard University, University of Oxford as well as the University of California, Berkeley and MIT in Boston.
This has led to the successful establishment of the University of Cambridge Clinical Research Centre, the Harvard Global Health Delivery Center and the Jeffrey Sachs Center (JSC) on Sustainable Development at Sunway University.
Additionally, Sunway University, situated at the heart of Sunway City Kuala Lumpur, will be housing the United Nations Sustainable Development Solutions Network (UN SDSN) Center for Asia, reflecting its ambition and significant role in perpetuating this global effort.
Being the Asia headquarters of UN SDSN, Sunway City Kuala Lumpur joins New York City and Paris as the only three SDSN centres in the world to coordinate and implement continent-wide sustainability initiatives in Asia, the Americas and Europe/Africa.
"All these partnerships are aligned with our view that in order to become the best, we have to work with the best and learn from the best. They are also aimed at bringing world-class expertise to Malaysia and enhancing the nation's knowledge base," said Tan Sri Dr Jeffrey Cheah AO.
There are also plans to establish a medical school at Sunway University in collaboration with the University of Cambridge School of Clinical Medicine.
In Talks with the Government
We are engaging with the government to help us look into setting up the endowment fund.
Under current rules, the foundation is required to disburse at least 50% of its funds received in the following year, unlike in many other countries such as the United States and even Singapore, where institutions are allowed to set donations received aside for investment or to be placed in fixed deposit accounts.
This would then allow the institutions to use the investment yields or interests from the banks to fund their activities, leaving the principal amount intact to ensure the institution's long-term viability.
We hope to position Malaysia as a regional hub of excellence in education and research as well as healthcare, while making quality education affordable and accessible to all qualified and deserving Malaysians – towards building a sustainable future for the nation.
< Previous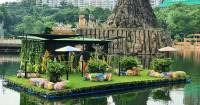 Sunway Lagoon's Pinky gets an Upcycled Floating Island as her Home!
Next >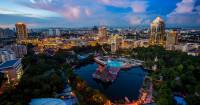 Sunway City Kuala Lumpur: Sustainable and Smart Through Technology