Innovation
Sustainability
Food Insecurity Plants Seeds for New Hobby
Innovation
Sustainability
5
-min read
Addressing hunger and malnutrition is more than just securing food for survivability, it is also ensuring a nutritious meal to improve your health.

Sunway XFarms (formerly known as Sunway FutureX Farm) organised a series of virtual workshops in conjunction with World Environment Day 2021 to educate people on the possibilities of urban farming in closing the existing yield gap.
In 2019, despite experiencing stable global food production, the Food and Agriculture Organization projected that one in every 10 people worldwide is undernourished, while 750 million people (9.7%) worldwide experienced severe food insecurity.
Malaysia is engaged in a long-standing battle with food insecurity, with the COVID-19 pandemic intensifying the impact of this issue.
At the household level, especially the bottom B40, the impact of the pandemic has become an increasing burden on their ability to buy healthy and affordable food, particularly households that spend up to 70% income on food.
WED 2021 Virtual Workshops May Be Over, But The Movement Has Just Begun 
For many around the world and even in Malaysia, fresh produce is not a given.
While we cannot turn back time to erase the traces of urban poverty, there is still a chance to help Malaysia achieve food security, and Sunway XFarms believes that urban farming could be the answer.
Growing food in cities is not a foreign concept. Many are still unfamiliar with urban farming, and more can be done to educate people on why urban agriculture can change the course of achieving food security in our nation.
In conjunction with World Environment Day 2021 themed 'Reimagine, Recreate, Restore', Sunway XFarms conducted a series of virtual workshops (Grow Your Own Food, The Future of Diet, Zero Waste at Home) to educate people with urban farming and equip them with practical action to leave a lasting and sustainable impact.
Sunway XFarms Community Manager Koo Tse Chien shared that through these virtual workshops, they hope to encourage everyone to take small steps in their daily life and work towards living sustainably for generations to come.
"While we are hit by the pandemic badly and are forced to stay home, we hope that through these workshops, we are able to bring some joy and positivity as well as encourage people to start a healthy hobby at home," said Tse Chien.
To kick-start the journey into sustainable living, participants of each workshop were given a DIY hands-on kit, allowing them to practice what they had learnt from the sharing sessions.
It was highly encouraging to see the 350 participants eager to learn the topics covered and translate their interest into tangible actions to achieve self-sufficiency.
Some participants like Frederick Low went a step further and built a more extensive hydroponic system to grow more fresh produce at home. Frederick applied the Kratky method, a passive hydroponic technique, to his very own 4×8 hydroponic system at home and will harvest his first batch of fresh produce in 2-3 weeks.
Ezreen Malek, who attended all three virtual workshops, was inspired and believes that everyone in society needs to start somewhere in all efforts to live longer in a better environment.
"We owe it to Mother Earth and ourselves. Living sustainably does not have to be expensive. In actual fact, it's living simple." – Ezreen Malek 
Kelvin Chen, a Zero Waste at Home workshop participant, echoed Ezreen's sentiment and shared that the fact that we can turn waste into something beneficial highlights the potential and future advancement in zero waste.
Upon acquiring new insights and reinforcing existing knowledge on zero waste, Kelvin has become more aware not to request plastic cutlery when ordering food and has added a compost bag into his apartment.
Actively Pulling our Weight to Close the Yield Gap
With consumer consumption being one of the main drivers of the economy, the choices we make on a daily basis are key to steer our course in turning food security from utopia to reality.
Individually, we can do our part to contribute towards the bigger picture of food security, and here are some lifestyle habits that we can commit to changing:
Support local seasonal produce
Local food production is essential to reducing the economic and environmental impact of food transportation. Buttressing local options will enable us to purchase the freshest and most nutritious food as it decreases food miles while simultaneously supports sustainable agriculture and the local economy.
Reduce and repurpose food waste
Data from the Food and Agriculture Organization of the United Nations

shows that globally, about a third of all food is lost or wasted. The disposal of food waste in landfills leads to an increase in greenhouse gas emissions, further exacerbating our environment. However, we can reduce food waste through meal planning, not discarding edible vegetables, freezing leftovers and

composting food scraps

as organic fertilisers for soil.
Cultivate fresh produce at home
Cultivating fresh produce at home can contribute to food security across all income levels, providing access to fresh produce and encourages a more nutritional diet continuously. It also saves you a few dollars as less investment is required for the simple pleasure of growing one's food through vegetable patches, greenhouses and even grow boxes, most of which we can get our hands on in some form or another.
Witnessing Malaysia's food security crisis, Sunway XFarms' commitment to combating food insecurity (UN-SDG12: Responsible Consumption and Reproduction) is here to stay.
"The pandemic has indeed accelerated the notion and positive interest from various stakeholders to address food security together, but our plans for scaling farms and contributing to the poor is not tied specifically to the pandemic," shared head of Sunway XFarms Eleanor Choong.
On top of the current donation of five percent of its farm produce to food banks to nourish those in need, there are plans in the pipeline for Sunway XFarms to reach one million sq. ft. of urban farms across four food hubs in Malaysia.
Through these initiatives, Sunway XFarms hopes to continue growing more sustainable urban farms to provide multi-functional and long-term benefits for society.
< Previous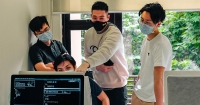 42KL Cadets Among Top Three in Global Ecological Hackathon
Next >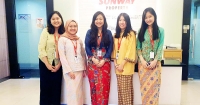 Why Millennials Should Care about ESG