Sunway FutureX Farm to Address Food Security with Urban Farming
5
-min read
Malaysia's dependency on food imports has been rising since 2010 due to the low adaptation of agriculture technology and high production costs compared to neighbouring countries.

Sunway will be launching FutureX Farm, an urban farm innovation hub for urban farming professionals, tech companies, researchers and young talents to collaborate and create transformative solutions focused on food and agritech.
Did you know that Malaysia imports most of its food from countries such as China, India, Thailand, Indonesia and New Zealand, with only 8% of agricultural land for agro-food production?
This means that the ingredients of your favourite plate of nasi lemak or roti canai may have been imported, and may lose an alarming amount of nutrients during the processing, packaging and transportation before reaching consumers like you and me! It's a proven fact!
Very often we do not question the source or methods on how our food is handled, although it is something that we consume each day. Food security is defined as 'the state of having reliable access to a sufficient quantity of affordable, nutritious food' – however, this is at risk due to food shortages and lack of access to such healthy options in the past decade.
Realising this predicament, Sunway is unveiling Sunway FutureX in the third quarter of 2020 and will champion urban farming in Malaysia to address food security through everyday innovations to help enrich our societies, one step at a time.
What is Sunway FutureX?
Sunway FutureX is the first of its kind in Malaysia and will serve as a skill-building hub for urban farming professionals, tech companies, researchers and young talents to come together to create transformative solutions focusing on food and agritech.
Led by Sunway Innovation Labs (Sunway iLabs), it will be located in the heart of Sunway City Kuala Lumpur and will have three pillars: FutureX Farm, FutureX Talent and FutureX Campus. Sitting on a 50,000 square-feet innovation hub, the urban farm innovation hub will feature an indoor and outdoor farming area, research and development centre, training and collaborative spaces as well as a café.
Taking charge will be Sunway FutureX's first pillar – FutureX Farm. According to Sunway Group Chief Innovation Officer and Sunway iLabs Director Matt van Leeuwen, FutureX Farm will focus on the delivery of four key objectives: Nourish, Educate, Empower and Innovate. Here's how.
Nourish
With the ongoing pandemic, it has become abundantly clear that the number of people without access to healthy, nutritious food on a daily basis to substantiate their growth is increasing on a daily basis.
Often, people turn to quick fixes such as fast food or cheaper, deep fried alternatives to fill their stomachs due to budget and even location constraints. In an effort to tackle this problem, FutureX Farm will partner with Sunway Property to nourish the neighbouring communities with fresh produce grown in their own farms.
Educate
By raising awareness about the importance of proper nutrition and providing more people with access to such produce, FutureX Farm seeks to educate the communities around them about sustainable living and urban farming.
In cities as densely populated as the Klang Valley where Sunway City Kuala Lumpur itself is located, land is limited and expensive – however Sunway sees the potential of harvesting the power of talent and technology to build urban farms on under-utilised spaces such as rooftops, carparks and even within buildings.
Recent developments in technology have also enabled efforts like these to be feasible despite the lack of water and pesticides to produce consistent, healthier produce for safer consumption.
Empower
After shedding light on how sustainable these efforts are – both in providing healthier food for more communities and how effective urban farming can be, FutureX Farm seeks to ultimately empower and inspire homeowners to grow their own food.
By doing so, Malaysians are in complete control over what goes onto their plate without the fuss of high prices, loss of nutrition and an overuse of unnecessary chemicals.
Innovate
Bringing together a wide pool of expertise and resources from ecosystem players, Sunway FutureX aims to build decentralised urban farms to serve local communities, to address supply chain challenges and distance between farm to fork. FutureX Farm will also partner with Thought For Food (TFF), a global non-profit organisation, dedicated to entrepreneurial innovation for food and agriculture.
Through this partnership, Sunway iLabs will provide a sandbox for start-ups from TFF's global innovation platform to carry out pilot projects and test out their solutions to fit the local market needs. One of the programmes in the pipeline is the TFF Digital ASEAN Lab to engage, empower and accelerate the next generation of purpose-driven food and agritech innovators.
Commitment to Sustainability
Change inevitably begins with ourselves, and Sunway is deeply committed to advancing the 17 United Nations Sustainable Development Goals throughout its township. The launch of Sunway FutureX is tied to Goal 12: Responsible Consumption and Reproduction, as the Group believes that putting it into practice is crucial in the way it affects the environment and must be done responsibly.
Matt van Leeuwen explains that this project will be a collaborative effort to impact communities here and beyond and is in line with Sunway City Kuala Lumpur's vision to be a living laboratory where ideas are generated to address the challenges facing humanity.  
Interested start-ups with a focus on food and agriculture can get in touch with Sunway iLabs for a potential collaboration.
< Previous
Pitch to Win For Your Start-ups at SuperSeed II Championship
Next >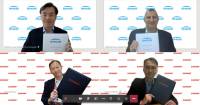 District Cooling for a Greener Future