The Seven Wonders of Sunway
8
-min read
Though the COVID-19 restrictions have eased up and allowed for travels, why travel far when you can see Sunway's seven wonders across its cities nationwide?
With travel restrictions easing up, it is time to go for a vacation! If you are scrap on ideas on where to go, you will be pleasantly surprised by the beautiful wonders and surreal landscapes that Sunway cities around the nation have to offer.
Sunway's majestic forests, ancient limestone hills, mysterious caves, and even a suspicious looking rock resembling a Black Panther would certainly captivate nature lovers and visitors alike!
Limestone Hills – Sunway City Ipoh
Undoubtedly one of the oldest wonders on the list, the Paleozoic, 260-million-year-old limestone hills are the pride and, quite literally, the "cornerstone" of Sunway City Ipoh. When the city was conceived in 1996 as the catalyst of growth for the Eastern Development Corridor of Ipoh, it was imperative the hills are not only preserved, but made part of the landscape and as an attraction in itself.
Our tourist destinations such as Sunway Lost World of Tambun and The Banjaran Hotsprings Retreat – built on former mined-out land that have become tourist destinations – offer visitors the opportunity to appreciate these natural formations and limestone hills.
The limestone hills are not just a wonder in itself, as deep within, it comprises two other wonders of Sunway that you should definitely add to your travel list – one historical, the other, more 'appetising'.
"Picasso" Cave at Sunway City Ipoh
While the limestone hills are a sight to behold, the scenes within are something else.
The Gua Datok Cave, also known as the Picasso Cave at Sunway City Ipoh, dates back 400-million years. One will have to climb 630 steps to reach the cave entrance. As you step inside, the Gua Datok Cave is a spectacle to behold, evoking feelings of mystery, magic and stories, akin to Medieval Lore of dungeons and dragons.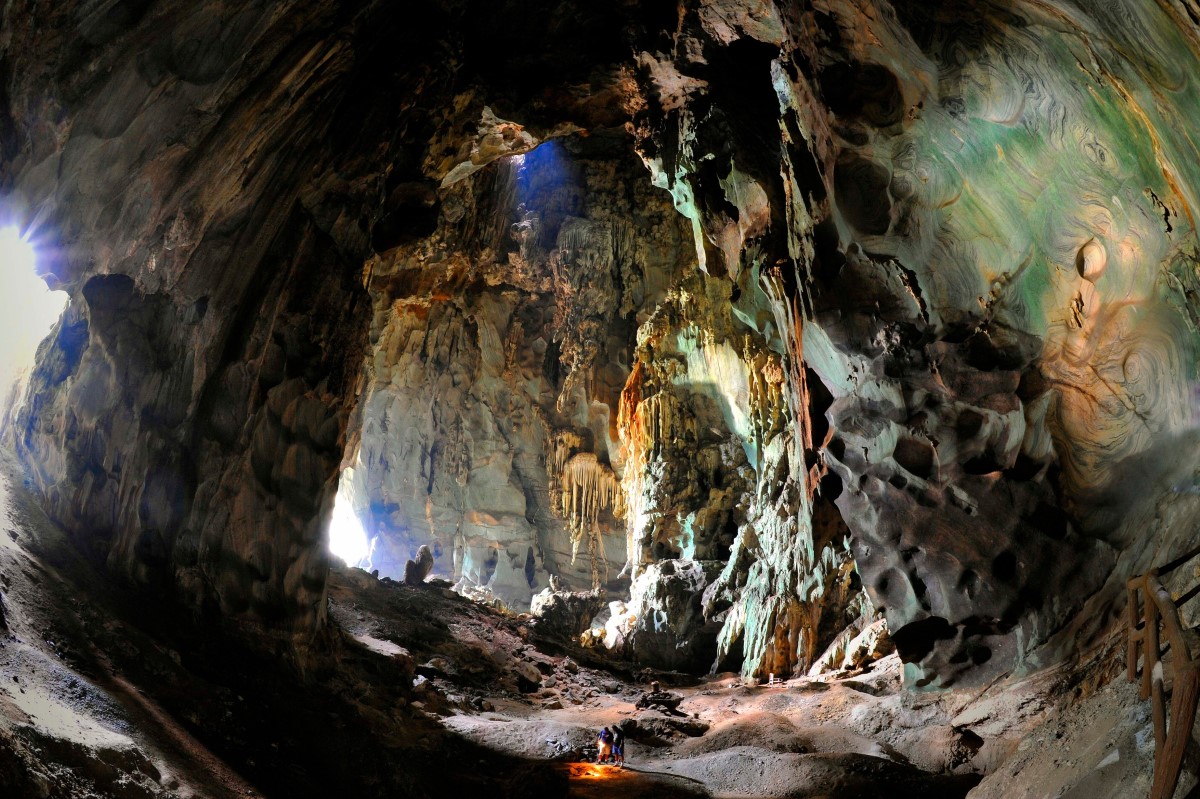 And how can it not leave that impression? According to local beliefs, prayers and meditation have been held in these caves for centuries, making it a sacred ground.
Often told is the tale of the dilapidated wooden chair, said to be left there by Datuk Panglima Ngah Ghafar, the Lord of Kinta, circa the 1800s. It is believed that Datuk Panglima used the chair to pray and meditate which, coincidentally, faced the kiblat, the direction of prayer for Muslims.
Scattered around it were relics like earthen pots, a mat, a ladder, an axe, daggers and joss sticks, indicating that the Chinese too used this place to seek blessings. Another story says that the cave is conducive for both Malay and Chinese martial art devotees in search of strength and wisdom.
Adding to that mystique is its Picasso-like "artworks" on the walls, stalactites and stalagmites, with certain places on the multi-level chambers emitting a neon-green glow. Hence, the cave is also called Picasso Cave as the beautiful granite walls resemble the abstract paintings of the eponymous famous Spanish painter.
Jeff's Cellar at The Banjaran – Sunway City Ipoh
The third cave-related wonder is one to delight your taste buds!
Set within a huge natural limestone cave, the magnificent Jeff's Cellar was intended as a private retreat for our Tan Sri Sir Dr. Jeffrey Cheah before it was opened to the public.
Jeff's Cellar experience is a surefire item on any gourmands' bucket list! It is a unique fine dining destination in the depths of a 260-milion-year-old cave cellar. The menu features a host of farm-to-table delicacies – with over 40 types of vegetables and herbs freshly harvested from its 10,000 sq. ft. organic gardens – is a delight for degustation lovers, courtesy of celebrated Chef Boon.
Its spellbinding surroundings of soaring arias and Permian-period water features within a candle-lit ambience make this cavern a must-try! Named as one of the top 20 restaurants in Malaysia by the Malaysia Tatler's the Best Restaurants Guide, Jeff's Cellar was also honoured as one of the top five most unique bars and best drinking spots by CNN Greece.
'Panther' Awaken at Banjaran Organic Farm – Sunway City Ipoh
Let us switch scenes for a bit and head over to Tasik Cermin, a near 15-minutes' drive away from the Banjaran.
Tasik Cermin (or its English translation – mirror lake. We will explain why later.) is one of Sunway City Ipoh's hidden gems, situated within the many limestone karst formations synonymous with the city. With its pristine waters, the lake magically reflects the surrounding limestone giants and green tapestry. It would almost seem like a portal, calling you in to another dimension.
At the helm of this magical lake stands a fierce protector – a limestone panther (Marvel fans may be reminded of Black Panther's Mountain).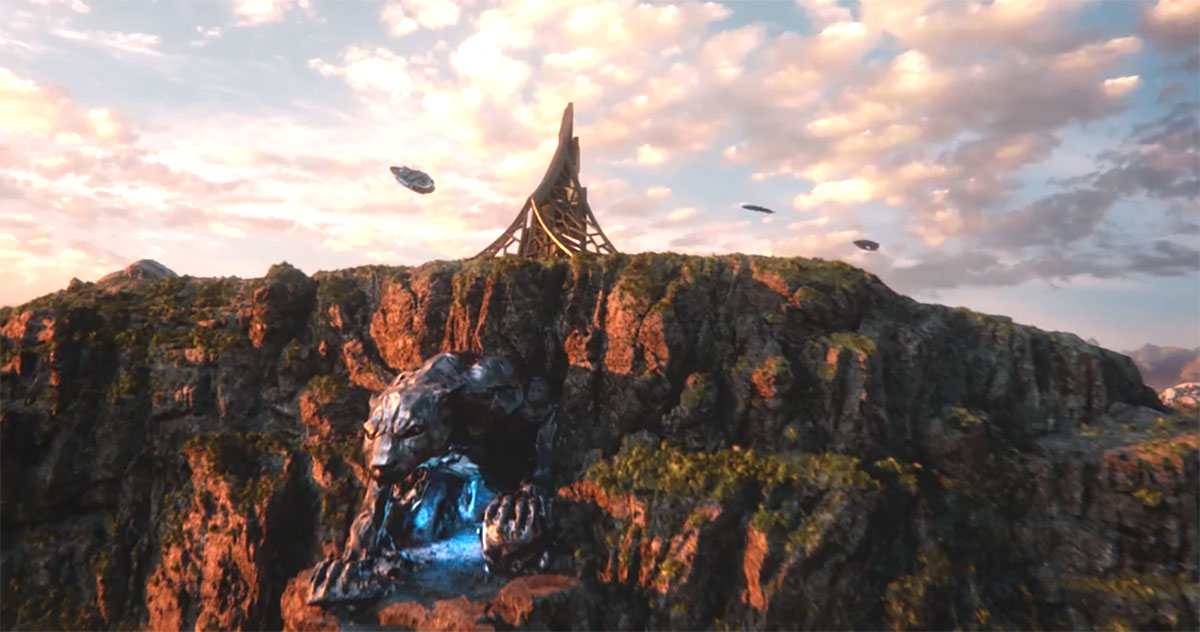 Black Panther's Mount Bashenga. Source: Marvel's Black Panther
Legend says that this panther would present an ominous figure across the realm, which scares away creatures of the night and protects the species within the land.
Today however, it is Sunway's magical symbol of sustainability, as it is our goal to not just preserve the natural formations as we develop the township, but to ameliorate it further to better serve the people of Ipoh.
We do this by not just preserving the limestones and greeneries, but we have also cultivated three organic gardens for the guests and restaurant patrons of the Banjaran to relish farm-to-table dining concept. The three gardens span over 10,000 sq. ft., comprising the Organic Garden, Herbal Garden and Chef Boon's Garden, which are nourished by fresh water from the mountains of Ipoh that flows into a natural lake within the retreat.
Taking inspiration from the panther's duty to protect the natural ecosystem of the land, we are doing our part to preserve the historic landscape – from trees, hills, organic gardens and all that is in between – to ensure a sustainable future for all.
Mangrove Forest – Sunway City Iskandar Puteri
Taking a trip down south to Nature's Capital City, Sunway City Iskandar Puteri, Johor (SCIP) is surrounded by a riverine and pristine mangrove forest, situated on both sides of the majestic 7km Pendas River. Similar to the limestone hills of Sunway City Ipoh, the forestry has been preserved in its natural state during the development of the township. By maintaining 40% of its greenery area, Sunway has ensured a beneficial harmony between natural surroundings and nurturing experiences.
Three factors are constant when it comes to the preservation of the mangrove forests – developmental progress such as property and land development, further cultivation of economic activities, as well as protection of life – both on land and water. These three factors that often intertwine are always taken into consideration during the development of Sunway City Iskandar Puteri, creating a harmonious unity with the mangrove forestry.
The forest is the source of life for SCIP, not just for the creatures that inhabit the forest, but also home to an array of land animals as well as a host of marine life – it also serves as a natural protection for fellow citizens of SCIP. With its lanky, yet powerful roots, it slows down tidal waters, stabilising the coastline and reducing erosion from storms and waves and ultimately acting as a great cushion between the waters and the township itself.
100-year-old Tree of Life – Lenang Heights Sunway City Iskandar Puteri
From a mangrove forest to a century-year-old tree, the tree-mendous wonders never cease at SCIP.
Spinning the same tale of preservation as the previous entry, Sunway's property development – Sunway Lenang Heights at Taman Molek also has a story of tree preservation.
Fondly known as "The Tree of Life", this cotton tree (or its scientific name – the Pachira spp tree) stands as tall as a 10-storey building and weighs an astounding 55 tonnes and acts as centerpiece for the neighbourhood.
Whilst we can get carried away with the grandeur of sustainability and saving forests, sometimes, sustainability means doing something good for others.
During our development of Sunway Lenang Heights, we noticed this gargantuan tree as we were clearing the land. Our leaders at SCIP did not have the heart to chop it down, especially after learning of its sentimental value to the villagers nearby.
It is one of Johor's best kept treasures. And while it does not carry the same magnificence as limestone hills or acres of forests, the fact that it means so much to the people of Taman Molek speaks volumes as a wonder of Sunway.
"I am incredibly ecstatic and grateful that Sunway has taken the initiative to preserve this historic landmark. Because of this, I am able to tell my grandchildren about how I used to sell food under that tree. The tree complements the beautiful scenery, being in the centre of Lenang Heights development," said resident Hj Muhd Salleh bin Muhd Dun.
The Lakes of Sunway – Sunway City Kuala Lumpur
Looking at history books, one will realise that great cities of the world were founded near water sources like lakes or rivers – essential to society's everyday life and activities.
Sunway City Kuala Lumpur is no different. Its two lakes – each located at Sunway South Quay and Sunway Lagoon – function akin to a heart in a body, bestowing life throughout the city.
With continuous work throughout the past four decades, these two lakes have played pivotal roles, serving as drainage systems, providing water supply, offering recreational activities for SCKL's community, as well as regulating the city's environment.
Ultimately, the lakes act as catchment areas for rainwater. The collected rainwater is used for watering and cleaning the landscapes and general areas of SCKL. And through the tanks at its water treatment plant, it has ensured water security for the citizens of SCKL.
To put things into perspective, these tanks collect about 230 million and two billion litres of water available in our lakes. And through our water treatment plants that collect some 16,718,000 litres of water, we have an equivalent of six and a half Olympic size swimming pools of fresh water for usage!
Both lakes have also become home to a flourishing ecosystem of marine animals, as well as our Upcycled Floating Island, an attraction at Sunway Lagoon, housing its resident gibbon – Pinky!
We strive to be a model for water sustainability, incorporating the UN-SDGs into our business model to create value, not just in terms of revenue, but also for the planet and its people.
< Previous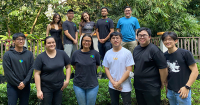 Unpacking the Success Stories of Malaysia's New Generation Visionaries (Part 1)
Next >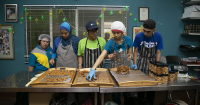 A Golden Opportunity for Independent Living