Hitting an Ace in ESG Rankings
4
-min read
Our persistent efforts in advancing the sustainable development agenda across the organisation yields fruit yet again, with Sunway Berhad ranked among the top in the region's sustainability sphere.

This is a result of our commitment to creating a harmonious balance between profits, our people and the planet, all carried out in a sustainable fashion for a stronger future together.
Rome was not built in a day. In the same vein – Sunway's achievements in good corporate governance were not overnight successes, but the result of tireless efforts through the years.
Corporate governance is at its best when it is ingrained into an organisation's framework, watered with consistency and continuous improvement for it to truly flourish. Understanding this, we have made concerted efforts throughout the years, with our persistence paying off with a place among the top 15% percentile of Industry Classification Benchmark (ICB) Supersector.
This ranking is assessed by FTSE Russell, which is also responsible for the FTSE Bursa Malaysia Index, of which Sunway ranks among the top in the country by ESG Ratings.
Yielding results with consistency
It is imperative for Sunway to talk the talk and walk the walk. When the FTSE4Good Bursa Malaysia Index was first introduced, Sunway was one of the first companies to make the list, and for seven consecutive years, has become a mainstay on the Index. In July 2021, the FTSE4Good Bursa Malaysia Shariah Index was launched, with Sunway making its inaugural listing.
Adding another feather to our ESG cap, Sunway Berhad also had its Morgan Stanley Capital International (MSCI) ESG Rating upgraded from a "BBB" to "A'. These ratings measure a company's resilience to long-term ESG risks, which has become all the more pronounced amidst an ongoing pandemic.
Why are these ratings important to Sunway?
Seeing ESG not just as a compliant, "nice-to-have" or framework to be followed, Sunway has always aspired to building a sustainable future with our own sustainable development agenda from day one.
Over the years, we have well-surpassed global industry averages according to financials as well as real estate holding and development subsector averages across all ESG themes. Without taking our foot off the gas, we have in the pipelines to implement our very own carbon pricing framework in tandem with a reduction-and-substitution roadmap, aiming to phase down emission of heat-trapping gases substantially over the next decade.
Innovative implementations such as artificial intelligence, smart parking, cloud-based data analytics and green building certifications contribute to the wider goal of attaining smart sustainable city status, where people can live, learn, play and stay in a healthy and safe environment. Sunway is also one of the first local companies to join more than 1,700 organisations worldwide in their pledge to match the recommendations set by the Task Force on Climate-Related Financial Disclosures (TCFD) for climate action.
This has led to Sunway committing to net zero carbon emissions by 2050, a goal that is not just a pipe dream, but one that can be accomplished with collaborative effort and action.
Aside from environmental efforts, Sunway is intentional in its initiatives to support its people as well.
Inclusivity and the wellbeing of its employees are major components of Sunway, as we believe in cultivating a nurturing work environment to help our people achieve their fullest potential. This has led to us being named top employer by the Sustainable Employer Research Centre.
"We have been progressively enhancing our efforts in championing the sustainable development agenda. This achievement, benchmarked against the industry's best will drive us further to pursue long-term sustainability and success with constantly improving ESG practices at the core of our journey.

"We have every intention to grow our value for our stakeholders meaningfully and responsibly, while fostering a sustainable future for all. We will pursue responsible growth by leveraging our unique strengths and build-own-operate business model. We remain committed to our employees' welfare by providing a supportive, safe and healthy work environment, and investing in their career growth." – Tan Sri Chew Chee Kin, president of Sunway Group
We have established a set of 19 targets across five goals to benchmark against the Group's yearly performance in order to continue an upward trend. These include transforming our portfolios to low carbon sustainable cities; advocating a responsible value chain; developing a safe, equal and dignified workforce; investing in community inclusivity and respecting ethical principles.
While much has been done, there is still more to be accomplished in the coming years. We are excited to see what lies ahead and will continue to progress in a manner that drives sustainability in all the generations to come.
< Previous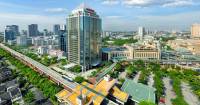 Sunway Sets Carbon Pricing Strategy in Lofty Net Zero Targets
Next >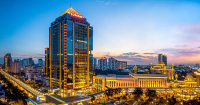 Sustainable Cities Might Be the Key To Achieving the UN's Goals. Here's How One Waste-to-Wonderland Story Is Inspiring Sustainability Across Asia