Leading the Charge in Sustainability
3
-min read
Setting the stage at the Sustainable Business Awards Malaysia (SBA) 2020/21, Sunway leads the charge with four wins, championing the "Sustainability Strategy" and "Energy Management" categories.
These wins further affirm the Group's commitment to best ESG practices that are aligned with the United Nations Sustainable Development Goals throughout Sunway's 13 business divisions.
At Sunway, sustainability is ingrained in our core values and is a fundamental part of who we are. From 800-acres of barren tin-mining wasteland, Sunway City Kuala Lumpur (SCKL) is today an archetype of innovative and sustainable city in the country.
Bringing the importance of sustainability to the forefront, the Sustainable Business Awards (SBA), now in its 15th year, continues to recognise and applaud outstanding efforts by companies that have contributed to areas in sustainability strategy, energy and water management, supply chain, and ethics among others.
Setting the stage at the SBA 2020/21, Sunway Group leads the charge with four wins recognised as a champion in sustainability.
Sunway came out tops in categories of "Sustainability Strategy" and "Energy Management" on top of winning the Significant Achievement award in the categories of "Climate Change & Emissions" and "UN Sustainable Development Goals," presented in the presence of Dato' Sri Mustapa Mohamed, Minister in the Prime Minister's Department (Economy).
The Group's wins lie in its outstanding commitment towards advancing these categories:
Sustainable Strategy
Guided by the UN-SDGs, Sunway's sustainability approach is constantly strengthened to achieve its goals and targets by 2030. In 2020, Sunway set up a Board of Sustainability Committee to oversee its sustainability agenda and to advance its sustainability leadership. The Group also has a sustainability policy that lays down the general principles and structures that governs the sustainability strategy of the organisation to foster sustainable value creation for its stakeholders.
Energy Management
Sunway had also embarked on a long-term project in 2018 to reduce its energy consumption from fossil fuels and switch to renewable solar energy wherever possible. In 2020, the Group's total energy consumption generated from solar energy tripled from the target set in the previous year.
All of Sunway's business divisions have continued to implement various energy consumption reduction initiatives such as chiller optimisation, energy-efficient LEDs usage, and motion sensors and solar panels installations throughout the year. With the understanding that energy efficiency is not a one-person goal, Sunway engages with various stakeholders to improve awareness on energy management.
Climate Change & Emissions
Sunway Bhd, Sunway Construction Group Bhd, and Sunway REIT are some of the earliest Malaysian public listed companies to join more than 1,700 other global organisations in supporting the recommendations by the Task Force on Climate-related Financial Disclosures (TCFD) and have started reporting in line with these recommendations in their annual reports. Sunway townships are also planned and developed into low-carbon cities that promote transit-oriented and car-light urban mobility as well as encourage the use of public transportation.
United Nations Sustainable Development Goals (UN-SDGs)
Sunway is committed to advancing the 17 UN-SDGs and aims to achieve carbon neutrality by 2050 in line with the Paris Agreement. Sunway has established five main goals which are aligned with the UN-SDGs to be achieved by 2030 to reflect its commitment to the '3 Ps', namely People, Planet and Prosperity.
Additionally, Sunway's sustainability efforts towards providing a positive and sustainable impact have been further affirmed through its recent win at the Asia Sustainability Reporting Awards in Asia's Sustainability Report (Digital) category.
"Our experience has shown that sustainability and profitability can go hand-in-hand, and we look forward to continuing this journey in making a positive difference to our economy, the environment, and society at large." – Sarena Cheah, executive director of Sunway Group
< Previous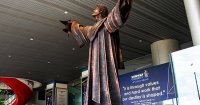 Be the Master of Your 'Destiny'
Next >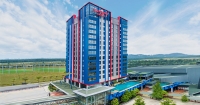 Sunway's First Hotel in Malaysia's Southern Region Welcomes Guests