Wat-er Time to be Alive!
4
-min read
Sunway has become a model corporation in building smart, sustainable cities. Modeled on the example set by Sunway City Kuala Lumpur, it has led to transformations of townships across Malaysia such as Sunway City Ipoh and Sunway City Iskandar.

While Sunway City Kuala Lumpur has garnered attention as a smart sustainable city, and is further exemplified as a living lab, one main feature of that often goes unnoticed.
It is amazing to think of how far Sunway City Kuala Lumpur has come from its tin mining roots to a near-futuristic metropolis. As part of the efforts made by Sunway Group founder and chairman, Tan Sri Dr. Jeffrey Cheah to cultivate an environment that cares for the planet and the people, inculcating the 17 Sustainable Development Goals (SDGs) adopted by the United Nations in 2015, Sunway utilises many assets to become a smart, sustainable city such as 5G technological revolution to environment conservation and energy preservation.
It is also one of our goals at the turn of the decade and beyond to transform Sunway City Kuala Lumpur into a living lab where ideas are generated to address the challenges facing humanity. However, one particular asset that has been a mainstay of Sunway City Kuala Lumpur has often gone unmentioned by the general public, and that is none other than our water treatment plant.
As renowned French marine conservationist Jacques Yves Cousteau once said, "We tend to forget that the water cycle and the life cycle are one".
As his quote suggests, water plays an integral part of almost all that we do. Tracing all the way back to ancient times, many great civilisations founded their first cities near rivers and water sources. Fast forward to today, as cities grow and people multiply, we have built dams and water treatment plants in order to accommodate them. Sunway City Kuala Lumpur has taken this baseline and turned it into a benchmark on creating and maintaining water source reliability; our rivers becoming more than an amenity, but a treasure.
To give a better insight of the water treatment plant, it was formed as part of the sustainable development of the land on which Sunway City Kuala Lumpur is located. The lakes in both Sunway Lagoon and Sunway South Quay have been rehabilitated.
Although Malaysia is located in the tropical rainforest climate zone, water rationing occurs in Malaysia when rain does not fall over catchment areas, or when there are hazards to the main system. Even more so now that COVID-19 still remains a threat in our society and hygiene remains a priority.
As Sunway City Kuala Lumpur's lakes remain a reliable source of water, a plant was built to treat water from the South Quay lake for all Sunway's commercial assets.
The water is treated using a hybrid of ultrafiltration and reverse osmosis processes to meet the quality standards of potable drinking water. The water treatment plant can operate at a full capacity of 8.5 million litres per day. Based on the World Health Organisation's recommendation of 165 litres per person per day, this amount is sufficient to serve water consumption needs of about 51,500 people.
Besides our lakes, we have also installed rainwater harvesting tanks in several of our properties as a water recycling strategy. The collected rainwater can also be used for watering and cleaning the landscapes that beautify Sunway City Kuala Lumpur. To put things into perspective, these tanks collect about 16,718,000 litres of water, equivalent to six and a half Olympic size swimming pools!
Sunway Property and Facility Management Chief Operating Officer Mr. Cheng Jew Keng said, "During the water cuts, Sunway's water treatment plant has helped the city's commercial assets maintain continuous water supply. To better illustrate, all hotels, restaurants, universities and malls of Sunway City Kuala Lumpur were assured of a safe supply of water during that period."
Measuring up to other cities of the world, one pertinent example is Korea's K-water. Similar to Sunway City Kuala Lumpur, they offer smart solutions for managing limited water resources to supply increasing demand in cities. In addition, The Australian Bureau of Metrology is currently building the Australian Water Resources Information System (AWRIS). Through data standardisation, integration and organisation, AWRIS will lead to improvements in the quality and efficiency of Australia's water management and policy decision-making.
The construction of this water treatment plant is part of Sunway's commitment to water conservation initiatives. With the plant operating, Sunway hopes to fulfil the SDGs, specifically on SDG 6: Clean Water and Sanitation, SDG 9: Industry, Innovation and Infrastructure and SDG 11: Sustainable Cities and Communities as well as to assure commercial assets of Sunway City Kuala Lumpur a secure supply of water.
< Previous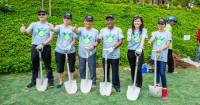 Doing Our Part for the Planet, People, and the Greater Good
Next >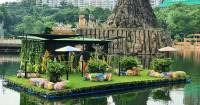 Sunway Lagoon's Pinky gets an Upcycled Floating Island as her Home!