The Fine Art of Academia
Jeffrey Cheah Foundation joins forces with leading universities worldwide, in an apt appreciation of academic artistry, as well as sincere devotion to be an engine of change.
4
-min read
On the Cambridge Biomedical Campus, the largest biotech cluster outside the United States, the Jeffrey Cheah Biomedical Centre (JCBC) stands six storeys high; a modern structure of glass and concrete. The 18,000 square-metre building is devoted to biomedicine: the high-powered group of scientists and state-of-the-art laboratories it houses are responsible for spearheading a juggernaut of research related to the development of treatments for current and emerging threats to human health, with a special focus on stem cells.
A Crusade Against Global Pandemic
One of its research subjects is more current than the others. In the face of a crisis as urgent as COVID-19, JCBC has recently joined the worldwide mobilisation in the attempt to throw light upon this darkness. In its lab that operates at containment level three – certified to handle serious or lethal pathogens such as the newly emerged coronavirus – the genomic sequencing and phylogenetic analysis of COVID-19 cases is in full swing.
In the past few months, the pandemic alone has commanded the attention of the great majority across the scientific field. Atomic-level imaging, computer modelling, and prior research on other types of coronaviruses, including SARS and MERS, have helped researchers to quickly learn an extraordinary amount. But not enough, if compared to what were and still are shrouded in profound obscurity.
Advancement Through Knowledge and Research
Named after Tan Sri Dr Jeffrey Cheah, JCBC is one of several partnerships struck between Sunway and the University of Cambridge. The Sunway-Cambridge tie, in fact, dates back to 2014 when the Jeffrey Cheah Professional Fellowship Fund was established in Gonville and Caius College of Cambridge.
"The Jeffrey Cheah Foundation's (JCF) funding of these institutional collaborations and partnerships with the University of Cambridge is aimed at pursuing common objectives in research and education. It is through research that we will discover new medicine, treatment of diseases and technology, that can help us make this a better world for all," Tan Sri Dr Jeffrey Cheah was quoted saying when asked about JCF's heavy investment in academically affiliated research.
The message behind these words is clear: JCF is committed in expanding knowledge and helping humanity. Since its launch 10 years ago, the foundation has been on a mission to crack the code of some of the toughest social challenges of the 21st century, premised on the belief that answers and an encompassing solution are to be found in the advancement of education and research.
Sunway University is one of the entities under Sunway Education Group that has displayed ingenuity in both areas. The academic research the school undertakes in recent years has been widely applauded for its real-world applications, often providing highly potent antidotes to issues such as clean water scarcity in rural areas and aging-related decline. A number of its professors have also dominated research news, having been listed among highly cited researchers by premier research platform, Web of Science. As the local key synthesiser and champion of academia, JCF defines the frontier.
The Great Academic Exchange
Over the years, JCF has continued to forge partnership with major academic powerhouses such as Harvard University and the University of Oxford, tapping into the continued strength of their world-leading research base and ability to innovate. Indeed, such collaborations with the wider research community are pivotal to the way JCF operates. It makes sense. Rather than working in silos, cross-fertilisation of ideas among multi-disciplinary group of scientists tends to inspire broader view and sharper insights. There is value in building a democratising force as such.
In a society increasingly attuned to the clipped rhythms of digital life, JCF is determined to foster a research culture that is truly supportive and will sustain the talented research community as they fulfil the promises of academia. That means creating spaces of deliberative freedom – among other resources and incentives – where intellectuals can gather to unpack complex ideas, smooth out the kinks in the equations and mine data for the common good.
The Jeffrey Sachs Center of Sustainable Development is the newest space designed to echo these purposes. Conceived by JCF with the support of the UN Sustainable Development Solutions Network, it is hailed as a regional centre of excellence that is set to advance Sustainable Development Goals achievement in Malaysia and the Southeast Asia. More than just a place of learning and policy practice, however, Jeffrey Sachs Center hopes to instigate productive dialogues among the research community to address any enquiries and urgent threats to the big blueprint devised to end the gravest crisis that looms over our planet, including but not limited to poverty, climate change and inequalities.
For an extra boost, the chairman of the institute, Professor Jeffrey David Sachs, is appointed as Jeffrey Cheah Distinguished Professor, joining a roster of eminent professors to share his knowledge and expertise with Sunway management, academics and students, as well as the public through advice, lectures under the Jeffrey Cheah Distinguished Speakers Series, forums and conferences.
JCF understands that research is inherently collaborative. That diffusion heightens the value of ivory tower like Sunway University, repositioning the school as a global university as well as a hub of knowledge. Many facilities fulfill the functions that JCF does, but few make it part of their missions to proactively pursue collaborations with surrounding institutions. This is no accident but, rather, a testimony to the value of long-range thinking birth out of the foresight of Tan Sri Dr Jeffrey Cheah. No doubt, it has given JCF a conclusive edge.
< Previous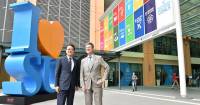 Valuable Contribution to Global Sustainable Development
Next >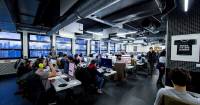 42KL: Rewriting the Rule Book of Tech Education
This article first appeared in Berita Sunway Issue 70