A Raya of Reflection
5
-min read
Festivities and seasons come and go, but one thing that remains – if not taken care of properly – is plastic waste.

In this year's Raya video, Sunway touches on the importance of waste management and the detrimental effects of single-use plastics, showcasing how we can do our part in keeping our homes green during the celebrations.
The Ramadan season is here once again, and there is always much anticipation excitement for our well-loved Ramadan bazaars – who doesn't love a good Roti John or Ayam Percik to go with mouth-watering kuihs and colourful thirst-quenching drinks to buka puasa with after a long day? However, these items sold are usually packaged in single-use plastics, and if we are not careful, these plastic packaging will pile up – which does not bode well for our environment.
To put things into perspective, non-biodegradable plastic outlives us all, as it will take centuries to decompose and contribute to our waste management issues – unless we act now.
Encouraging better habits through the eyes of our future generations
This plastic predicament is one that is faced by our little heroes and heroines in our Lestari Raya story. Like you and I, they excitedly take to the Ramadan bazaar, but are oblivious of the disposal and likely effects of these plastics – until they came face to face with Abang Hero, who points out that their dismissal of plastic wastage should not be taken lightly.
Instead of simply throwing away plastics, Abang Hero teaches them how they can turn trash into treasure by upcycling and recycling them into handy décor items, which the children used to decorate their houses for the Raya season.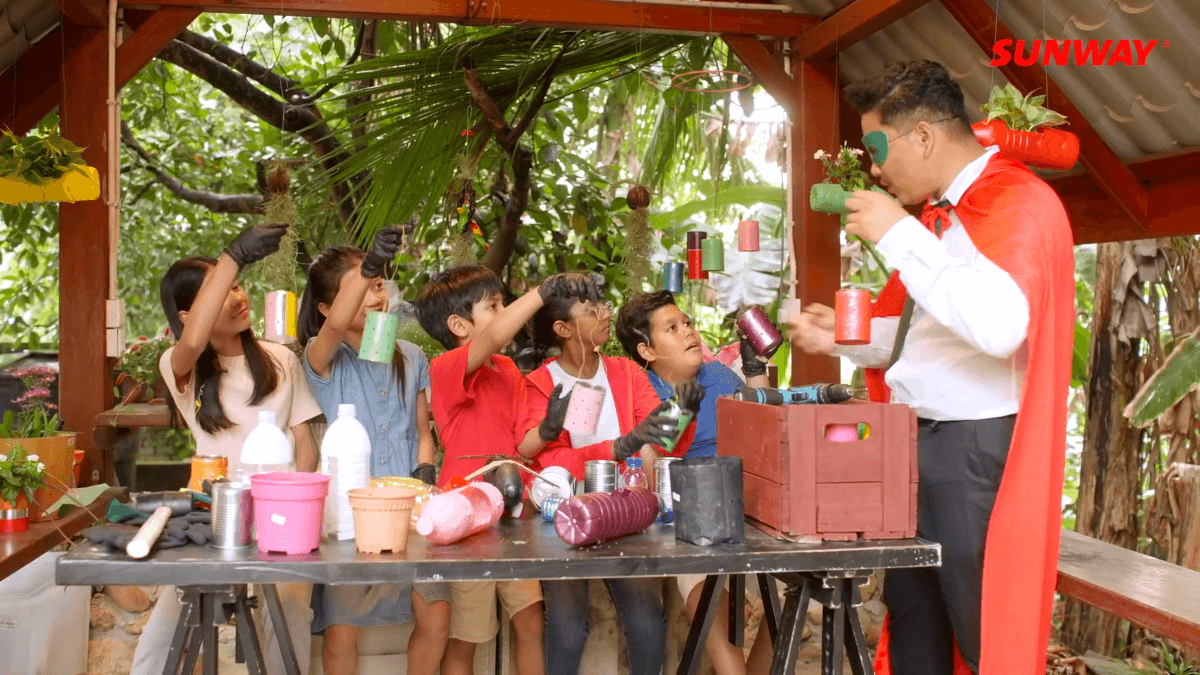 After learning about the importance of waste management, it concludes with the children enjoying the Raya festivities together, sustainably.
Catch our Raya video on our social media platforms now.
This heart-warming tale showcases one of the many approaches that have been integrated into Sunway's management and operation procedures, in alignment with the United Nations Sustainable Development Goals (UN-SDGs), particularly Goal 11: Sustainable Cities & Communities; Goal 12: Responsible Consumption & Production and Goal 13: Climate Action. Sunway combats plastic pollution by championing sustainable living and advocating responsible waste management through reducing, reusing, repurposing and recycling.
In addition, the Sunway Centre for Planetary Health (SCPH) is actively seeking out new ways to address pressing sustainability issues that we face in this current time. Sunway Education Group (SEG), through its Green Living initiative, has advocated the reduction of single-use plastics to help prevent pollution of our waters and protect of our marine life. Our Sunway hotels under Sunway REIT have also eliminated all single-use plastics for its in-room amenities in phases, replacing selected items with more environmentally friendly options.
Sunway Malls is also part of the fight against waste by reducing single-use plastics throughout its malls, while also ensuring that 30% of all décor used during festive seasons are made of recyclable materials.
Spreading cheer and igniting meaningful celebrations
On the ground, we are continuing the spirit of togetherness in our aim to touch even more lives this Raya season. This year, we partnered with Selangor Youth Community (SAY) to treat over 200 underprivileged children from orphanages and homes across the state to an unforgettable day of baju Raya shopping, which concluded with a scrumptious buka puasa buffet at Sunway Resort Hotel which was graced by Duli Yang Maha Mulia Tengku Permaisuri Norashikin, the Queen Consort to the Sultan of Selangor.
Accompanied by their caregivers and Sunway volunteers, the children were allocated a budget to pick and choose their new Raya clothes at AEON in Sunway Pyramid. The children also received goody bags containing Vitamin C supplements, blankets and a culinary set from Sunway; gift bags from AEON; as well as 20 kilogrammes' worth of pesticide-free lettuce grown by Sunway XFarms.
These children were specially selected by SAY from Persatuan Kebajikan Rumah Jalinan Kasih, Pusat Kraftangan Komuniti Orang Asli Sungai, Persatuan Rumah Kebajikan Anak Anak Yatim Dan Ibu Tunggal Hajah Kamariah and Buku Jalanan Chow Kit.
The months of Ramadan and Raya are eventful ones for us at Sunway – we are working with our partners: SAY, Malaysian AIDS Foundation (MAF), Malaysian Red Crescent Society, Yayasan Kebajikan Negara (YKN), Adab Youth Garage (AYG) and Mutiara Food Bank to deliver essential groceries, duit Raya and buka puasa packed meals.
These will go to some 23,000 beneficiaries including the homeless, B40 groups, People Living with HIV (PLHIV), orphanages and underserved communities.
Our Sunway Food Bank programme also comes into play through our long-term partnership with MAF, where we deliver meals, groceries and financial aid nationwide to some 1,000 families.
Driving unity through sustainability
Our multicultural festive packets are also making a comeback for Raya after their debut during Chinese New Year this year, The packets are a symbol of unity, inclusivity and diversity – while also being conscious of the materials that we use to avoid creating more waste during the celebrations.
Sunway chief brand strategy officer, Nik Tasha Nik Kamaruddin, shares that this season of coming together is a perfect opportunity to also share our knowledge when it comes to protecting our planet and our future.
"While we may not always immediately look at the long-term effects of our actions, no initiative is too small to help our ecosystem and biodiversity. At Sunway, our commitment to being good stewards of our resources helps us to plan and bring about a positive impact to our communities, whilst simultaneously raising awareness on how we can sustain life for our planet. From all of us at Sunway, we want to wish all celebrating "Selamat Hari Raya Aidilfitri" – may it be a blessed time of us as we reunite lovingly and sustainably – for ourselves, our families and our planet."
< Previous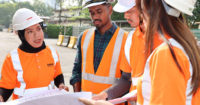 Just to be on the Safe Side
Next >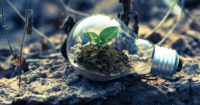 You Can Make Every Day Earth Day