We Are All In This Together
By Tan Sri Dato' Seri Dr Jeffrey Cheah AO
3
-min read
Tan Sri Dato' Sri Dr Jeffrey Cheah AO believes the 17 Sustainable development goals can be achieved if every stakeholder work together with passion and determination.
On 25th September 2015, the 193 countries of the UN General Assembly adopted the 2030 Development Agenda titled "Transforming Our World: the 2030 Agenda for Sustainable Development".
The 17 Sustainable Development Goals range from addressing climate change to making education more accessible, from ending poverty to enhancing gender equality, to overcoming socio-economic issues such as rising inequality. In short, the 17 SDGs represent a holistic approach to creating a better tomorrow for our future generations.
My views on sustainability were shaped by my childhood years in a small town called Pusing in the state of Perak in Malaysia. I witnessed the impact of poverty on families and how it closed off avenues for advancement, particularly in education, for the children. And Pusing back then was largely a tin-mining town. You could not fail to notice the ugly scars on the landscape left by abandoned mining pools.
Poverty and environmental degradation are, thus, not abstract concepts for me. They helped form my convictions that education provides the optimum route out of poverty, and that we needed to help heal a bleeding Mother Earth.
The very birth of the company I founded in 1974, Sunway Group, was grounded – if you will pardon the pun – in the concept of sustainable development, with the development of Sunway City near the national capital, Kuala Lumpur.
Four decades ago, the area was a barren land of disused mining pools. Today, Sunway City is home to a thriving community of more than 200,000 people living, working and playing in Malaysia's first integrated township.
With more than 25,000 trees transplanted here, a complete ecosystem was restored. Today, you can find more than 150 species of flora and fauna within Sunway City. We also have our own public transport system, with buses that run on electricity. Almost 50% of the city is open space and 24% of the city is green space.
We have built certified green buildings and constructed our own water treatment plant to purify water from a local urban lake. We have reduced carbon dioxide equivalent emissions by 12% between 2015 and 2016. And we plan to integrate technology even more deeply to establish Sunway City as a model "Smart Sustainable City" of the 21st century.
But environmental concerns are not the only SDG we address at Sunway Group.
As a "Master Community Developer", we invest in job creation, and fill those jobs with local people. We have created an inclusive workplace for all Malaysians irrespective of race, religion, age and gender. Half of the group's 15,000-strong workforce is female. Sunway is also a signatory to the UN Global Compact, which unites businesses across the world under one large corporate sustainability initiative.
At Sunway, education is particularly close to my heart. We established the Jeffrey Cheah Foundation (JCF) to which I gifted in perpetuity all of my equity in Sunway's educational institutions. The gift was valued at around RM720 million then, and the value has since grown to more than RM1 billion. The Foundation is Malaysia's largest education focused social enterprise and is governed by an independent board of trustees.
The foundation, a not-for-profit trust, owns and governs a range of educational institutions. Operating surpluses are reinvested into the foundation and institutions and disbursed as scholarships and research grants. The JCF has thus far given more than RM330 million in scholarships. It is my personal goal to award more than RM1 billion in my lifetime.
The foundation also gifted US$10 million to the UN Sustainable Development Solutions Network, which was used to establish the Jeffrey Sachs Center on Sustainable Development at Sunway University in Malaysia, the first of its kind in the region.
At Sunway, we recognise that realising the SDGs requires the commitment of all sectors of society — the private sector, academia, civil society and, of course, every single individual.
We are all in this together
< Previous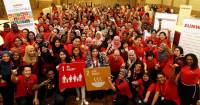 Joining Hands For Zero Hunger
Next >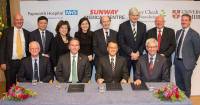 Cambridge-Sunway Partnership To Tackle Healthcare Problems
This article first appeared in Berita Sunway Issue 61